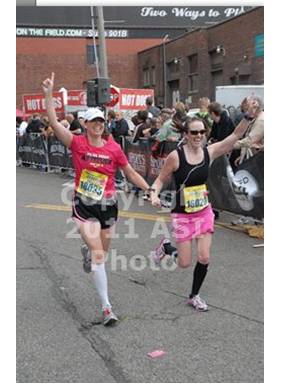 -Zoë and I used the run/walk throughout the entire marathon. I'd originally wanted to run the final six miles straight through, but we were doing better with the run/walk. I decided we should try it for the final three, then I changed my mind and made it the final two. Well, that didn't happen either, and I'm fine with that. It worked out the way we did it and I'm extremely happy with my first marathon. Wouldn't change a thing!
-I do not understand how I had so much energy during the marathon. I never hit a wall.
-Not sure I've ever smiled as much in any other race as I did during this one.
-After the race, I went home, took an ice bath and a shower, then T Junior and I took a little snooze for about an hour. Then we went over to Mel's house and met up with her and Jess, Chelsea, Jill and her boys, Diana and her girls, and Zoë and her girl. T Junior and all the kids played together while we ate pizza and had cupcakes. Mel also gave me and Zoë our 26.2 magnets. I love seeing mine on the back of my minivan!
Official Time: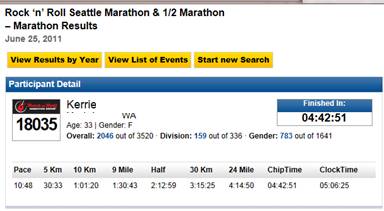 Pace breakdown according to my Garmin:
Total distance: 26.63
Average pace: 10:37
Mile 1: 9:51
Mile 2: 9:47
Mile 3: 10:13
Mile 4: 9:50
Mile 5: 10:08
Mile 6: 9:55
Mile 7: 9:54
Mile 8: 10:08
Mile 9: 10:13
Mile 10: 10:19
Mile 11:10:05
Mile 12: 16:19 (I-90 tunnel)
Mile 13: 4:02 (I-90 tunnel)
Mile 14: 10:05
Mile 15: 11:21 (pit stop)
Mile 16: 10:56
Mile 17: 10:19
Mile 18: 11:35
Mile 19: 11:41
Mile 20: 11:22
Mile 21: 11:25
Mile 22: 11:26
Mile 23: 10:49
Mile 24: 11:05
Mile 25: 12:11
Mile 26: 11:48
.63: 5:57 (9:24 pace)
This really shows when our longer walks began.
How did I feel the next day?
Directly after the race, I felt okay. In fact, I realized Mel had my car keys when she was all the way across the Qwest Field parking lot, and I ran her down. But, honestly, I felt good. Feet hurt (specifically my pinky toenails). Blisters hurt (I had one each on the inside sides of my big freakish toes, which I drained and are now fine). Later that evening, my quads ached, as did my arches and inner thighs. Sunday, quads and hammies were very sore — I didn't notice much else. Monday, quads and hamstrings still a little sore. I had a PT appointment on Monday, and she told me my calves felt really tight, which is why I was not allowed to run until the weekend (I went on Friday — close enough). I was prescribed stretching and hot baths. Tuesday, I could feel a little leftover soreness. By Wednesday, I didn't feel any soreness except on my arches when stretching and/or rolling them (I have relatively flat feet and I use a tennis ball to roll them, as directed by my PT).
How did I know I needed to drink just Nuun during the marathon?
Last year, in training for my first marathon (which I did not run due to fracturing my shin), I ran a 15-miler during which I only drank water. Never been so sore in my life! And immediately after the run, too. It was weird. I'd always had Nuun on my long runs before that one and so I deduced that only water doesn't cut it for me. Total believer in Nuun here, which is why I'm really excited to be on their Hood to Coast team this year!
Did I run/walk during my marathon training?
Yes! I fractured my shin in May 2010, but by fall I was cleared to start running again. Slowly. So I used the run/walk method (first Couch to 5K then Jeff Galloway's method). I decided to use the run/walk training from Jeff Galloway to finish my goal marathon — Rock N Roll Seattle. I was extremely concerned about re-injury. Once I'd built up my base and felt stronger, I switched to just using the run/walk on my long runs. I used a 5-minute run:1-minute walk ratio, but other people do 3:1 or 4:1 or even 10:1. Or 10:30 seconds. Or whatever! Experiment on your long runs to find what works best for you.
Would I recommend the run 5:walk 1 for a first-timer?
Yes, definitely! But maybe not 5:1. Maybe a 3:1. It depends on your fitness level, and what you think you can do. Lorraine from Run, Wifey, Run used the 2:1 ratio for her first marathon HERE, I think, and she also had a wonderful first full marathon! Like I said above, definitely experiment with the different ratios. Jeff Galloway's site has a marathon training plan HERE using the run/walk.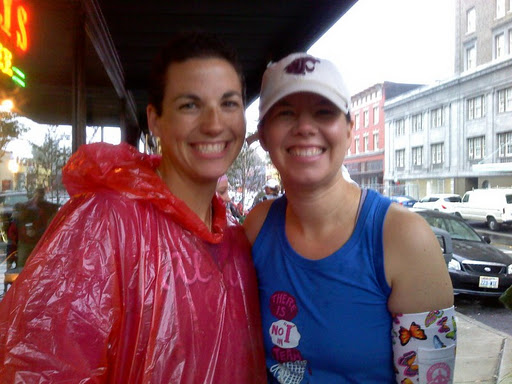 Tonia (H2C teammate) and me at You Go Girl in 2010.
What's next?
What isn't?! Well, unfortunately … actually the Dirty Dash 10K mud run I was supposed to do on Saturday isn't going to happen due to a major scheduling conflict. (Want my bib? Email me: kerrie (at) sanitydepartment (dot) com.) But, after that, here's what's up:
See Jane Run Half Marathon: July 17. I will be running this with Chelsea of Will Run for Food. It will be her FIRST half, and can't wait for her to experience crossing that finish line!
Hood to Coast Relay – Nuun Team: Aug. 27-28. I still cannot believe I will be doing this! I've been assigned legs 4, 16 and 28. I'm on Team 2 with some amazing women: Tricia (Endurance Isn't Only Physical), Alyssa (Diary of an Average Runner), Tonia (Racing with Babes), Margot (The Faster Bunny), Lisa (Discovering the Meaning of Stonehenge), Jess (Blonde Ponyt
ail), Susan (Nurse on the Run), Harmony (Keep on Keeping On), and XLMIC (Taking it On). The other team is amazing, too, of course! I am training for a sub-2 half in September (see below), so my training plan will include some 2-a-days and some (scary!) night runs to get ready for the relay. Can you say "headlamp"? How about "pepper spray"?
You Go Girl Half Marathon: Sept. 18. This will be my sub-2 attempt. I'm excited about it! I ran/walked the 10K at YGG last year so I know what half of the course is like. I know I can do it!
November race? December race? Half Fanatic? Yes, please.