This is the third part of my Rainier to Ruston 50-mile relay recap. You can read the first part HERE and the second part HERE.
After my second leg, my calves and feet were starting to feel a bit crampy. I downed some Nuun and stretched as Tiffany kicked butt out on the course.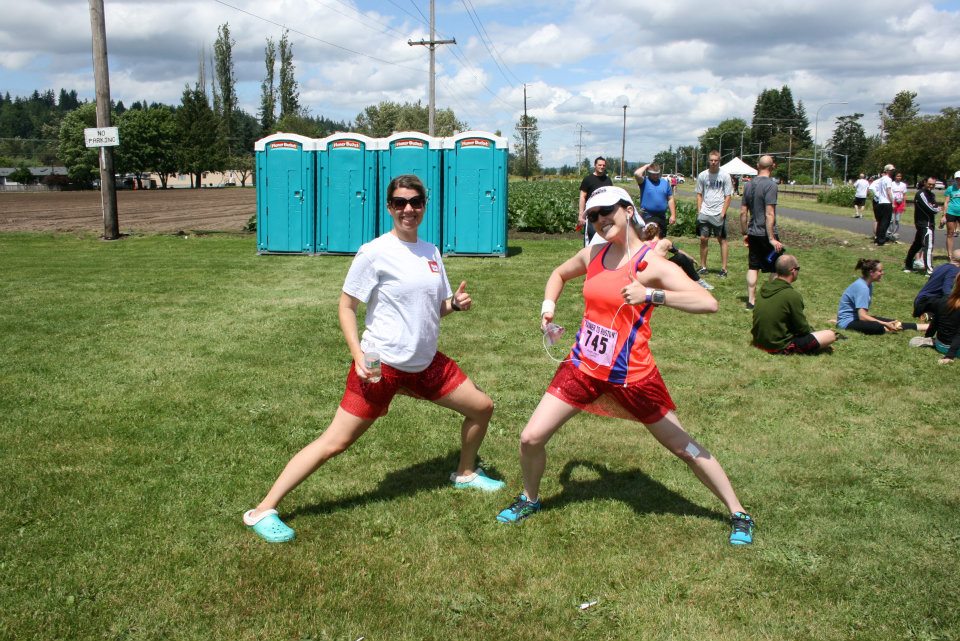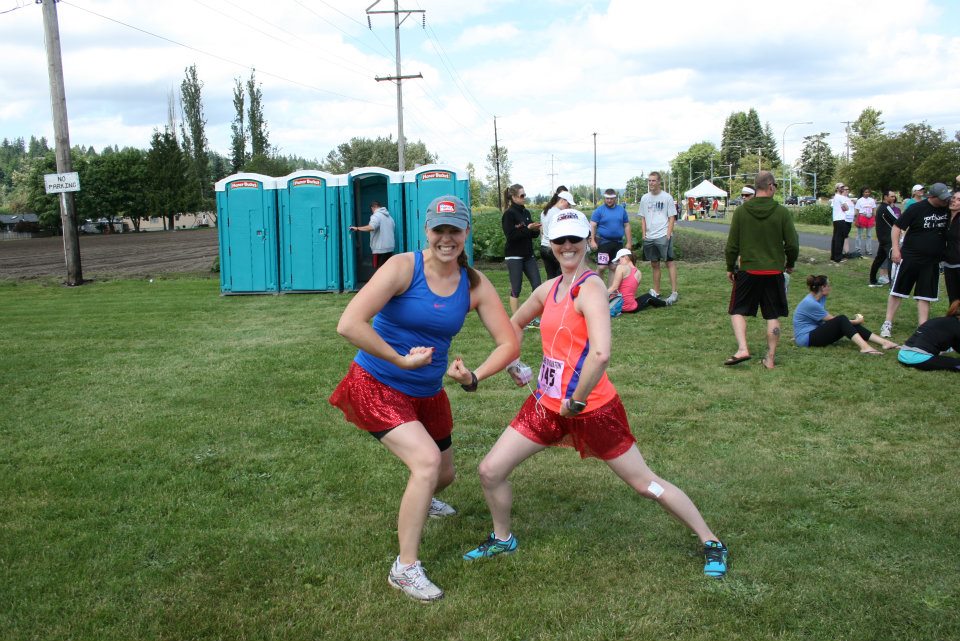 Tiffany was there in no time and then it was Zoe's turn again. We sort of got lost on the way to the next exchange, but luckily Mel knows the area and was able to direct our awesome relay driver (Tiffany's hubby, Will) to the correct location. Whew! Luckily Zoe's leg was a bit longer!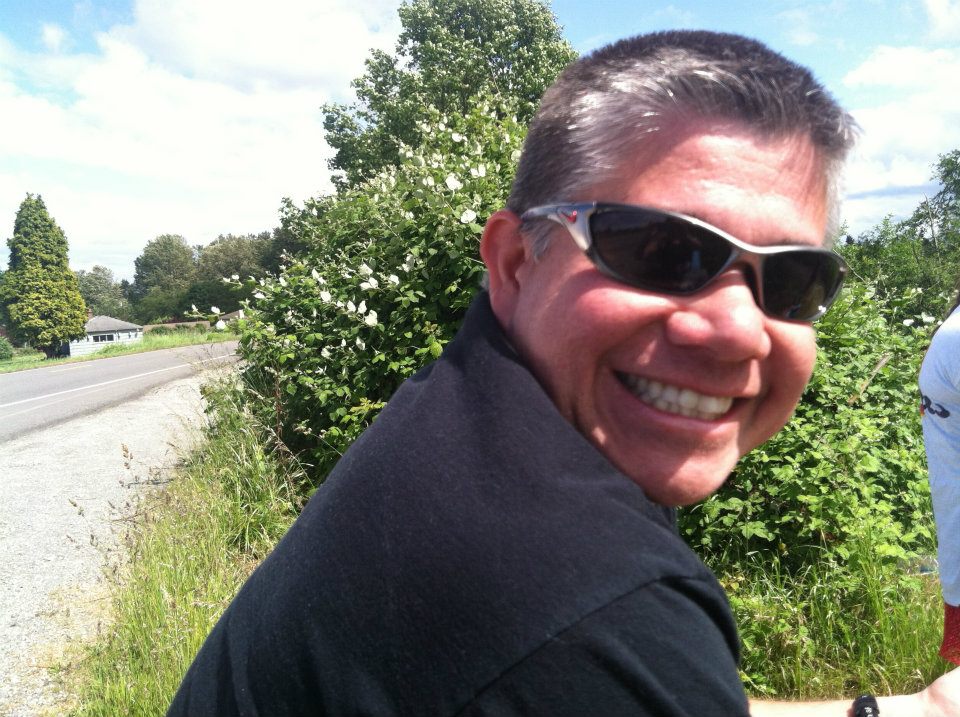 Mel was still not feeling 100%, but she had a smile on her face as she got ready for her FINAL leg! Boy, she was excited about that!
But you know what it means when Mel heads out to run? I'm next! Oh yeah, I sort of forgot and was rushing to get ready on the drive to the next exchange. On the way, Zoe confessed that she'd tweaked her knee on her first leg and it was really bothering her. I started to worry about her running her final leg, and wanted to volunteer to run it for her, but I was not sure how I'd do or if I'd hurt myself, too, since I hadn't been running much in the three weeks leading up to this race. I decided I would see how my final leg went. It was only 3 miles after all.
We got to the exchange and Zoe stayed in the car to rest her knee. Me, Tiff and Will made our way to the exchange. I was a little more nervous this time because I actually had to follow directions. It read: "Cross the Meridian Street bridge on the eastern walkway. At the north end of the bridge, turn to the right and circle under the bridge. BE CAREFUL CROSSING THE ROAD under the bridge to the river side and enter the sandy trail around the blue gate."
Yikes. It sounded confusing. I ripped the directions out and stuffed them in my iFitness belt, which I decided to wear this time for music. I'd realized in the car that I hadn't stashed my headphones in my bag, but Zoe let me borrow hers. This would be HUGE on my run.
I was so worried about my first leg of this relay, that I didn't read the directions for Leg 10 until I was ripping them out of the handbook. Down by the exchange, I chatted with a woman from another team. We worried about the phrase "sandy trail." I assumed it meant that the section between the road and where the paved trail begins is sandy.
A man from another team was walking by and told us, oh no, the trail is sandy. "For how long?" I asked. He smirked at us, "For, oh, about 3 miles."
My stomach sunk. Three miles in SAND? Ouch. I hoped my training on my gravel trail, and my one sandy run I did on vacation would save me.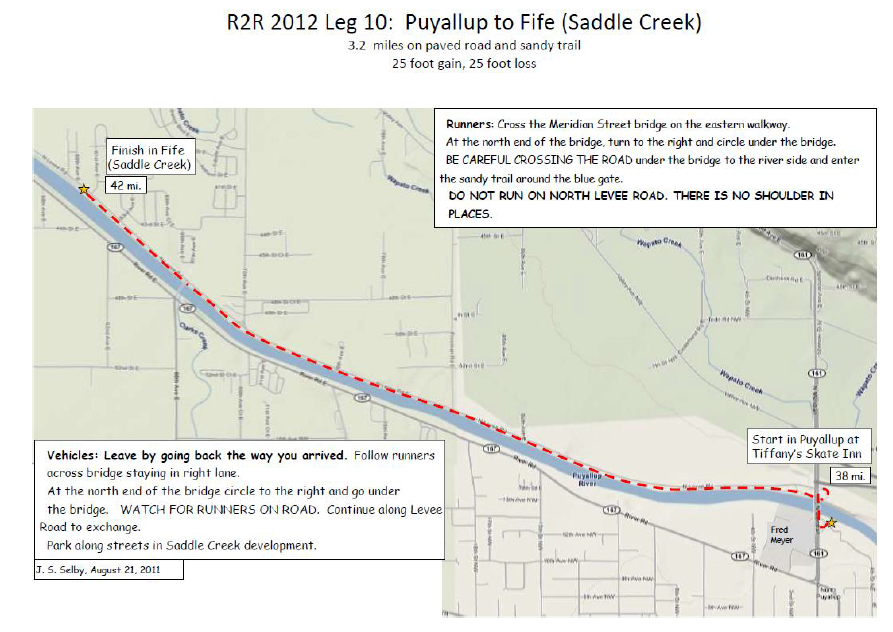 Once again, Mel came in giving all she had to give, and I was off, up through the weeds on the side of a median, across a busy bridge, then down and around and underneath, and then onto the sandy and WEEDY trail.
The trail ran alongside the Puyallup River and it was obvious it wasn't used much. The trail would sometimes almost completely disappear in the weeds with just two sandy tracks about 6 inches wide to run in. In between the tracks was about two feet of waist high or higher grassy and ANNOYING weeds. On each side of me were…weeds taller than my head. I couldn't even see the river most of the time. I did see horse poop, though, which leads me to believe this is mostly a horse trail and explains the two thin "tracks" as opposed to a real trail.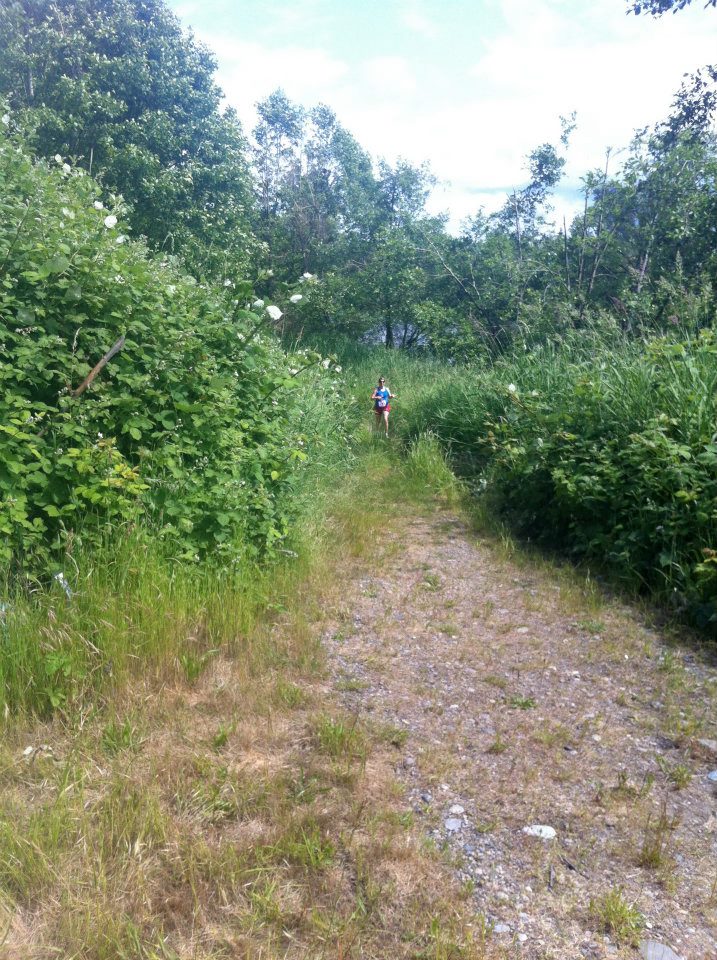 Later, Mel told me this trail is called the Fisherman's Trail. All I saw was some discarded furniture and blackberry bushes. I hoped I wouldn't see any dead bodies (I am MORBID when I run).
The footing wasn't too bad. Most of the time the sand was pretty well packed down, but switching from one tiny track to another to avoid getting thwacked with weeds was frustrating and I am sure it slowed me down.
About a mile or so into my run, my team surprised me on the one hill I would encounter on this leg.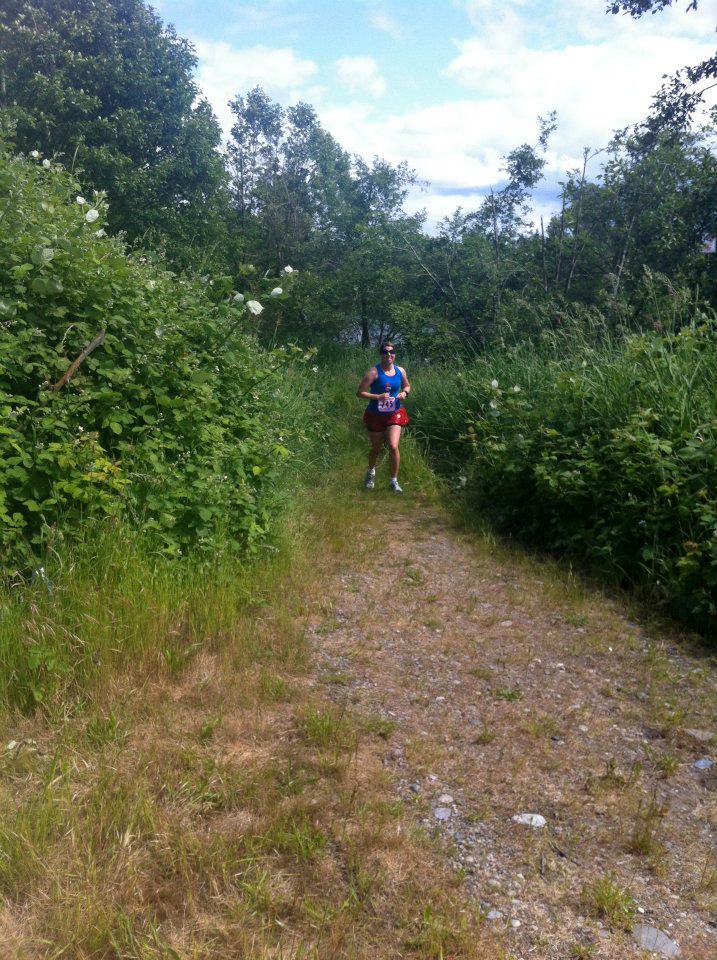 It was AWESOME.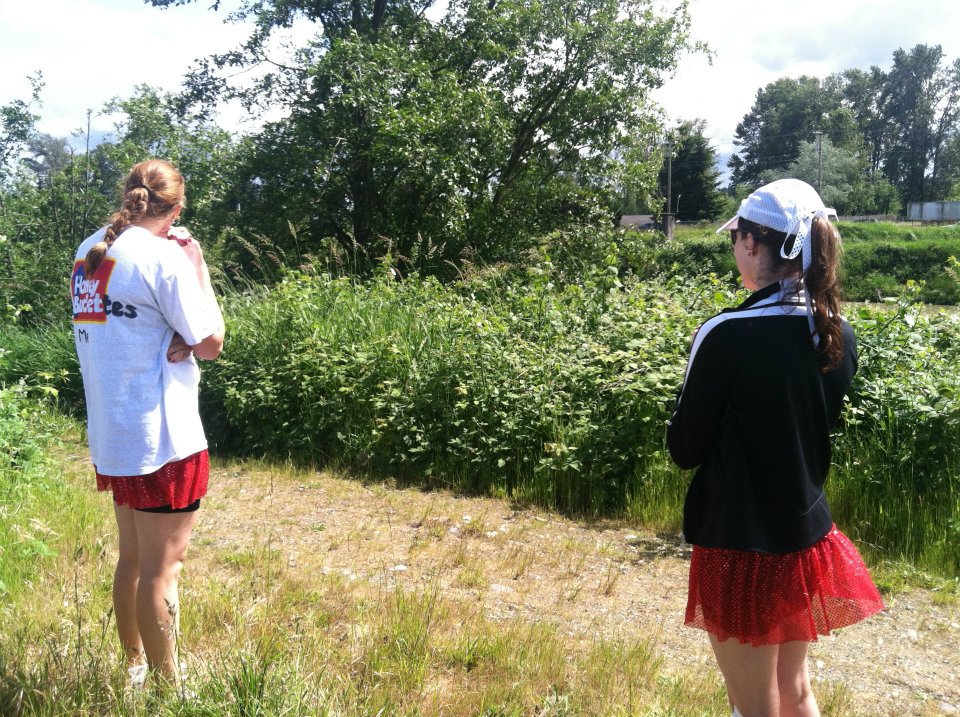 I felt recharged after seeing them, and soon I was passing Olin from our favorite orange team "F My Third Leg." I also passed some ultra runners. Total props to them, by the way. This course was TOUGH. Switching from rough trails to paved to sand – ugh.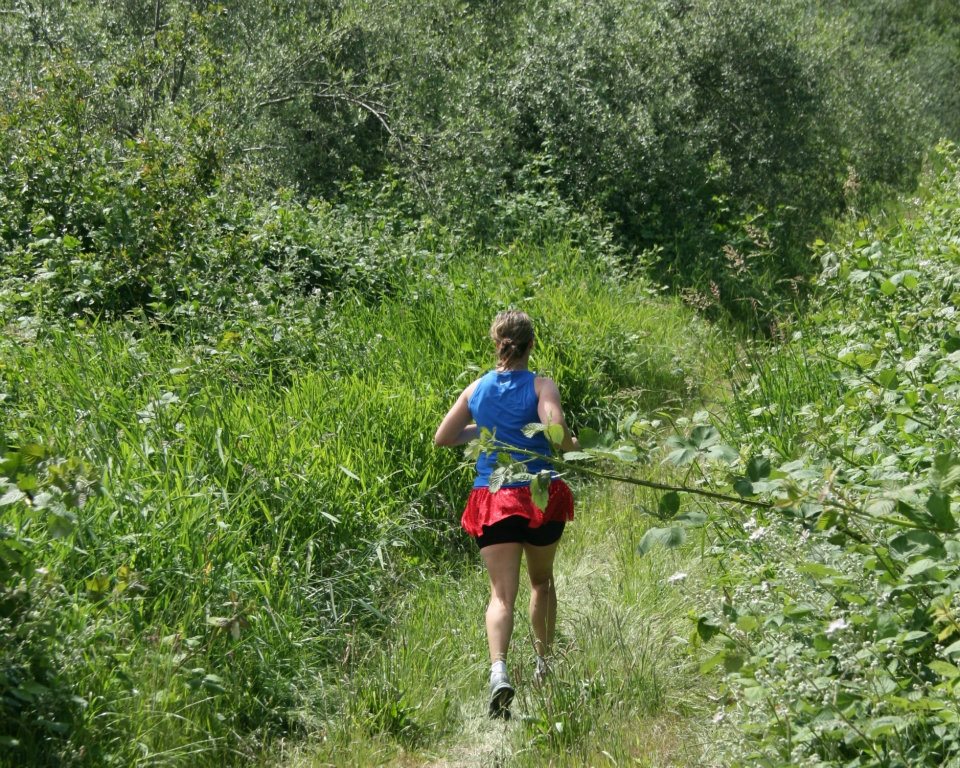 But I just trucked along. I felt steady through this section. Not fast, but steady.
As I ran, I got whipped from tall grasses in the legs, arms and FACE. Toward the end, the weeds began to disappear and we (me and an ultra runner) were running in what felt like an empty part of the riverbed or something. On the right of us was a cement levee covered in clumps of dried mud and leaves, and moss. In front of us was a giant, deep muddy pit. I was about 20 feet behind the ultra runner and watched as she picked her way up the steep levee wall. Imagine running 38 miles and then having your body at an almost 90-degree angle to your feet.
I copied what she did. I am sorry, but I didn't feel like ruining a second pair of shoes.
Climbing the levee was not as easy, however, as the ultra runner made it look. Footing was iffy and there were a couple times I willed myself not to slide down and go rolling into the mud pit. I stepped carefully, trying to secure my feet with dried mud and moss, and hoping it didn't give.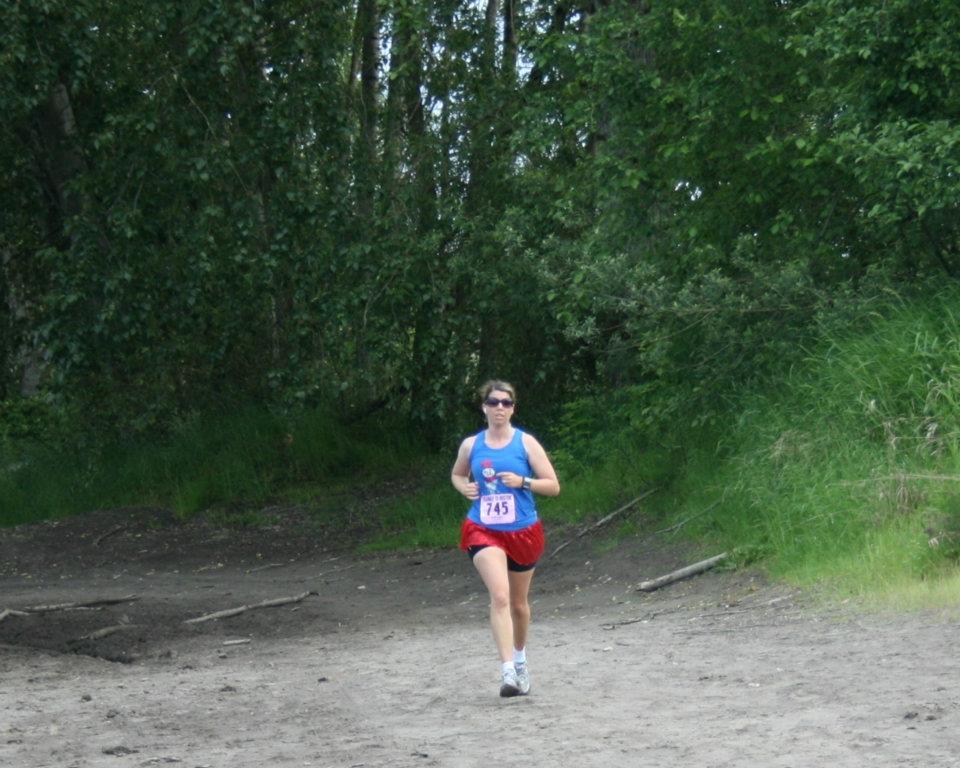 After getting back down and beginning to run again, we came across ANOTHER mud pit. I think I might've cursed at it. The ultra runner went up the levee this time all the way to the top by the road, but I saw a very thin shallow spot and I just ran through. I didn't care anymore. I was almost there anyway.
Not much longer after that I could see the exchange and I tried to step up my pace a bit, but now it was REALLY sandy so I spun my wheels a little. Oh well. I tagged Tiff and I was DONE!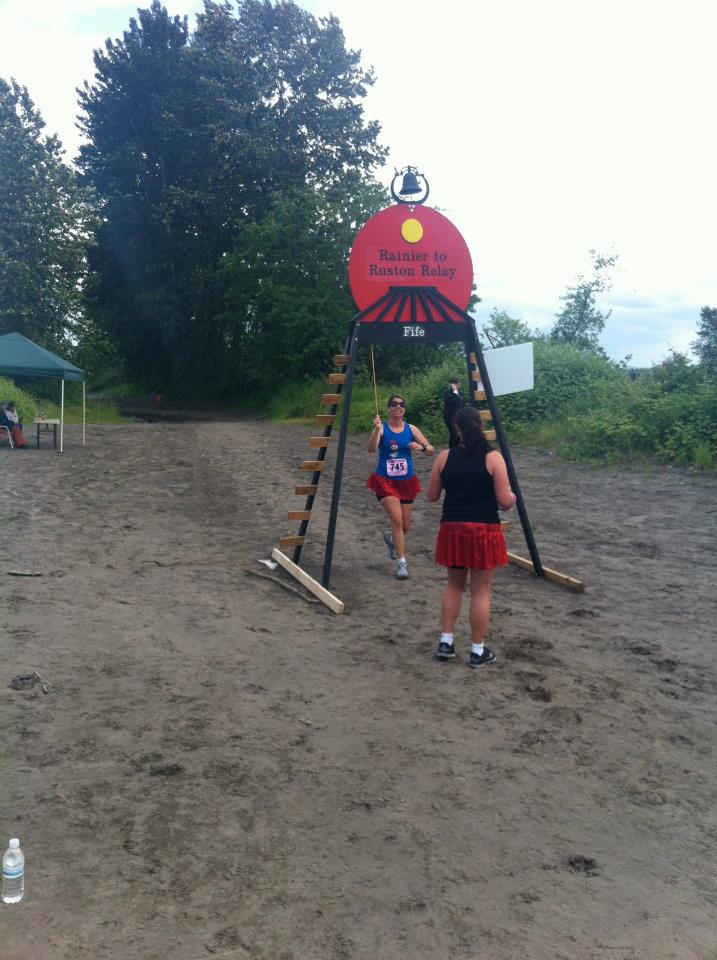 Leg 10: 3.2 in approx. 31 minutes (I don't have access to my Garmin stats from where I am writing this) – 9:49 avg. pace
It felt good to be done. Itchy, but good. I made Mel check me for ticks.
I felt bad that Tiffany was going to have to run in the sand. Luckily, it turned out to be only for about a mile before she got onto roads.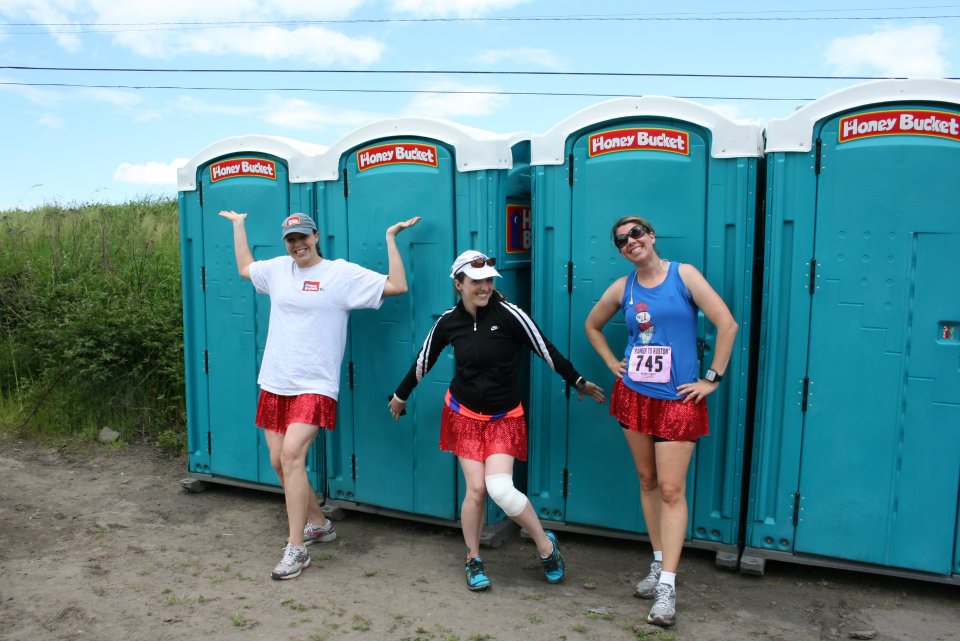 When I saw Zoe, I noticed her knee was wrapped and she said she planned on running her final leg (and the last one of the relay). I knew she would. She promised to call Mel if she didn't feel like she could run it.
The next exchange was at the Tacoma waterfront. On the way, we stopped to cheer Tiffany on a couple of times – this was a longer leg and it wound through an industrial part of the city. Boring, although Mel and Will swore they saw a man who appeared to be dead or passed out on the sidewalk – they weren't sure. That'd put some pep in my step, for sure, if I ran by that. (Tiffany didn't see him, thank goodness.)
At the exchange we hung out and enjoyed the beautiful view.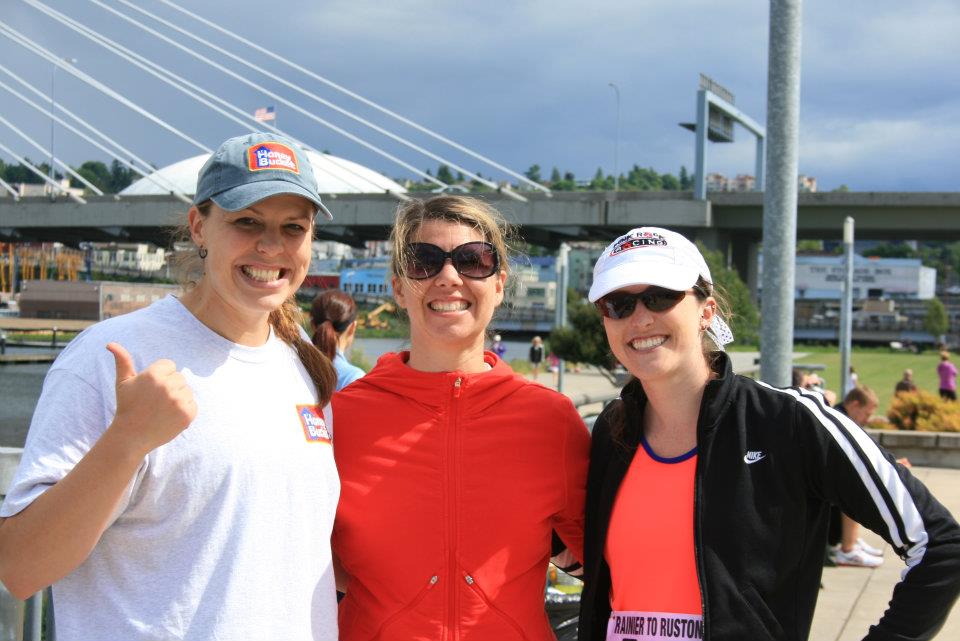 The sun had come out, but the marine breeze kept it cool. We were behind the Museum of Glass and there was a wedding there trying to get pictures. Oh boy. I wouldn't have been too happy had I showed up to take pictures and there's a bunch of sweaty runners in the background.
Tiffany (and basically every team) got lost for a few minutes on this leg, so we waited a little longer than normal, but soon she was speeding into the exchange and tagging Zoe her for final leg. On the way to the finish, we passed for Zoe and she was running up the all-too-familiar on-ramp hill that's featured in Santa Runs Tacoma 5K and the You Go Girl races. She was POWERING up it – she looked strong!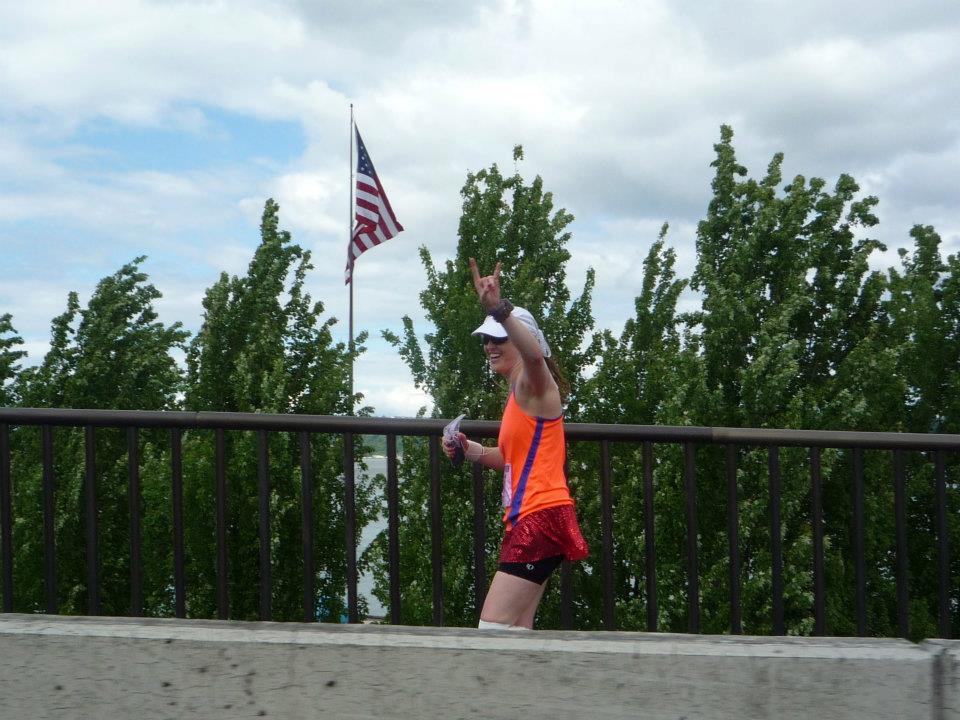 Our fearless relay driver parked us at the RAM since that's where we decided to go eat afterward. We thought we were fairly close to the finish, but we started walking…and walking…and walking. I worried that Zoe wouldn't be able to walk all the way back to the car with her knee and stuff, so me and Tiffany ran about a half-mile back to the car to move it closer to the finish. I ran in my Crocs. That was interesting.
The finish area was awesome. The "chute" was lined with small American flags and there was an arch to run under. We cheered on ultra runners and relayers. A relay team near the chute told us we could run with our runner when she arrived.
Did I mention I was in Crocs?
When Zoe came in she was just about to pass a 50-mile runner, we joined her in the chute and we all held back to let this amazing runner finish ahead of us! It was a pretty cool moment.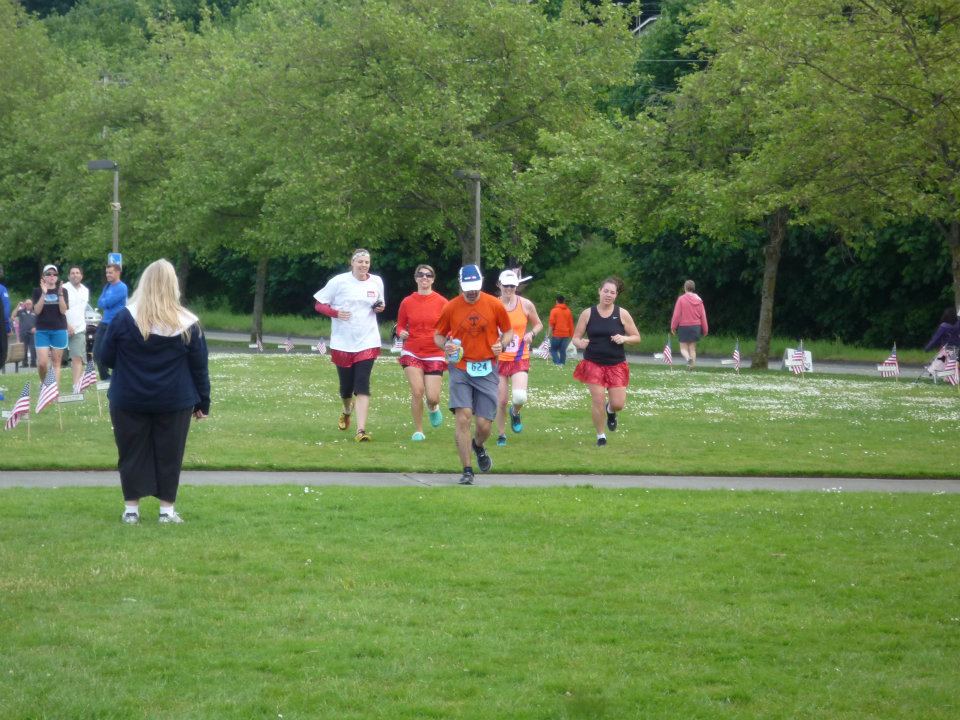 And then we were done! And they had medals, which was unexpected and totally awesome.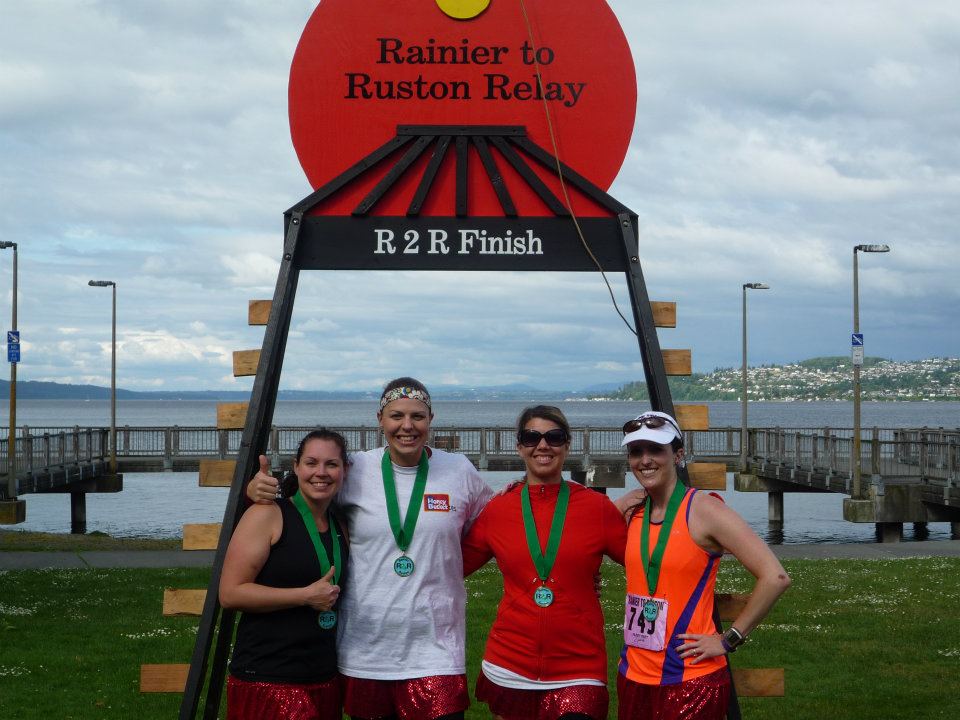 We took pictures and looked around, but mostly all I could think about was eating a hamburger…which we did. But not before we toasted to our success!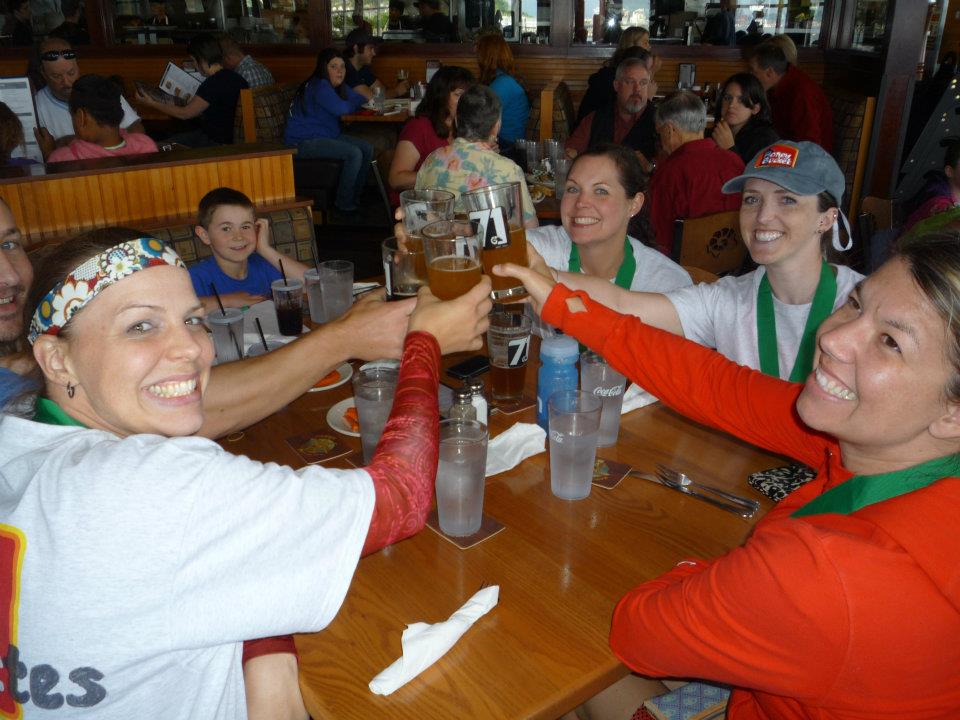 Speaking of success, it turned out that we WON our division: The 4-person Female Relay. We won golden spikes (the spikes represent the "rails to trails" description of the relay)! And, since we were wearing Team Sparkle skirts, we found out later, we won skirts, too! How awesome is that?

During this relay, I'd said I didn't want to run it again. I'm not usually like that, so I'm not sure why I was feeling that way. But afterward, the more I thought about it, the more I wanted to run it again. In fact, I even want the same legs! Am I crazy?