This is the second part of my Rainier to Ruston Relay recap. Read the first part about my toughest run ever HERE.
After I was done cleaning myself off, we all hopped in the car to (hopefully) beat speedy Tiffany to the next exchange.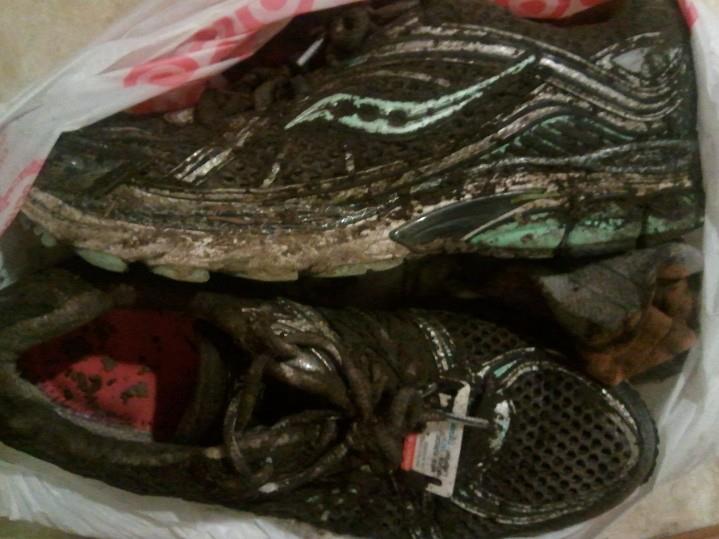 When we got there, it was drizzling. Tiffany rocked her muddy trail (read her report HERE) and was at the exchange in no time, and tagging Zoe for her first run of the day.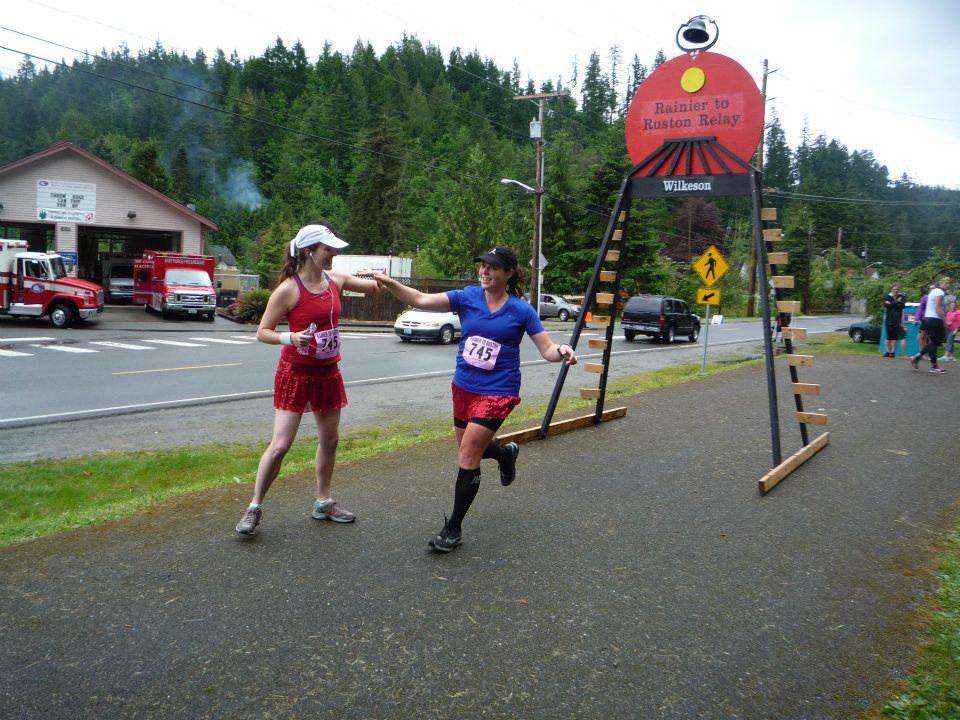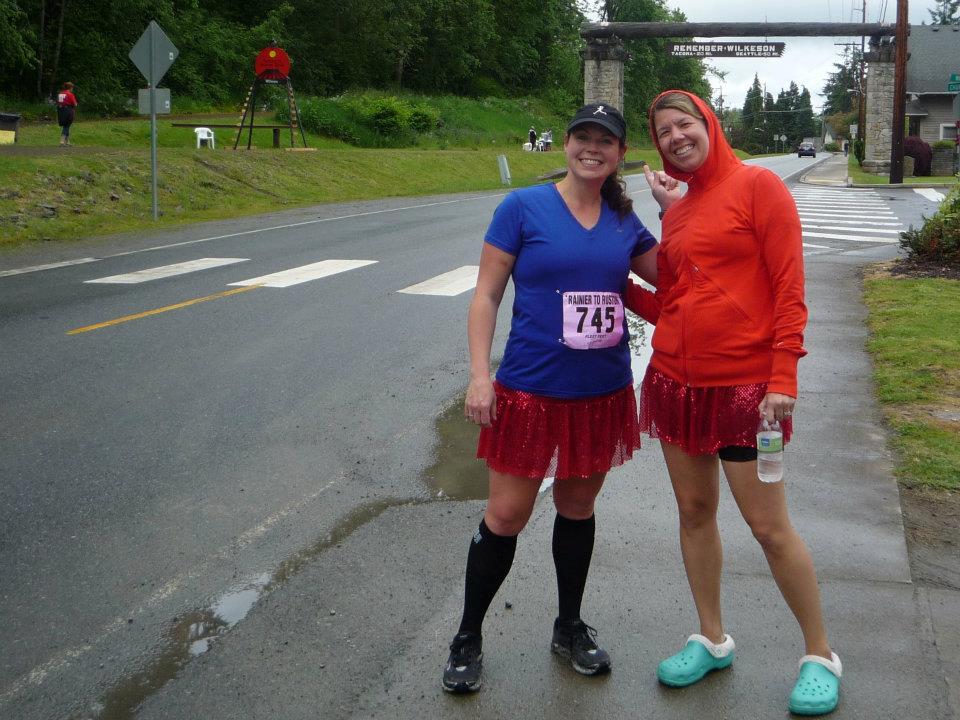 Zoe sped off. Leg 4 also came with a warning to assign strong runners to this "tough and muddy leg." We sped ahead to the next exchange that would now be on the Orting Trail — a paved trail we've all run. Mel's husband, Muscle Man, and their two boys met us at the exchange so they could run for a bit with her on her second leg.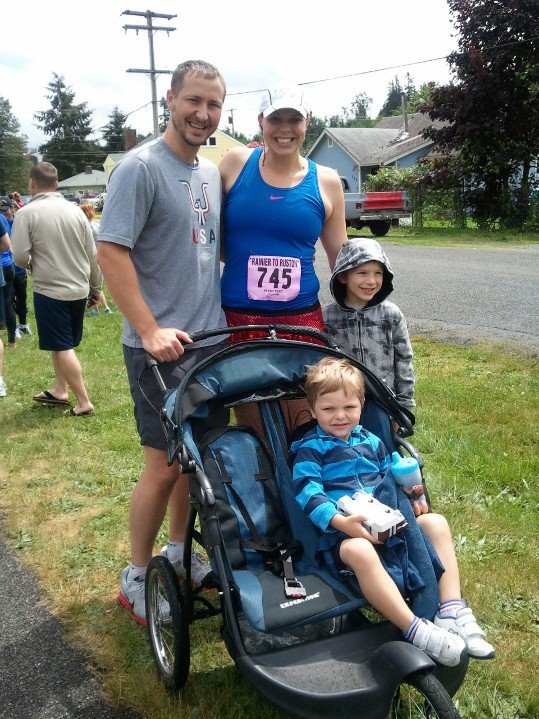 I couldn't believe it was almost time for me to run again! Soon, Zoe was tagging Mel and sending her on her way!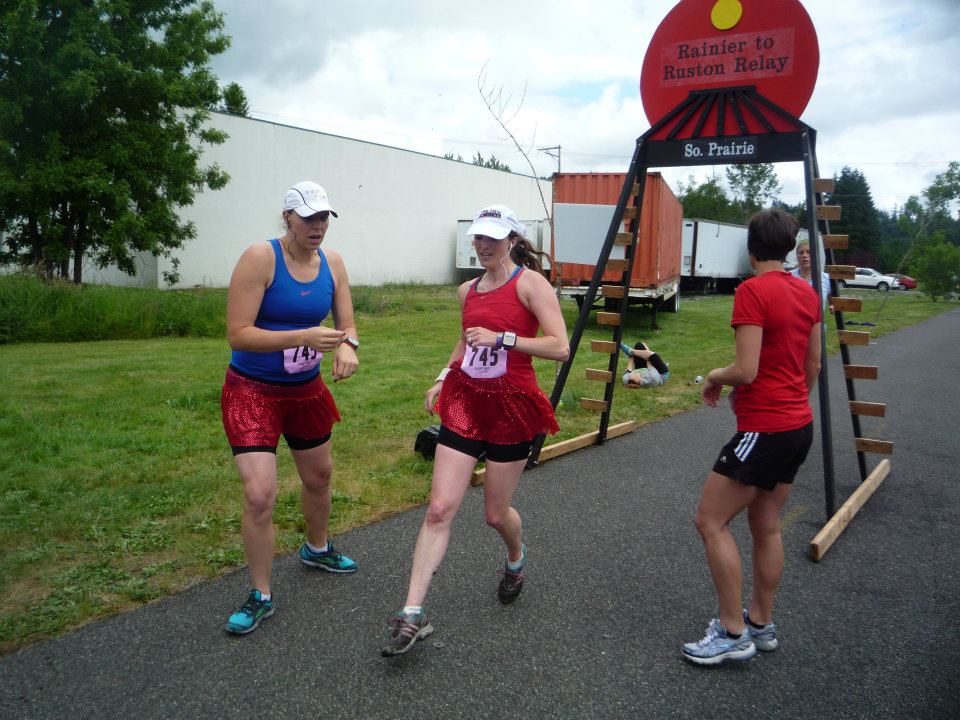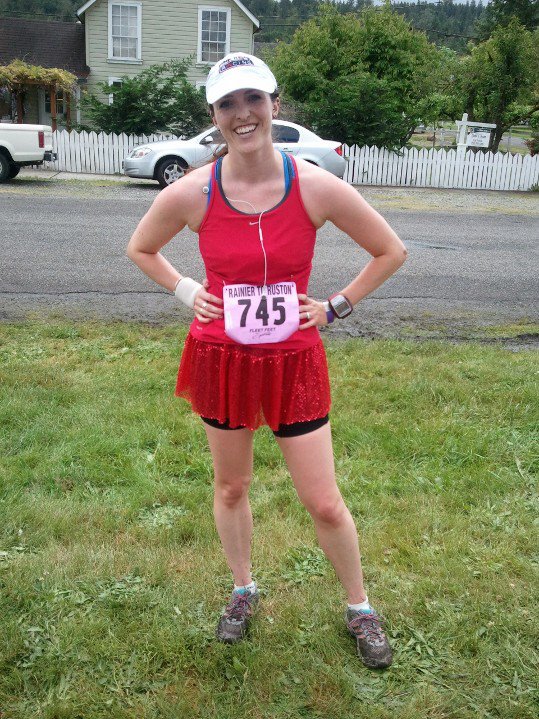 I started getting ready for my second leg. I was not nervous at all since it was only 2.7 miles on paved trail. I was, however, feeling a little tight. I didn't do enough stretching after my first leg. Pretty soon Mel was zooming into the exchange. Her sick body was giving her some trouble, but she is a rock star and powered through it.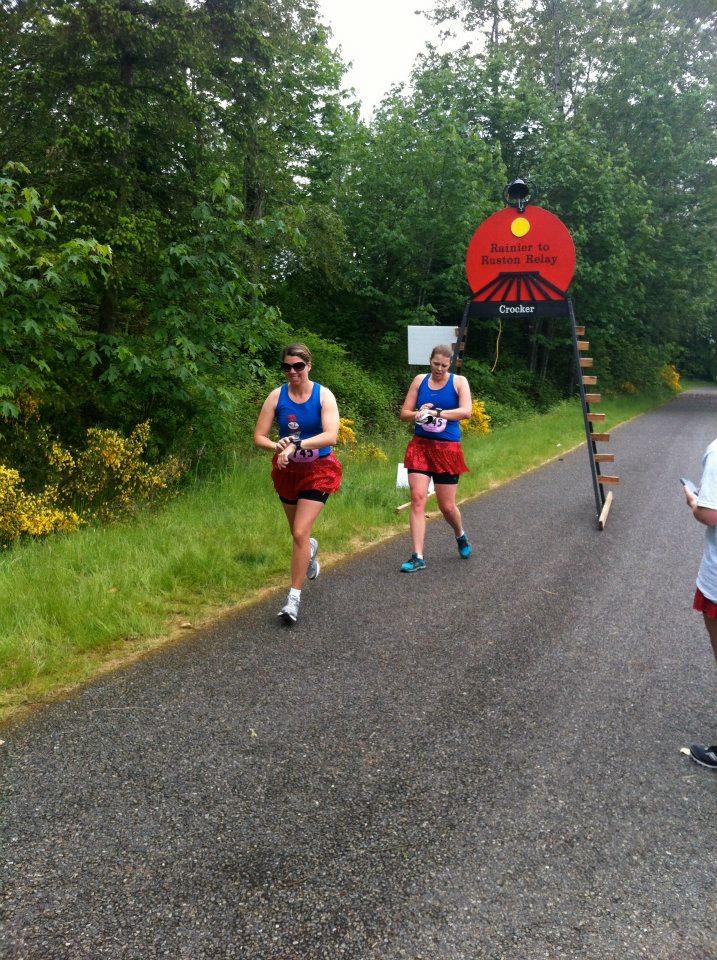 It was hard to get my legs going. They felt rusty. But I soon realized I'd run this part of the trail before, and remembered that it is slightly downhill. I wanted to use that to my advantage.
Soon, I could see that orange shirt way up ahead (we'd been going back and forth with a military team named "F my 3rd leg"). Since the trail was straight sometimes, I could see the orange. He looked to be, at least, a half-mile ahead. Maybe more. I could also see the woman with the boxer puppy, Chloe, who I'd met at the last exchange, ahead of the orange shirt.
Quick sidebar: She was running 2.7 miles with her puppy. My guess is the puppy was about 4 months old. That is too young to run with a puppy. Please, please, please don't run with your puppy over long periods of time like that. They are still growing. A little running around the yard, or a nice walk with a few slow jogging sections thrown in, is just fine. But long-distance running with a young puppy is not good for their developing bones. Most puppy's growth plates are not done growing until 2 years. End sidebar.
The blessing and the curse of straightaways: you can see people you want to pass, but they seem sooooooo far away.
Soon, I passed the emu, that Mel and I have stopped to visit with before. He (or she) was out in the middle of his pasture, though. No visits today. And my team passed me in the car, too. It's so energizing to hear your team out on the course!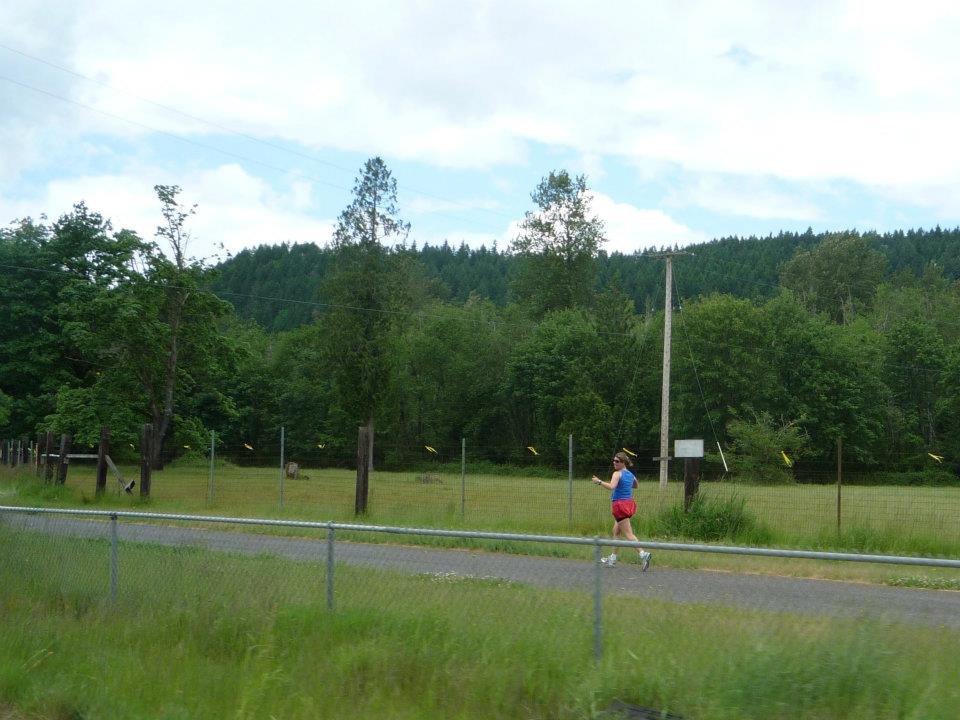 After they went by, I focused on passing the man in the orange shirt, who I now know is named Olin (check out his blog HERE), and the woman with Chloe. I used my cross country visualization skill — put a target on his back (sorry Olin) — and just focused and moved my legs as fast as they'd let me.
There was a little wind, but there was also occasionally some sun breaks. Every time the sun came out, I'd curse it. I was getting so hot. Also, and I think this is from taking 3 weeks off from "real" running, I was out of breath. Darn lungs couldn't keep up with my legs.
I was gaining on Olin, but the course was only 2.7 miles! I needed more time! Now I knew exactly where I was on the trail and I knew where the exchange probably was. I knew time was running out! I just kept my target up and kept churning.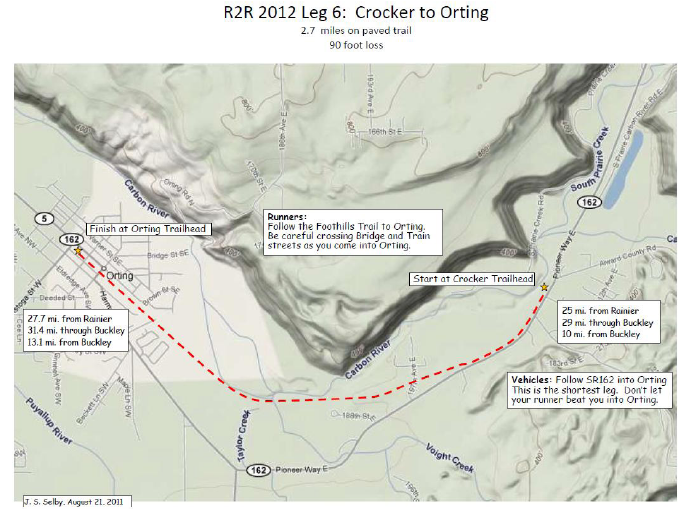 I passed him with maybe a quarter-mile (maybe less!) of the leg remaining. Whew! That was hard! I didn't pass the boxer puppy, though, but I got close. I rang the bell. Now it was Tiffany's turn again!
For a short, paved leg, I ran harder than I have in a month, so it was actually tougher than I'd thought it would be. But I had no idea what waited for me on Leg 10.
Leg 6: 2.74 miles – 22:38 – 8:15 avg pace
(To be continued)