Shocked I was actually, finally, on my way, I powered Mr. T's black Malibu south on I-5 around 3:45 a.m. Sunday with the windshield wipers on low, a stainless steel mug full of Tully's Kona blend in my right hand and the steering wheel in my left.
The North Olympic Discovery Marathon was supposed to be my first 26.2. It was supposed to be a fun weekend with my boys at the ocean topped off with the marathon. But things don't always work out the way you want them to. Since I had to scrap the full, I never got a hotel. Even a few days before the race, I wasn't sure what I was going to do. Drive the 2-1/2 hours before the 9 a.m. race start, find a last-minute hotel room for Saturday night, or not go.
To be honest, I was sort of leaning toward not going since I got a cold and cough on Thursday night. But I was supposed to meet and walk the half with blog buddy Alma of The Average Woman's Running Blog and one of her friends. Making new friends has been one of the unexpected blessings of this blog. I had to go.
But did not sleep well. I went to bed at 9:30 Saturday night, but I kept waking up in coughing fits. I crawled out from under the sheets at 3 a.m. I sort of felt like a zombie. Miraculously I was able to leave by 3:30 because I had everything ready to go.
Anyway, back to being southbound on I-5. I started to get a little nervous. What if I got really sad during the half? Would seeing all the runners make me angry? What if I couldn't find Alma? It didn't help that I was listening to my playlist from my 18-miler (the longest run I completed during training). But there's nothing good on the radio before 4 in the morning.
The sun started to come up around 4:30. Well, not full sun. It was overcast all day, but that's typical on the Olympic Peninsula. It was a beautiful drive — it's been several years since I've been out to Port Angeles. I forgot how pretty it is. The highway cuts through foothills full of Evergreen forests and behind them, snow-capped Olympic mountains touching swirling gray and white clouds.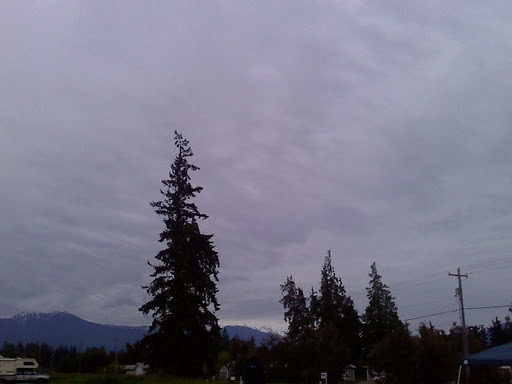 Taken from the area around the start line.
I gave myself too much time to get there. I arrived at the half marathon finish line, parked and was the first person on the first shuttle to the start. The second person, a woman named Judy. This was her first half, and we chatted all the way to the start. We talked about everything. I even heard myself wondering aloud if I'd be 3 for 3 in boxer sightings at half marathons. I ran my first half (Seattle) about a month after AJ, my boxer, died. During that race, I saw a boxer and I ran over to pet him. Before the start of my second half, Mercer Island, I saw a beautiful brindle boxer.
It took about 15 minutes to get to the half start (the marathon start was in a different location, which was good, I think). A group of young boys (from a local soccer team, I think) cheered and clapped as we got off the bus. It was cute.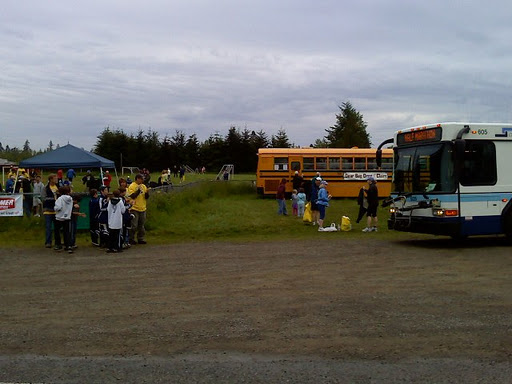 The group of boys cheered for every bus.
We got there at 7 a.m. For a 9 a.m. race start. Yeah, too early. But I was the first one in the Honey Bucket line! Well, there wasn't a line. Just me. I did have to kick a snail out of mine, though. Gross. The packets weren't there yet either. They were held up at the hotel for some reason. So, I milled about.
I met a young woman named Leslie, who was ready to get going on her first half. We laughed at the group of firemen and women who were trying to do math. The problem: How much Heed to mix with a gallon bucket of water? One of the men said, "Don't watch!" But I told him it was only funny because I wouldn't be able to figure it out either.
Some more people showed up. Still no packets, but a group of people were sort of lining up ahead of time, so I went over there. I hung out by the packet pick-up just spacing out. A bus pulled away and then there was this woman standing there smiling at me. Alma!
Alma and Mel.
All three of us at the start!
Note: This recap was getting too long (even for me), so I cut it in half. Here's Part I. Part II will publish later today or tomorrow.