I got an e-mail recently about an upcoming race. It reminded me of this:
Zoë, me, Mel and Amanda looking happy before the Million Inch+ Run – Feb. 2010.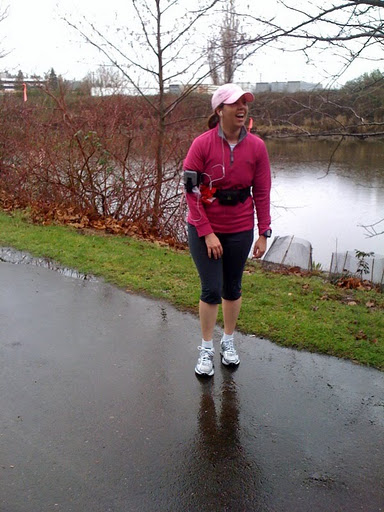 Picture of me dying by Zoë.
It was a great run and a gawd-awful run. Let's reminisce, shall we?
Zoë and I gave a ride to a banana man. Then I started off the 16+-mile run by swallowing a bug. A crazy unibomber guy rode past me on a bike. I smiled at a man in hopes he would change his mind and not commit suicide. I was so far behind I thought I was first. Some jerko told me I was going the wrong way when I was going the right way. I thought someone was trying to abduct me. I went the wrong way. At last, the search party found me.
It was one of my favorite run recaps last year. And I loved being able to read the girls' recaps, too. If you haven't already, check them out. I linked them below.