Finally, I have an opportunity to post a couple of reviews!
Champion Body Balance Long Sleeve Tee
First, the Champion Body Balance long-sleeve t-shirt that was sent to me by Champion earlier this year. I received two sizes in the shirt, which was nice because I am sort of in between sizes.
I got a black one in L/XL and a pretty lavender one in M/L.
Here's a description, I assume from Champion, about this shirt (I can't find it on Champion's site for some reason, but here it is at another Web site):
•Perfect for Yoga, Pilates, Dance or just Hanging Out.
•One-of-a-kind graphics
•Relaxed-fit Silhouettes
•Moisture Management
•Great for Workouts and Dancing
•Excellent Look and Feel
•Everyday and Everywhere wear
•Dialed up Details
•Stretch for Freedom of Movement and Performance
•Strategically knit-in Mesh for Breathability
•Skim the Body Fit
•Feminine Knit-in Design down One Sleeve and at the Center Back
•Fiber Content: "94% Nylon, 6% Spandex"
I also know the shirt has DoubleDry technology.
The shirt is soft and comfortable and really keeps me warm on cold morning runs! The nice thing, too, is that the sleeves aren't too tight, so I can fold them back if I get hot, which is what I did on Saturday's 9-miler. See:
I have a different (more expensive) long-sleeve running shirt that I can't do this in because the arms are too tight. This is an important feature for me since I tend to start out really cold and then get really hot.
The Body Balance shirts are tight. Well, the L/XL is curve-hugging, not tight. I'm not embarrassed to wear it even though it hints at the baby belly I'm still carrying around. The lavender shirt is too tight for me right now. It shows every roll and I'm too self-conscious to wear it. But I love the color and hope that by fall I'll have dropped some more weight and be ready to wear it!
I recommend this shirt if you are looking for something to keep you warm on cold winter runs or on cool spring mornings. It does a great job of wicking away sweat, too. But I would suggest buying the shirt one size up from what you normally wear.
I wear my L/XL black shirt all the time — it's my go-to cold-weather shirt!
Champion Body Balance Shirt
What I Like:
-Soft and comfortable
-Pretty feminine detailing on the sleeves
-Washes and dries well — no extra care needed
-V-neck (very flattering neckline)
What I Don't Mind:
-Body-hugging design shows my rolls, but as long as you get a size up, you'll be fine
***
Champion DoubleDry Fleece Jacket
Champion also sent me an amazingly soft, blue DoubleDry fleece jacket that I love. I wore it on a 10-miler in light rain and it kept me warm and mostly dry. It was raining after all.
Unfortunately, I can't find the jacket online so I can't tell you what Champion says about it. No matter, though. What you need to know is: It's SO SOFT and comfy. I've worn it running, but I also wear it with jeans.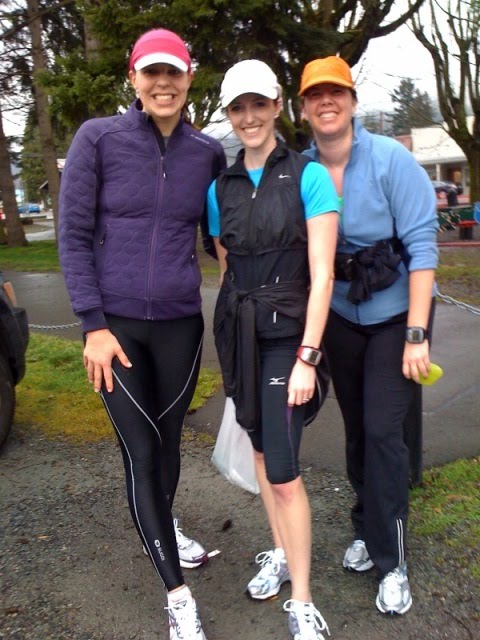 The rainy 10-miler with Mel and Zoë.
Champion DoubleDry Fleece
CORRECTION: Not a half-zip; features a full zipper.
What I Like:
-Soft and warm
-Washes and dries well
-Pretty color
-Flattering cut
-The little fabric flap that protects your chin from the zipper
What I Don't Mind:
-Doesn't wick away wetness as well as I wanted, but hey, it's fleece!
What I Don't Like:
-Pockets don't have zippers