I am not a girly-girl. I don't get mani-pedis once a week, I haven't had my hair cut since March and I can watch football for hours. But I do enjoy the occasional chick flick, the color pink, and I wear a skirt when I run.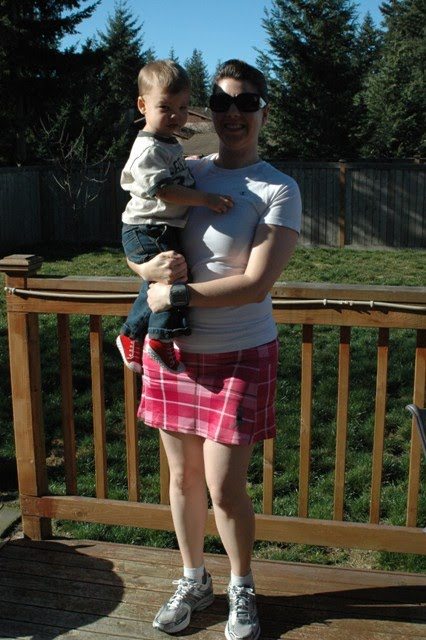 Feb. 2010
The first time I wore a RunningSkirt, I was hooked (photo at right). I was in the process of losing weight and I liked the way the flattering A-line looked. Running shorts rode up until they resembled a diaper. Half the battle of getting out to run, back then, was figuring out what I could wear running that would make me feel good/okay about my body. A RunningSkirt did that nicely. Yes, my thighs rubbed, but lubing them up fixed that.
Now, I'm at least 20-30 (or more?) pounds lighter than the first time I wore a skirt, but I'm no stick. I still like the way the skirts flatter and disguise. And my thighs still touch (they always will — I am loving my 2Toms Sports Shield).
The athletic-style RunningSkirt, which I am reviewing in this post, is a Size 3 (I wear a size 6-8 in jeans) and has built-in compression shorts, which you can see in the action shot (below) from the finish at my recent (PR/sub-2!) half marathon. One of the things I love about these skirts is that they don't squeeze my waist. I still have some baby belly and it can get muffin-topish when squeezed. The skirts have a nice, wide waistband that flatters — it's snug (but not tight) and it doesn't fall down.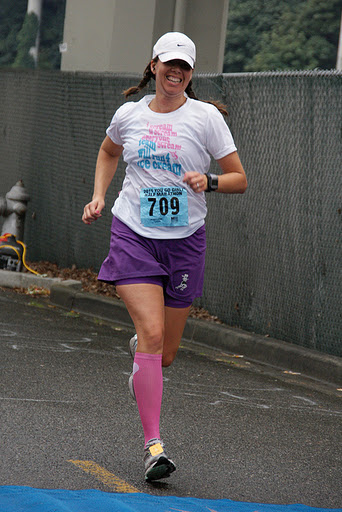 I put my purple RunningSkirt to the test during the half. I put it on around 6:30 a.m. and wore it until I returned home around 1 p.m. For an hour and 52 minutes of that, I was running at about an 8:30 pace. I was able to access the gels I'd put in the hip pockets, easily opening the small Velcro tab (I had one gel in each pocket). The built-in athletic shorts on my running skirt stayed completely put for all 13.1 miles in the rain. If that's not a test, I don't know what is. I never once had to worry about my skirt…or my RunLove socks.
I've talked about the RunningSkirts RunLove socks before. I heart them. See:
RunningSkirts sent me a matching purple pair to review, but I wore my Haute Pink ones in the half because they matched my Will Run for Ice Cream team shirt better. I have worn my purple ones on several runs, though, and, well, I think we all know that the color doesn't really make a difference in performance. Or…maybe it does since my matching skirt and socks helped me get a sub-50 10K recently. Hmmm…
But they do look supercute with the purple skirt. And I think the color purple makes me look more tan, which is nice.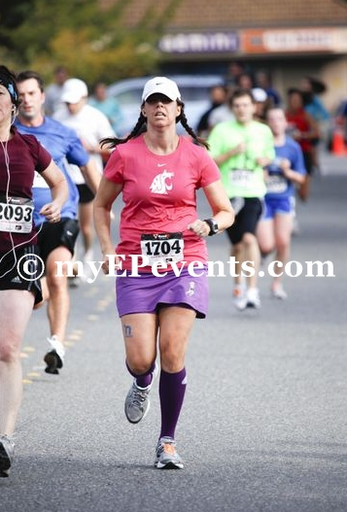 Just because I wear a skirt, doesn't mean
I'm not serious about running. Racing the clock
here to get a 49:48 10K.*
The first time I wore RunLove compression socks, on a 16-miler in the spring, I realized I'd been wearing the wrong socks. The too-thick socks I'd been wearing rubbed and caused blisters, but after 16 miles in the RunLoves, all I had were my existing blisters. No new ones! The other thing I love about the RunLove socks is that they provide some muscle support to my shins and calves. These socks are tight, but not as tight as other compression socks I've worn. What I like most is that they don't move on my foot and that they look cute!
The moral of this story is: Don't be afraid to try new wardrobe options. Obviously, don't try them on a long run if you can help it.
Check out RunningSkirts.com to shop or browse their fall collection. I've tried every style and love them all. I wore a Capri Skirt and the original Running Skirt during Hood to Coast (Capri Skirt review to come soon).
Here are a few tips for your running skirts:
Size is important. Too big and the skirt may fall down as you run or the compression shorts may not be tight enough and ride up.
Lube your thighs before you put on your skirt. It's just easier, and then you won't stretch out the compression shorts trying to pull them up to lube underneath.
Don't dry your RunningSkirt in the dryer. Hang it to dry so the skirt (and shorts) will keep their shape and size. I hang mine up at night and they are dry by morning.
Thank you to RunningSkirts for providing me with a skirt and socks to review. I received them for free, but the opinions above are entirely my own.
*Yes, I will be purchasing the picture. It's not pretty, but it was a significant race for me.