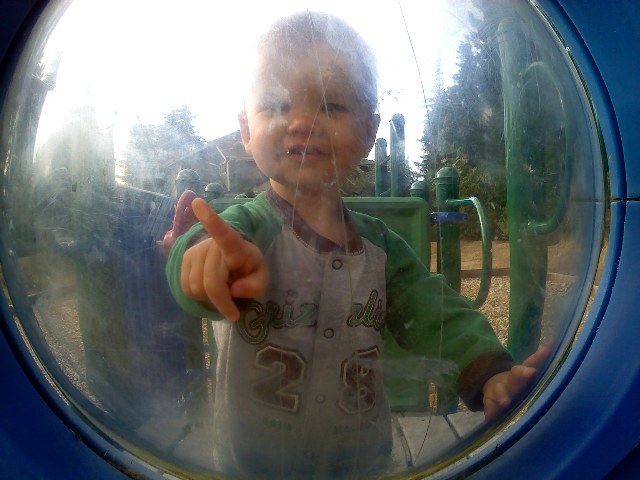 T Junior at the park in August 2009.
We live in a pretty quiet community. There's a park for little kids down the street. A tree-lined trail runs along our neighborhood. There's a lake for kids to play in.
But now some bad people are ruining it for us. It makes me angry.
Yes, I've had a love/scared relationship with the trail, but I usually got over my fears. I just always tend to imagine the worst thing that could happen. So I've run the trail with my gut, which means, I listen, watch out and turn off if I feel threatened.
Sunday was one of those days. I took T Junior in his jogging stroller for a 3-miler. I couldn't decide if I want to take the trail, and eventually decided it might be easier than dodging parked cars (I run on the street — no more concrete sidewalks for me). Plus, T Junior got a camera for Christmas and he wanted to take pictures of the trees.
Once on the trail, I headed in the direction to where it meets up with the main road in town (where I turn around). It's probably a quarter of a mile from where I get on the trail across from my house to that road. About half way into it, though, I spotted a dude just loitering up ahead near my turn-around spot. He seemed out of place, and since the trail is hidden from the road and behind fences of homes, I decided to turn off at the park and rejoin a neighborhood.
That'll be the last time on the trail for me and my son.
On Tuesday, there was a gang-related shooting on the trail right next to the little park that's .1 miles away from my house (I know, thanks to AJII — my Garmin — and past running routes). Nobody died, thank goodness, and arrests were made. But what if someone was in the park with their kids then? What if someone was running by? Now I'm scared. I don't even want to run outside in my neighborhood.
I makes me sad. And mad. Where did these people come from?
See the news story, go HERE.