When it comes to running a distance race, the most undertrained muscle in the body, in my opinion, is the brain. Sometimes you have to believe yourself all the way to finish line.
"It's supposed to be hard. If it wasn't hard, everyone would do it. The hard…is what makes it great!"
-Tom Hanks in A League of Their Own
This year, the Rock N Roll Seattle people unveiled new half and full marathon courses. Looking at them on the website prior to the race, I wasn't too concerned about the half. Really, I was mostly sad that it had less mileage along Lake Washington and more mileage in what looked like an industrial area. The full looked better than the old course, with more mileage along Lake Washington and around Seward Park. But I was running the half.
Actually, I wasn't completely sure if I was running the half. I'd been training (with the exception of that three-week hiatus in May), but I hadn't registered. The cost was astronomical, in my opinion, and I just couldn't bring myself to pay it. The closer the date came to the race, the more convinced I was that I would not be running it. Plus, my longest run (with the exception of the 12-13 miles I did over three legs of the Rainier to Ruston one-day relay), was 10 miles.
About a week before the race, I found a bib. A friend of a friend couldn't run. Bummer for her, but I was in.
The night before the race, me, Mel, Jill and Zoe spent the night at Chelsea's house. I cannot stress how awesome that was – to not have to worry about traffic, etc. the next day. We had A LOT of laughs, a few adult beverages and some snacks thanks to our host before finally turning in around 11:30 or so.
Before I knew it, it was 5:15, and we were up and at 'em. As expected, I didn't sleep well – not because of nerves or anything, but because I just don't sleep well in general and especially somewhere other than my own bed.
Why does time go by so fast in the morning? It wasn't long before Chelsea was giving us a 10-minute-to-departure warning.
Side bar: How awesome is Chelsea? She let us stay at her house, THEN she drove us to the start and dropped us off right at bag check. Then THEN she cheered for us around Mile 6 and held on to all of our discarded sweaty arm warmers, and after the race, she had mimosas for us. Mimosas, people! And peanut butter M&Ms and oranges and stuff. I highly recommend getting a Chelsea for your next race. End side bar.
Okay, so where was I? Chelsea dropped us off at gear check and then we had to figure out where the Brooks VIP potties were even though we'd just gone, but you can never go too many times before a race. Plus, the VIP potties are awesome and hosted by fun Brooks employees wearing tuxedo shirts holding trays with mints, gums, GU (which I'd forgotten, so I was happy to get one – thank you!), etc.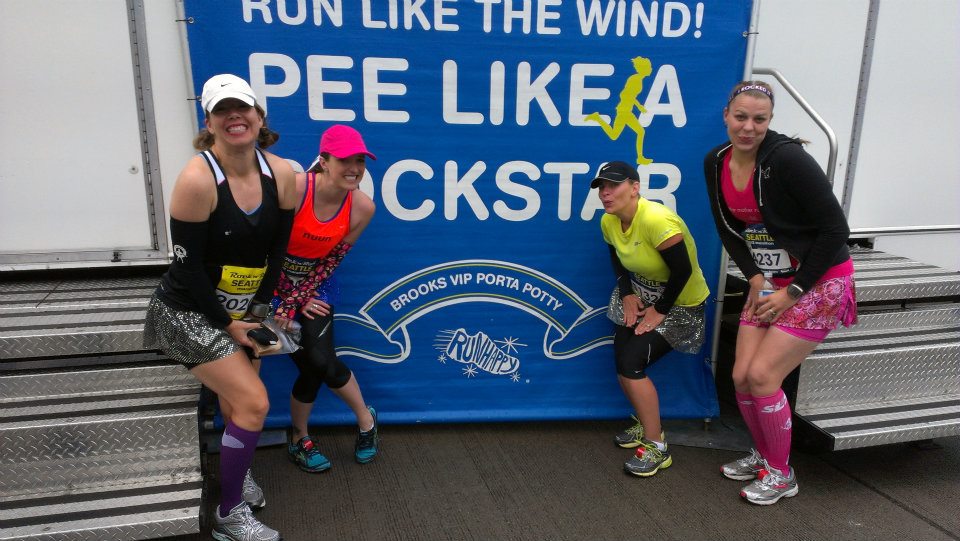 The VIP potties are in trailers – there are real flushing potties, running water with actual soap, and lots of supplies you might need: sunscreen, hair ties, hair spray, lotion, etc. It was fun to see Brooks Guru Tiffany, who I met at the Brooks and OnlineShoes.com Girls Night Out on Friday, and Melody, who was in Mel's van during Hood to Coast last year.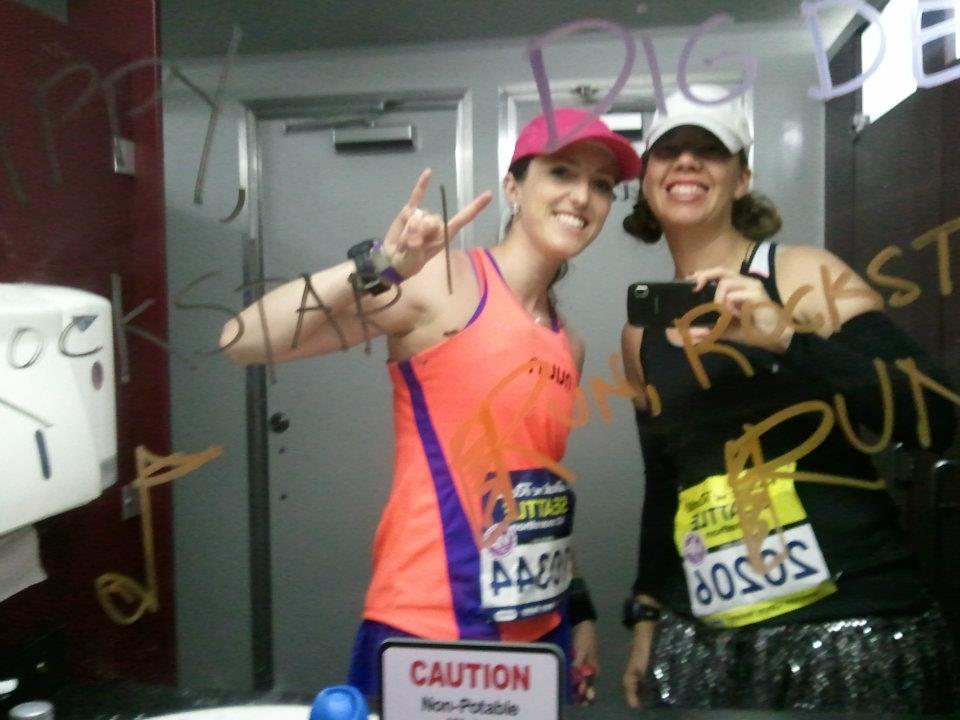 Next, we made our way to Corral 7 for a pre-race bloggy picture. So fun to know so many people at the start!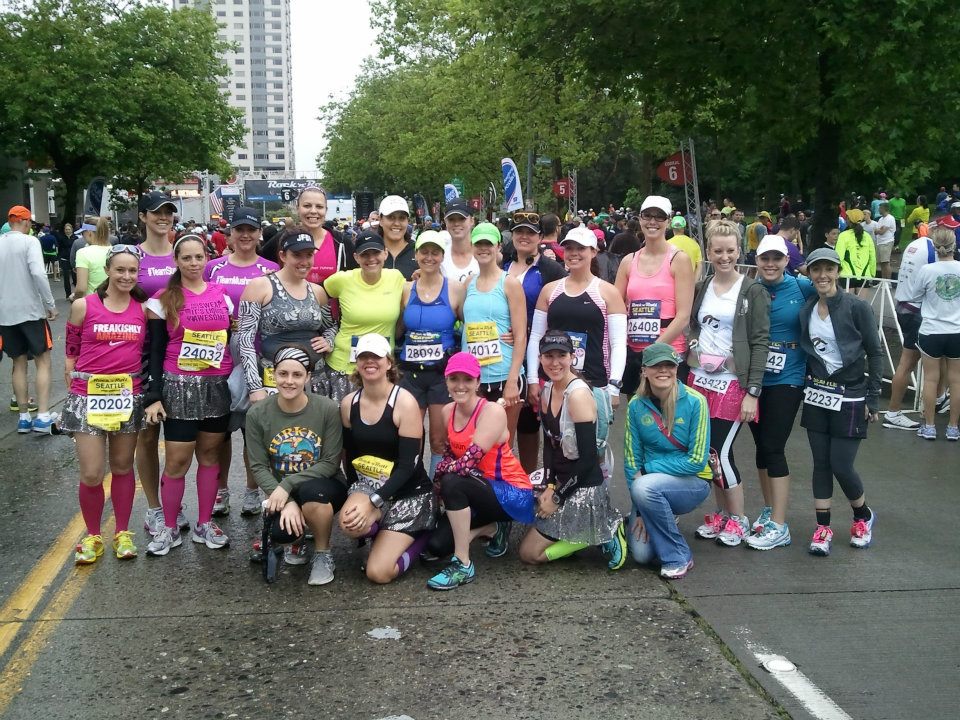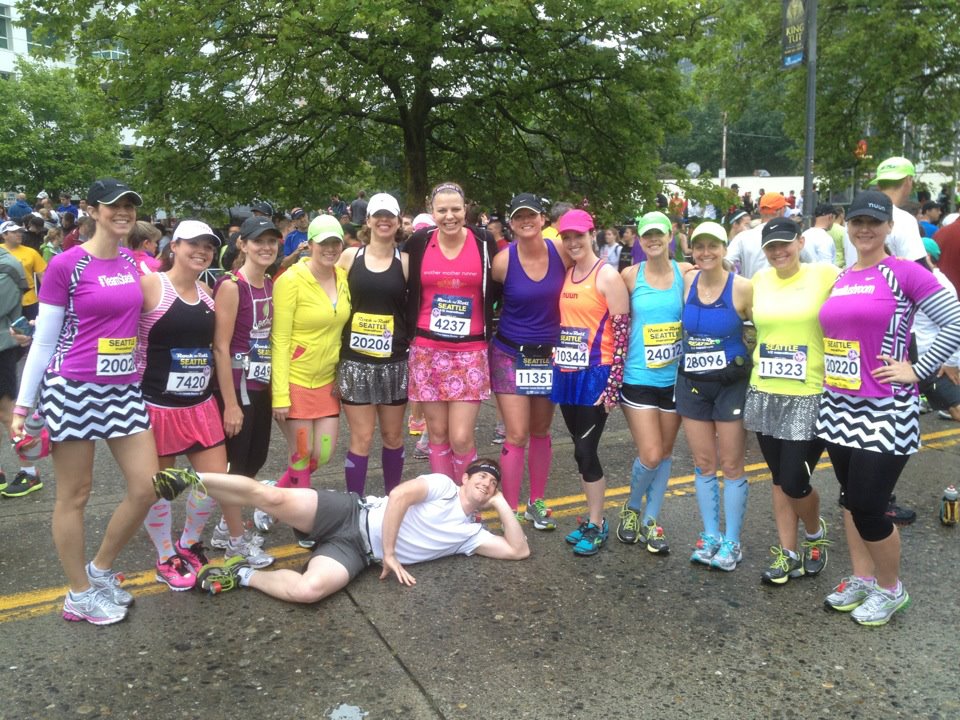 After that, a few of us moved back to Coral 11: me, Zoe, Kim R., Lauren and Jill, and more, but I can't remember everyone that was in there now! In front of us in Corral 10 was Kim W. from Nuun in a blue Team Sparkle skirt.
I ate my PB&J sandwich with about 45 minutes before we crossed the start line (a little too early). You can see that I'm trying to hide it in most of my pictures! People like to make fun of my sandwich, but I believe in the PB&J.
Kim R. and I had discussed running the race together, but agreed on just starting together in case one of us was feeling better than the other. Zoe was going to start with us, too, but I was worried about her knee, which has been giving her problems since our Rainier to Ruston relay a few weeks ago.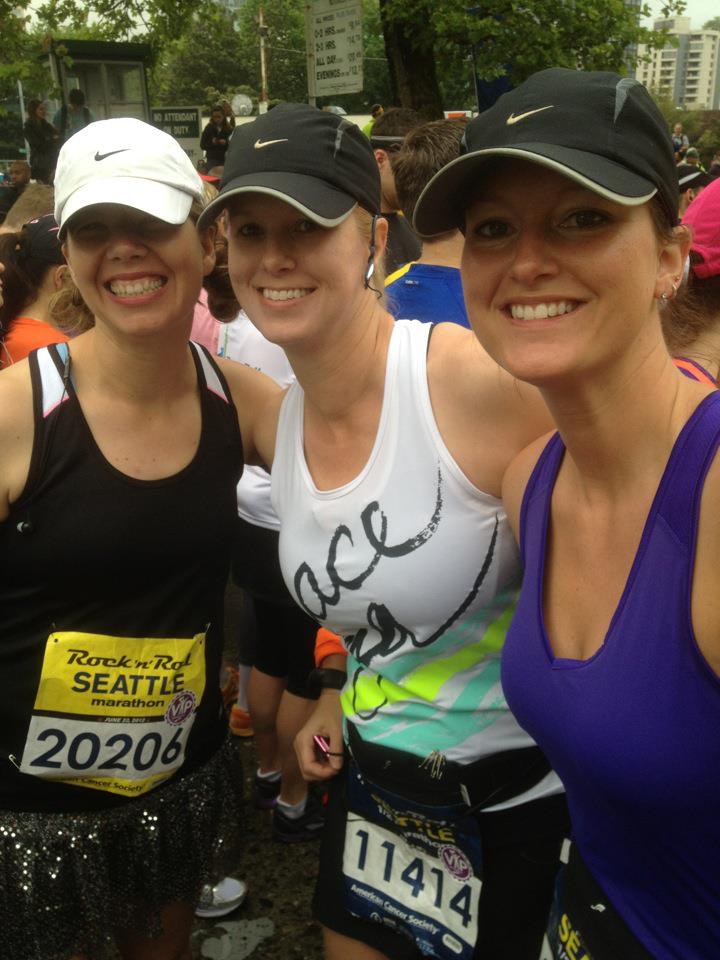 My goals for this half were to have fun and to run a sub-2.
We moved slowly forward. I was not nervous AT ALL. This is highly unusual for me, but I think running without the timing chip took any pressure (that I put on myself) off.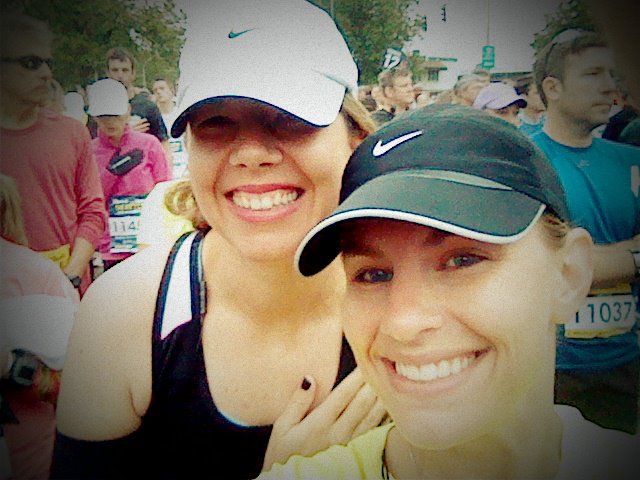 It took us about 12 minutes to cross the start line. Why do I know this? Because, this morning, I looked at the time on my Garmin – 7:12:16 a.m. – which I pushed just before running over the start line. But note that the paces I listed below could very well be off – sometimes way off – since the tunnels and city streets were making my watch go crazy.
(Reminder: I did not wear a timing chip since I was wearing someone else's bib – a full marathon bib to boot. Trust me, I considered doing the full for a second, but I know 26.2 miles is no joke and with 10 miles as my longest run, I didn't want to die or worse, hurt myself. Also, let's be honest, if I'm running a full marathon, I want a record of it online somewhere.)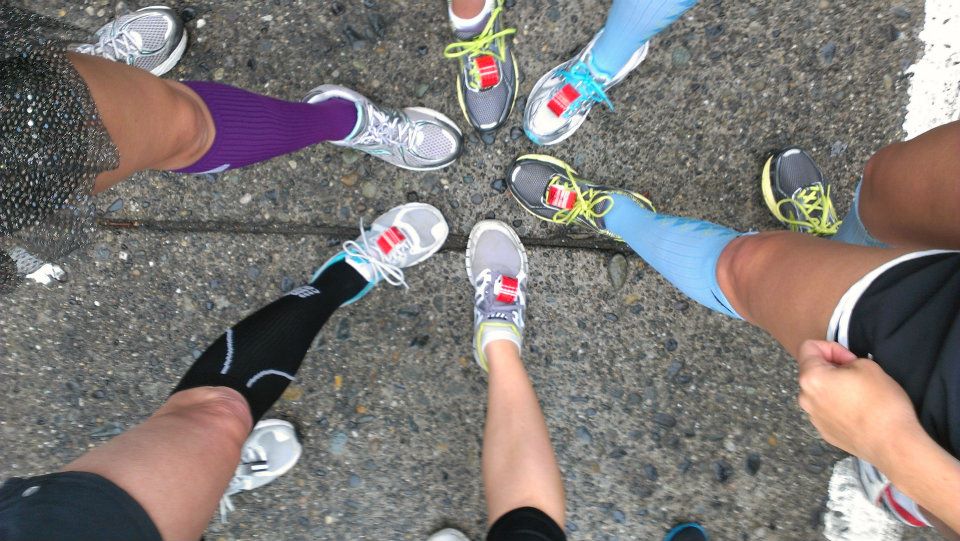 Me, Kim and Zoe ran across the start and then ran side by side by side down the wide city street in Seattle. I was doing rock-star poses for the cameras, and cheering on spectators and bands. I was having fun.
MILE 1
(8:59 avg pace)
I'll tell you what I was not doing: keeping a good eye on the pace. Every once in a while someone would say we were running mid-8s, and I would pull back. We'd agreed to keep it around 9. But also our watches were acting weird for the first mile or so – perhaps the buildings weren't allowing us to get a good signal. Sometimes, Kim's watch would say we were hanging at an 8:45 pace and, at the same time, mine would say 9:15. Sort of hard to get a good idea of your pace that way.
But I felt good and I was having a lot of fun pointing out random people (dude with feather headdress on and sari with bangles?), so I wasn't worried about the time so much. Besides, all I really wanted to do was have fun. Oh yeah, and getting a sub-2 would be nice, too, except I realized I hadn't looked up what the bare-minimum sub-2 pace would be. Luckily, Kim R. knew we could run just under a 9:10 pace and be okay.
MILE 2
(8:35 avg pace)
Someone, who had driven the course, mentioned before the race that Mile 2 was slightly downhill for a while, so we used it to our advantage and banked a little time. I think this time is accurate, but not sure.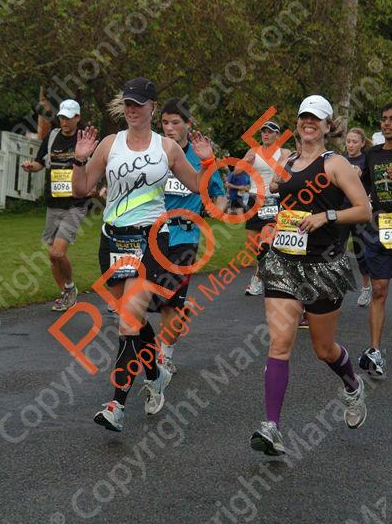 MILES 3-4
(9:17 & 9:00 avg paces)
We were cruising along and here comes my Mt. Si Relay teammate Nicole, who was running the full! She was looking nice and relaxed even though her cruising pace is pretty quick. Other than that, I don't remember these miles AT ALL. Runamnesia. So, this is where I will talk about the water stops.
Kim R. and I slowed at each one, but managed to run through the water stops up until the one during Mile 6, but I'll talk about that one later. Someone, Mel?, taught me to squeeze the paper cup so that the water is funneled into your mouth better while running. Unfortunately, I forgot about that on the first one and I basically washed my face with it and it went up my nose. Hahaha! Hopefully, I gave some people a good laugh.
I usually run with my own water (enhanced with Nuun), so the water-stop thing is not a skill of mine. Also, I was scared to take Gatorade because I've heard about so many tummy issues. I haven't had tummy issues DURING a race (*knocking on wood*), so I wasn't sure if I wanted to start on Saturday.
The other water-stop tip I know: Crush up your cup before throwing it at the garbage can. I kept missing anyway, but it helps your chances of getting in there. Who told me this? Mel?
MILES 5 & 6
(9:09 & 10:14 avg paces)
I was so busy cheering bands and high-fiving cheer squads, I hadn't really looked up in a while to see what was ahead of us.
But when I finally did, I saw a towering 2-part hill. I think I audibly groaned. But Kim powered up that thing like a pro and I did my best to follow her example. This is the first time of the day where I surprised myself with my hillabilities (more on that later). But then the downhill. The downhill!
The downhill might've been worse than the uphill. The road was so steep, and slick from early morning rain, that I was concerned about slipping. So was Kim. And I was pretty sure I was getting a blister on the bottom tip of my left big toe. Boo.
We got down and there was a big row of Honey Buckets, so Kim, who had been expressing concern about finding a lineless one, decided to make a quick stop. I told her that it was totally fine. I'd been whining about a nasty side ache just before the hill. Kim said I might be low on electrolytes. So I decided I would GU with Gatorade during her pit stop.
Kim was seriously fast and I barely had time to choke down a too-thick, too-sweet vanilla GU (I prefer PowerBar's thinner gels) and some fluids before she was back!
We were running again along Lake Washington, and keeping our eyes peeled for Chelsea. My side ache went away quickly (must've been low on something). We saw Alma and screamed!
Next, we found Chelsea up ahead. I'd taken off my Moeben arm sleeves and rolled them into a ball. When I was close enough, I threw them to her – over the heads of runners! Don't worry, I threw them way up. She caught them, and I heard later that we had some cheers. Hahaha!
Next was the Wear Blue to Remember section. The street is lined with soldiers' photos and names, and the dates they were killed in action. Flags line the street, too. I looked over at my running buddy, and Kim was choking up.
MILE 7
(9:33 avg pace)
It's a very moving section of the race, and I tried to look into the face of every photo and thank them for giving their lives for us to be free. I clapped the entire time – even up a hill – as a way to thank their families; many were standing along this section of the course.
Last year, I cried like a baby through this section. I was close this year, but I had prepared my mind for it and held it together since it's difficult to run and cry, which is why I reached the top of the hill and didn't see Kim anymore. I knew she'd been tearing up, so I pulled over to the side of the road and waited for her.
But once we were together again, I knew it was time to part. I could tell Kim was struggling, and I had that feeling like holding back and hanging with her would make her feel worse. Since, we'd only agreed to start together, I told her I was going to go ahead. She seemed okay with that, and so I left her.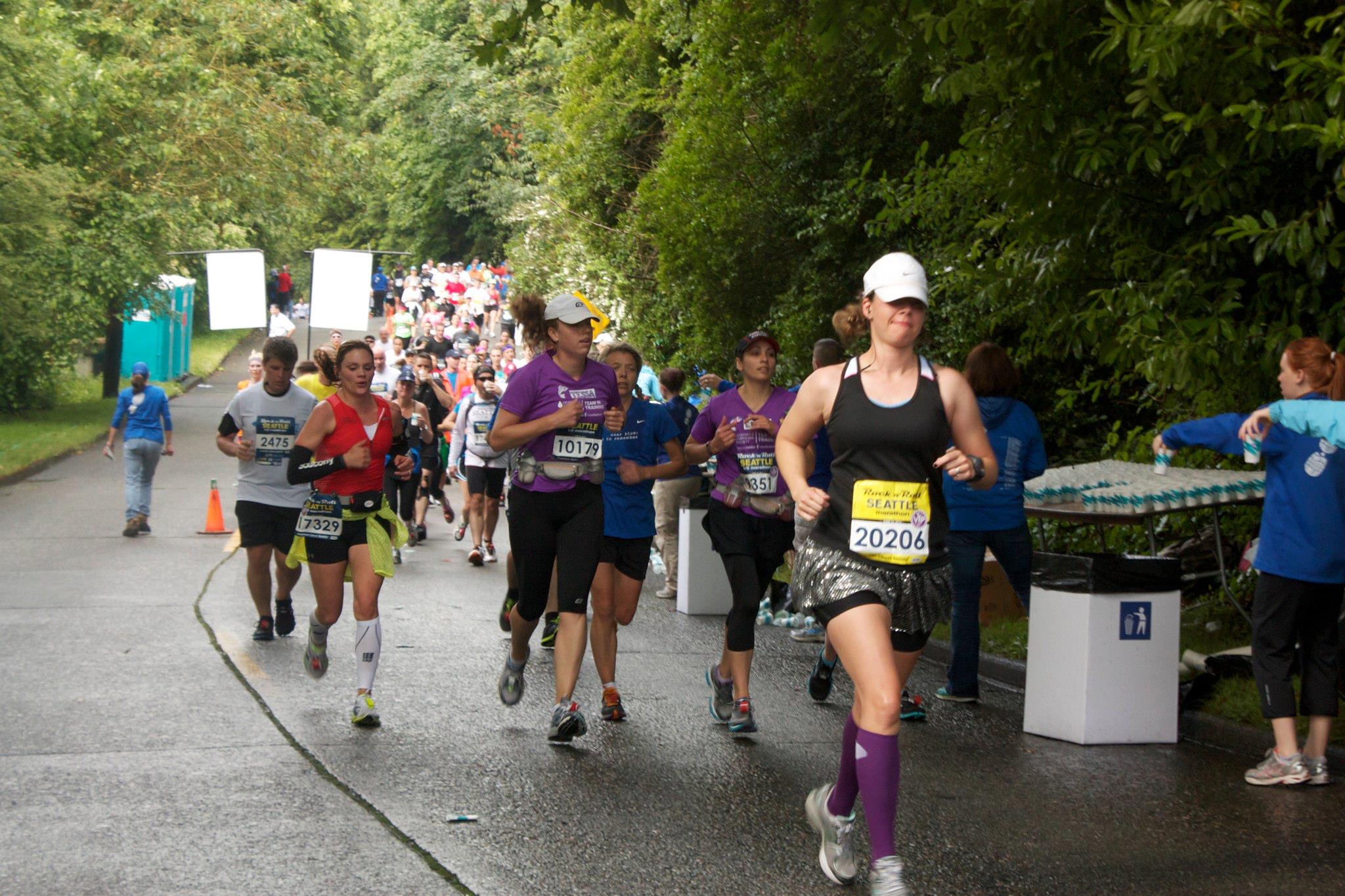 After I left her, though, I felt bad about it, and I debated with myself about that decision for the rest of the race. I was feeling decent, though, and just let my legs carry me. There was a steep uphill to get up to I-90 that I knew was there, and so I was prepared for it. I ran up, passing people.
Side bar: I seriously surprised myself with my hillabilities on Saturday considering I don't run hills, and I generally seek out flat routes for my runs. BUT I had 21 days of Jillian Michaels's 30-Day Shred under my belt by Saturday, and I think that my glutes are stronger from it and this is why I could power up the hills. End side bar.
Then it was into the bridge tunnel.
MILE 8
(8:59 avg pace)
Last year, Zoe and I got so dizzy in the tunnel, we had to stop and walk. This year, I just wanted to get through it as fast as I could. I picked up the pace and picked off people (little did I know my Mt. Si teammate Lauren was trying to catch me – sorry Lauren!).
I'm not sure about what my actual pace was through here because my Garmin lost the signal and was doing weird things. I am pretty sure it was faster than an 8:59, though. It certainly felt faster. I was basically sprinting.
Ironically, "Lights" by Ellie Goulding came on my playlist when I was in the tunnel, which has very poor lighting. Now I will never be able to hear this song without thinking about sprinting through the I-90 tunnel. Just how when I hear "Magic" by B.O.B., I will always think about running that final section of the You Go Girl half along Dock Street in Tacoma – on my way to my 1:52 half PR (in 2011)!
MILE 9
(8:50 avg pace)
Once I was out of the tunnel, up high on I-90, there was a breeze and it felt so good! I could see Kim W. in her blue Nuun shirt and Team Sparkle skirt up ahead, and made it a goal to catch up and say "Hi," which I did. But I was in a nice rhythm, and so after a quick greeting, I kept on going.
Heading down the off-ramp and back into the city, Lauren caught up to me. "I've been trying to catch you for two miles!" she laughed. We chatted for a few minutes, but then she told me to go ahead.
I think one of the reasons I had so much fun on Saturday was that there were so many friends around – running the first half with Kim R., seeing Nicole and Kim W. and Lauren, starting with Jill and Zoe, and seeing Alma and Chelsea along the way. It was awesome.
MILE 10
(8:45 avg pace)
Mile 10 was nice and flat. We wound through the city for a little bit and then headed for the Alaskan Way Viaduct (Highway 99) via the on-ramp.
I think this is where we ran past the Century Link parking garage. I paid $15 (FIFTEEEEEEEN) on Friday to park there for the expo. On Saturday, they'd changed the sign back to what it normally says: $6. FU, whoever made the decision to charge $15. FU. Next time maybe wait till all the people you gouged the day before are cleared out of the city before you change it back, K?
MILE 11
(9:30 avg pace)
There was a very long uphill to get up on 99. It felt never-ending. But I ran the whole way, willing myself not to stop and walk. Believing in that sub-2. My left ankle was starting to bug me, feeling tight – probably from leaning forward during the uphills. My feet hurt a little, which I'm sure is from 99's broken concrete/cobblestone-type surface. I started daydreaming about my flip flops, which were waiting for me in my check bag.
The crisp scent of the breeze off of the Puget Sound was invigorating and a little wind felt nice. But I really wanted to walk. Well, I didn't WANT to, but the little Kerrie on a Couch voice on my left shoulder wanted to. The Jillian voice on my right shoulder wouldn't let me, though. Adding to the difficulty of the hill, I was doing math to figure out if I could beat 2 hours. Me doing math = never good. Me doing math on a hill during a race = impossible (and tiring!).
Once the highway flattened out at the top, and I had a nice view, I tried to get back into the rhythm I had during Mile 10, but the hill had killed my legs and they felt heavy and slow. I just had to believe that they would keep turning over.
MILE 12
(9:15 avg pace)
The course went through the Battery Street Tunnel. I loathe this tunnel. I didn't like it during the full last year and I still don't like it. It's banked and grated. It's dark and stinky. And you lose your Garmin signal in there, too. Oh, and it's uphill.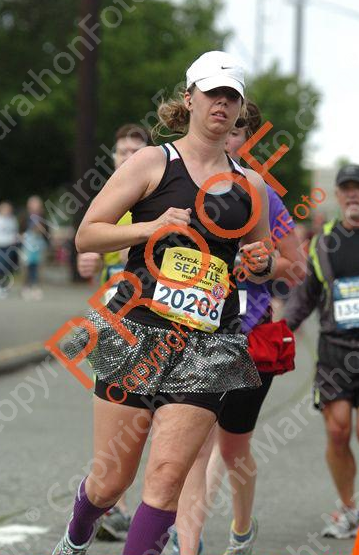 MILE 13-13.23
(8:55 avg pace & 10:03 pace for the .23)
There was some downhill and some flat, so I was able to get my rhythm back for a bit…until…
…duhn…duhn…DUHN…
The Hill of Death.
No kidding. It was a steep hill for almost a quarter-mile. I like a challenge, but I feel ending a race on an uphill is a real downer. It's just not exciting because everyone looks like they want to die instead of being happy they are about to finish a race. You want to end on a happy note. Know what I mean?
Anyway, I managed to run up it, but it was hard and it was my slowest hill. I wonder what the grade was on that thing?
So I was running up that stupid uphill, and all I could see on my watch was 1:59 because I have four windows open on it so it cuts off the seconds.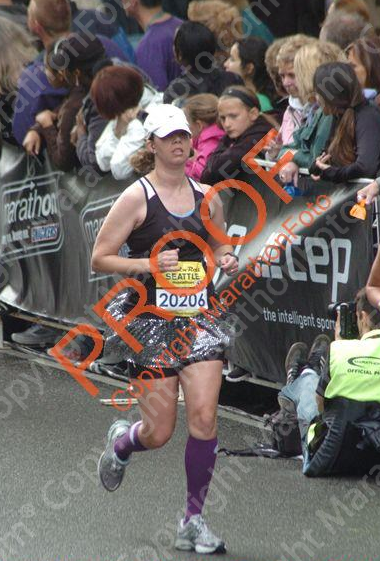 FINISH LINE
I pushed hard up the hill toward the finish line, but when I hit my watch it read 2:01. I won't lie, I was teeny bit bummed, and wondered if I'd worn a chip what my time would have been since the city and the tunnels screwed with my watch.
But I DID have a lot of fun, especially for the first half of the race, and was excited to be done. Plus, right away after I finished, I found Mel and Tiffany, which was awesome! Then I had someone to complain to about the hill!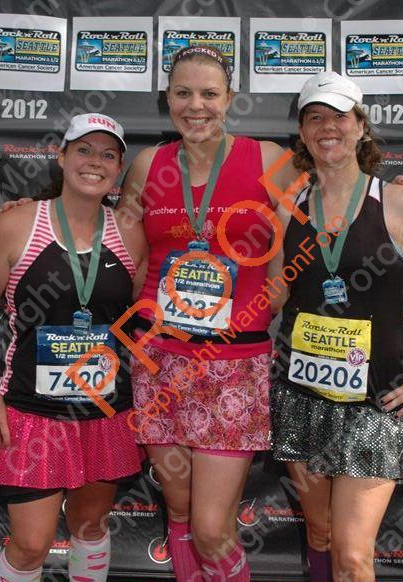 We stumbled to the REFUEL booth and found Kelly, who I'd just met on Friday at the expo. We had some refreshing chocolate milk and took a few photos. Seriously, chocolate milk is the BEST thing after finishing a race. I swear by it – it helped keep me from passing out after my first half back in '09 (thanks to Amanda's advice to get my hands on some ASAP after the finish line).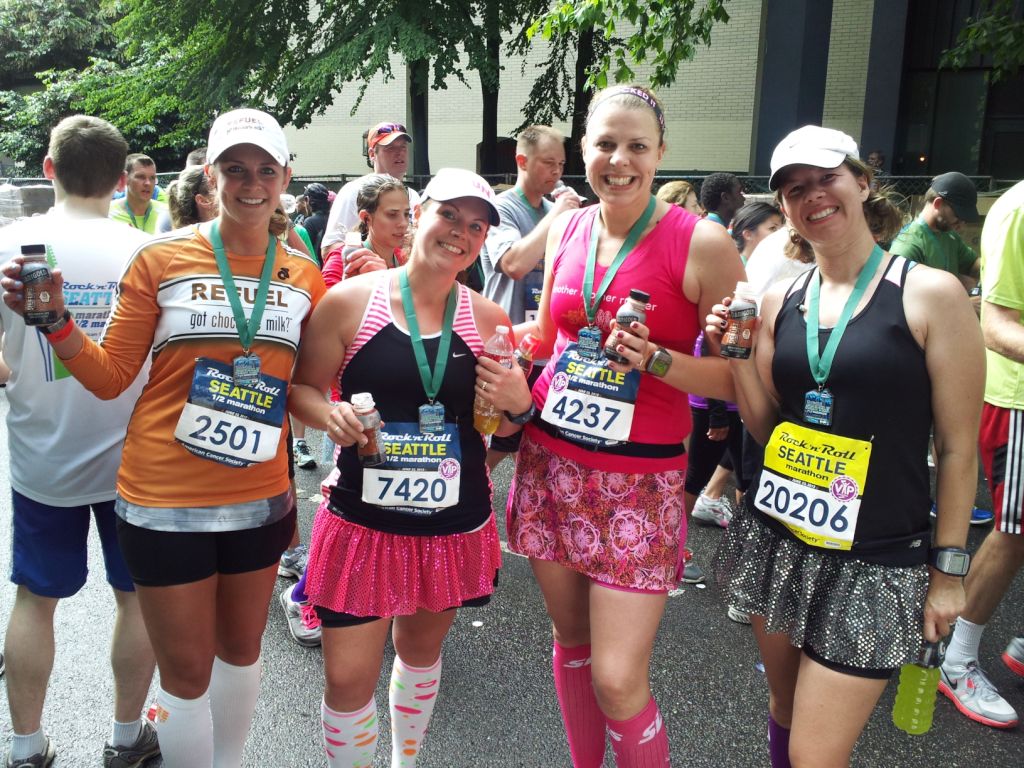 The finish-line food was great – water (of course), Dole bananas, Jamba Juice non-dairy mini smoothies (tasted so refreshing!), bagels, Marathon bars, REFUEL chocolate milk! The only thing that seemed odd to me was fruit cups, like the kind you put in your kid's lunch. They did not look appetizing to me at all for some reason.
Soon we reunited with Kim R. and her hubby and we walked and walked and walked and walked to the gear check area to pick up our stuff. Then, we claimed a spot on the sidewalk and cleaned ourselves off and changed clothes. Kim gave me a Shower Pill, and man, those are awesome! I felt like a new woman.
Plus, I now had comfy roomy pants on and my flip flops that I'd been dreaming about at Mile 11.
POST-RACE
We made our way over to the grassy area near the stage.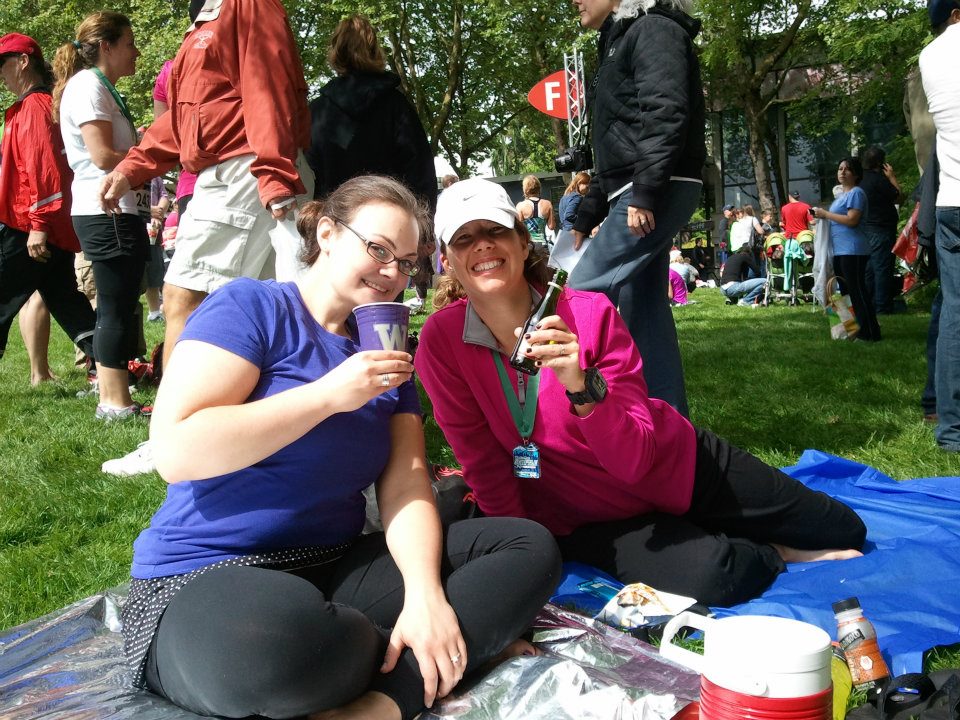 Chelsea brought us so much yummy stuff and we listened to Gym Class Heroes, and chatted about the race as everyone trickled in.
I reflected on the race, and just felt the surge of pride for what I'd just done. It was not an easy course. It was challenging. And I'd felt undertrained. Yet I felt like I'd run hard, but still had more to give – almost like I could've kept running (sure, it would've been painful). For this race, that was a good feeling.
Wednesday night, several days after the race, I had a thought: I wonder if my Garmin start and stop clock time would give me a more accurate time for the race?
I don't know why I thought this; it just popped into my head. I hadn't been obsessing over my time or anything – I was happy with it, especially considering all the high-fiving and fun, and the hills, and the fact that I slowed to drink water or Gatorade through every single water stop all race except for the very last one.
So, this morning, I went to my computer and opened the file from 6/23/2012. Start time: 7:12:16 a.m. Finish time: 9:11:28. Hmmm. It was going to be close. I did the math on an Excel spreadsheet.
1:59:12
Hey, look at that. I believed I could and I DID!