I eat oatmeal almost every morning. I like my oatmeal, but it's the same thing day in and day out: plain oats, a cut-up apple, a Tablespoon of brown sugar, a dash of cinnamon. Sometimes I throw in a few slivered almonds.
It's boring, but it works for me. Not much can make me change my routine. Unless it's oatmeal with cherries and almonds in it. Or maybe pumpkin spices and chocolate!
CEREAL CUPS
Both of those are flavors from Rokit Fuel's line of Cereal Cups. I had my reservations when they sent me these to try, but I swallowed those doubts as soon as I tasted the Cherry Almond one. And let's not even talk about the Pumpkin Chocolate one. Two of my favorite things…combined…and it's good for me?
Yeah, I can pronounce everything in it: Rolled Oats, Rye Flakes, Pure Cane Dark Brown Sugar, Semi Sweet Chocolate, Dates, Pecans, Whole and Milled Flax Seed, Sunflower Seeds, Sesame Seeds, Almonds, Pumpkin Flakes, Bee Pollen, Cinnamon, Real Salt, Gotu Kola, Maca Root, Nutmeg, Cloves.
The cereals are around 350 calories, which is the perfect amount for my breakfasts. The pumpkin is a little higher at 390, but I'm willing to give up a few more calories if I can have chocolate for breakfast.
Here's what Rokit Fuel says about their cereal and energy mix products:
"Rokit Fuel cereal and energy mix are made from honest, virtuous, good-for-you foods that are both nutritious and delicious. Each product is packed with whole foods (from 9-19) including grains, nuts, seeds and fruit. They also include bee pollen, maca root and gotu kola (functional herbs) to add to the excellent fuel value of Rokit Fuel. Read our ingredients label for a pleasant surprise. You can identify every ingredient, pronounce it, and see it before you eat it. How many other products are that simple, yet delicious? Here's to your health!" – Rokitfuel.com
ENERGY MIX
The energy mixes are, well, interesting. They come in a pouch about the size of dollar bill.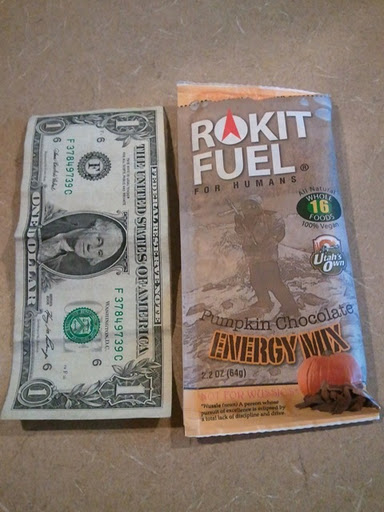 On the back, are instructions on how to use it:
1. Open the pouch. (It was not as easy to rip as I would've liked, but I was able to get it open.)
2. Hydrate with enough water, juice or milk to moisten. (I wasn't sure about this. Water? But when I thought about it, and what this type of food would be used for — hiking, camping, biking or even distance running — it made sense. I mean, you're not really going to have a microwave with you on your backpacking trip.)
3. Refuel by squeezing into your mouth. (Like a gel.)
I tried the Spice Cookie Energy Mix. The package says it is 100 percent vegan and caffeine free. It also says "Not for Wussies" right on front. The entire package is 260 calories. I used water to moisten it because I felt like that would be the most realistic option if I were hiking or something. I filled it about half way with water and then tried to eat it right away. It was a little dry. I should've let it moisten first. After letting it sit for a minute or so, I tried it again. That was much better. Duh! But I have to say, this would not be my favorite way to refuel for running. I can totally see it on a hiking trip, but not running. I also think it would be better with milk, but would bet if you're out on a mountain somewhere and not just standing in your kitchen, that it tastes awesome.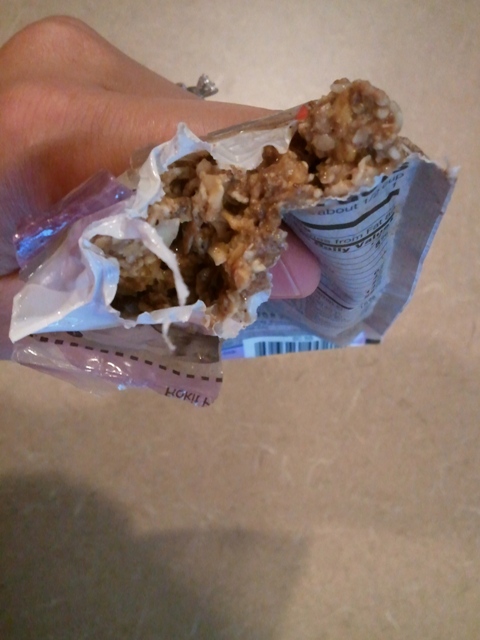 ENERGY BAR
My absolute favorite thing I had the privilege of trying from Rokit Fuel were the energy bars. Dense, chocolatey, filling. I tried their prototype "original" energy bar and loved it. I ended up eating half of the bar as a pre-run snack and then saving the other half for the next day as I'm watching my calories. The bars are 360 calories. That's a meal for me. (Rokit Fuel also has Booster Bars, which are closer to 200 calories.) But that 180 calories of the Energy Bar was totally worth it and the bar kept nicely for the next day. It didn't dry out or anything.
Overall, everything was good and good for me. Love that!
GIVEAWAY!
Try some yourself! Two of you will win an Energy Bar two-pack (Original and Peanut Better) with a bonus Energy Mix to try thanks to Rokit Fuel.
Lots of ways to win, of course! (Remember to leave me a separate comment for each of the following to make sure all your entries get counted.)
1. Follow the Mom vs. Marathon blog, and leave me a comment.
2. Go to Rokitfuel.com, then come back and leave me a comment about something you like.
3. Like Mom vs. Marathon on Facebook HERE, then leave me a comment.
4. Add Rokit Fuel as a friend on Facebook HERE, then leave me a comment.
5. Spread the word: Share on your blog, your Facebook page, e-mail your friend and/or Tweet about the giveaway (make sure to @momvsmarathon and @rokitfuel). One entry for each of the ways you share. Just make sure you come back here and comment so I can count it.
6. What's your favorite pre- or post-race food? Leave me a comment.
Enter through Sunday, June 19 (contest ends at 11:59 p.m. June 19).