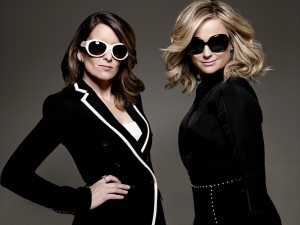 You guys, your My Better Half Marathon team name is not as good as me and Mel's.
Wait. What? You haven't registered for the My Better Half Marathon on Valentines Day?
Dude, prices go up tomorrow! Get on it!
Me and Tall Mom Mel are doing a Tina Fey/Amy Poehler thing. Team Galentines! (We got amazing shirts for the race–can't wait!)
There are four fun categories in the My Better Half Marathon: Bromance (two guy friends), Besties (two girl friends), Lovers (romantically involved) and Lonely Hearts. There is also a 5K and a 10K option, or you can make the half a 2-person relay if you want.
Dress up with your running partner–it's going to be a fun race out at Seward Park!
Get $10 off your registration for My Better Half Marathon with my code: MOMVSMARATHON
The shirts are super cute half-zips and have thumbholes, which I love.
Of course, you also get a medal and other goodies. And I heard there will be a tunnel of love on the course.
Oh, and hot food at the end. Hoping for breakfast foods…