AP Photo
On Sunday, Amber Miller (at right) ran and walked the Chicago marathon. A few hours later, she gave birth.
I've seen lots of different comments about her choice to participate in the race at about 39 weeks pregnant. I have to say, I'm on the fence about it.
I mean, I wouldn't want to do that. That does not sound fun at all to me. I don't know that it's unsafe, though? According to an article in the Houston Chronicle, it's not the best, but it's not the worst, either.
"It was pretty extreme," said Dr. Kathy Sander, an obstetrician at Kelsey-Seybold Clinic who also runs. "The guidelines that we follow are if you are previously a runner prior to pregnancy, then it's safe to continue with modifications. "My general feeling is I would hope that my patients' modifications would include running less than 26.2 miles." (Marathons and Pregnancy Should Not Mix, Roberta MacInnis, Houston Chronicle, Oct. 13, 2011)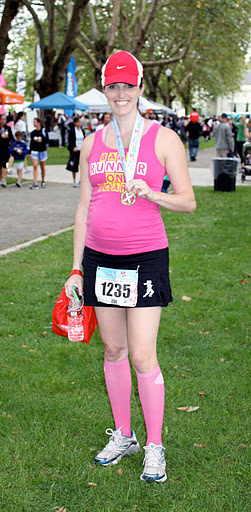 I have a running buddy who ran throughout her pregnancy. You may know her: Zoë from Run, Zoë, Run. In 2010, we ran-walked at 10K, and she also walk-jogged a 5K after that (pictured at right). A 10K and a 5K are totally different animals than a marathon as we all know. (She didn't take on her marathon until after little Goober was born, and that was no walk in the park.)
So, is it safe to run a marathon while pregnant? Especially near full-term?
I did a little search on the interwebs:
"Doctors warn that there are potential dangers involved in exercising too much during pregnancy. Low birth weight (defined as less than 5 1/2 pounds) is a concern especially if you are a pregnant woman running 60 miles a week. If you run long distances you may end up struggling to get enough nutrition for you and your baby. If you plan to run while you are pregnant doctors warn that you need to be vigilant about your calorie intake and really focus on balancing out running with eating." (Should You Run a Marathon While Pregnant?, Michele Cheplic, Familes.com)
Basically, everything I can find say as long as you've been running and you get the "okay" from a doctor, it's okay to walk-jog. Like Dr. Sander said above, though, the full 26.2 may not be the best idea.
Still. Who wants to do a marathon while that pregnant? Not me.
What do you think? Did you run during your pregnancies? Would you? Would you run a marathon while pregnant?