"Grind, and live with grinders."
-The Hanson brothers' philosophy
When I was reading the Runner's World magazine article about Desiree Davila and her training with the Hansons in Detroit, this quote stood out to me: "Grind, and live with grinders." I wouldn't call myself a grinder, nor do I live with anyone who would describe themself as a grinder. In fact, I'm not entirely sure what they mean by that. But I have an idea.
I feel lucky that I live near many runners here in the Pacific Northwest. Having such an extensive network of running partners means there is almost always someone to run with. There are nearly 40 women in our Facebook group (Women Runners of King County or WeROKC — even though we aren't all located in King County), not to mention the runners I've met that live "close, but far" – buddies I can run with if I'm ever in their town, or vice versa.
My running buddies help make a long run fly by, help me push myself out of your comfort zone, make running more fun, help me find new routes, etc. There are many benefits to running buddies – some that I can't even put into words.
I think this is the Hanson brothers' point: Running with someone, just being around them really, can help you improve without you really even knowing it…or trying. It's like learning a new language by immersion. You are living among people who speak, eat, breathe, live running.
Now, having a group of running buddies isn't exactly the same as living with other runners, but it does a lot of the same things, such as friendly competition, and the freedom to "speak" running without feeling judged. Us runners love to talk about running!
Over the weekend, I'd hoped to run on Saturday morning with a few women from the WeROKC group, but a busy upcoming afternoon schedule nixed that since Mr. T did actually want to see me for, at least, part of the day. But Mel (Tall Mom on the Run) had seen the conversation on our Facebook group page and chimed in that she could run Sunday if I wanted to.
Voila!
Problem solved. (Plus she offered to buy me coffee again, so…)
So I met Mel at the Orting trail on Sunday. We didn't really know how far we were going to run. We decided on 7 since newly engaged (!!!!) Chelsea was going to meet us afterward for the aforementioned hot caffeinated beverage and to talk wedding!
Mel and I set off and settled into a good rhythm, unlike last week. The first 3-4 miles last week were a slog for us both. This week, things just felt better even though it was about the same temperature (low 30's). The sun was out and there were a lot of runners and bikers on the trail.
The Orting trail is quite beautiful heading out of the small town to the east. The paved trail is elevated and follows a river, past farmland and next to country roads. At one point on Sunday, a bald eagle swooped off a leafless branch, down below where we were on the trail, but just above the swift river water.
I am not a bird person (they scare me — have you ever looked into their eyes? they are way too smart to do anything good), so of course, Mel — "The Running Bird-Watcher" — spotted the eagle first and gasped. It was absolutely beautiful and close! So close that I guessed the wingspan to be about 5 feet. Does that sound right? That seems so huge!
Mel, on the other hand, was eyeing the predator's weapons. "Did you see the talons?!" To which I could not resist saying in my best Napolean Dynamite voice, "Do chickens have large talons?"
We trotted along and came to our turn-around at 3.5 miles. On the way back, a friendly emu approached us — on the other side of her fence, of course. (This is the same emu that had been interested in us last weekend, too — although, I suspect she's interested in every single passer-by. What an attention-whore!)
Mel named the emu Tall Bird and I suggested we take our picture with her since she is always coming to say, "Hello." However, when I got over by the fence and realized just how tall she really was, I was a little freaked. Also, she makes a low "growling" noise when you get close that sounds, at the same time menacing and gentle.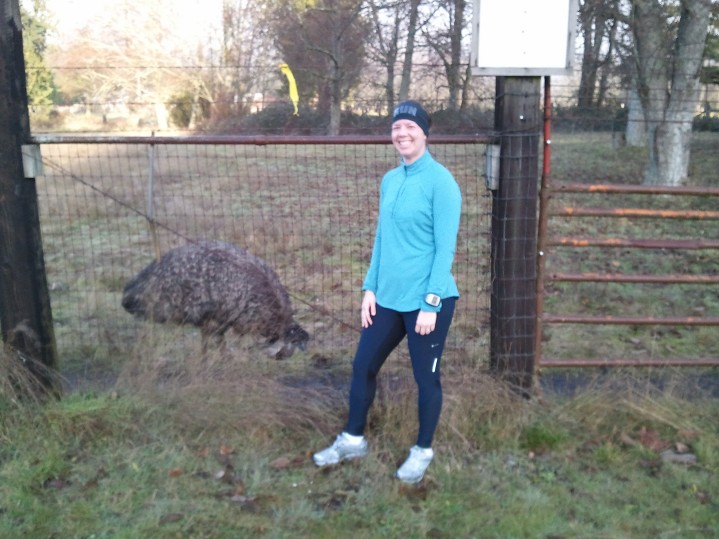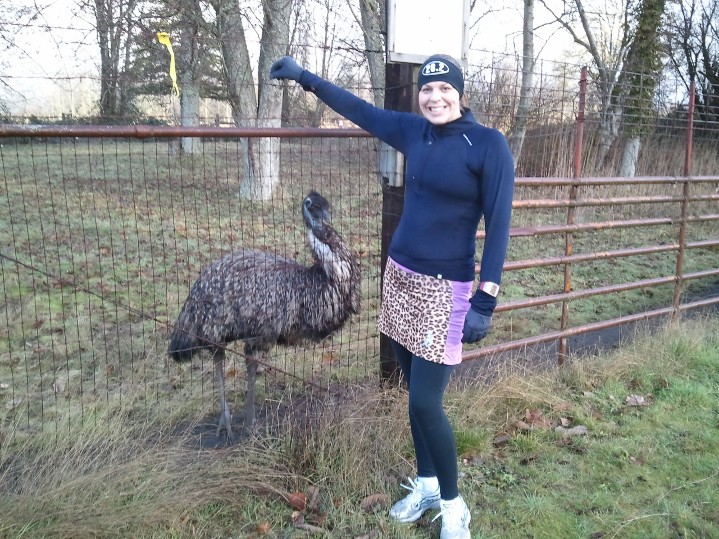 After we got back on our way, we discussed the scientific probability of whether or not our emu friend is related to dinosaurs. (They are.) We are high-brow runners, people! (Um, let's forget about my Napolean impersonation.)
Soon we were back along the river and Mel said exactly what my nose was thinking: "It smells fishy." Just then, she spotted a huge fish in the river. At first, I thought it was a salmon, but I don't think this is the season for salmon, is it? We stopped for another picture.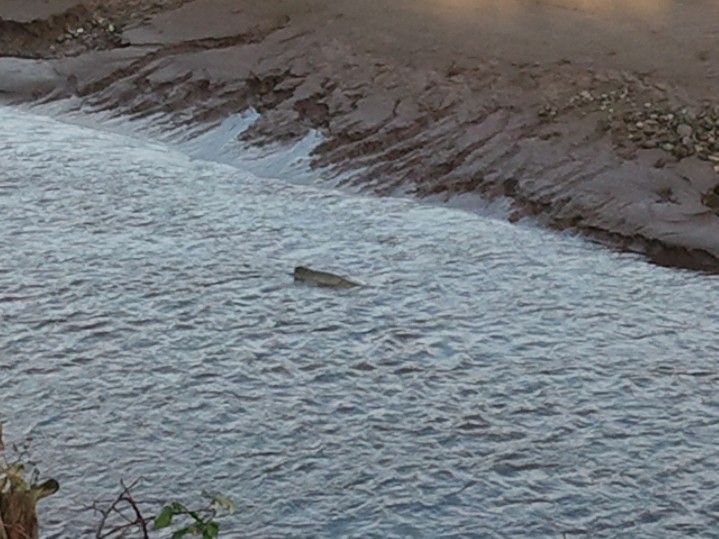 As we got running agin, I glanced down to see our mileage (less than a mile to go) and this time I actually looked at our pace. "Dude!" I yelled. "We are running sub-9's!"
This is what I'm talking about people, the advantage of a running buddy: sub-9's without trying! Technically, long runs should be slower than this, so this isn't necessarily a good thing, but we did surprise ourselves. And we had a lot of fun in the process.
Do you run with a buddy? How do your running buddies help you?
START YOUR OWN RUNNING GROUP
Want to start your own running group? Here's what I did:
I started a blog, which helped me find other runners in my area. You don't necessarily have to start a blog, but reading blogs can help you find other runners in your area. Contact them.
Start a Facebook group and add your current running buddies — even if you only have one or two. This way, they can help recruit other members of your group by adding their running friends.
Don't keep your running a secret. Get it out there. And when someone mentions they run, too, ask them if they want to join your group!
Post on Facebook (or on your blog or Twitter) that you are trying to start a running group and add people who seem even remotely interested.
Give it time. It's taken us about a year to get up to 40 members and it took about 6 months for us to figure out a rhythm. We don't have one group that meets weekly. Instead, someone posts what their run is and "anyone want to join me?" And people almost always do!
Don't exclude people based on them living "too far." We are all spread out across three different counties, but there are pockets of us that live close together. And sometimes people are willing to drive (especially when free coffee is part of the deal!).
Note: To comment on a post, you must first click on the post title if you are viewing the story on the main page. I know it's confusing and one thing I do not like about this particular theme I chose. If I can figure out how to change it, I will!