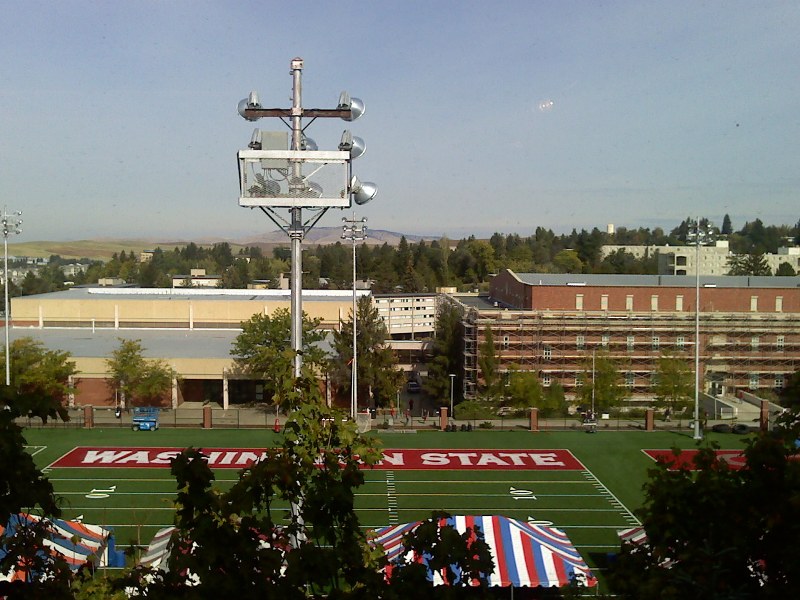 I was extra disappointed in myself for missing my run early Friday morning as we were headed out of town for the weekend. I didn't think I would get a chance to run. In fact, I didn't even think it would be an option.
**
When we drive into Pullman on Saturday morning, it feels like I've never been gone. I can't remember exactly when I was last there, but Mr. T and I conclude it must've been about eight years ago.
The first time I visited the Washington State University campus was for an orientation weekend in 1995. I flew in on a prop plane during a downpour, and landed at an airport the size of the great room in my parents' house. There, I met another girl from California and we shared a minivan-cab ride to Stephenson Towers. A month later, my mom brought me back in her maroon Suburban. Four years later, my dad, mom and sisters took me home in a white Suburban. We had a lot of Suburbans over the years.
I went back once or twice after that, I think, and I'm pretty sure the last time was in 2002.
Anyway, Pullman's still there in 2010. And, even though some things have changed, it's still so much the same: traditional college-y brick buildings, old trees, older houses, all in the middle of rolling, golden wheat fields.
And I feel 17 again as Mr. T now turns our black Malibu onto familiar Greek Row. This is where we met in 1995. A chance meeting. He wasn't even a student there. Not yet.
Saturday morning, we find a parking spot behind a fraternity I remember being inside this particular one for a party. Well, I sort of remember. I remember calling a friend to come get me, anyway.
Now, a young frat boy takes our $10 donation ("Beer money," Mr. T says as he passes him the bill through the driver's side window), and we park the car. Then we discuss the positives and negatives, mostly negatives, of lugging our rain gear to the game. We decide to leave it in the car.
On our way to the main campus, we walk the deteriorating concrete sidewalks smiling at Greek houses and reminiscing. "There's where the riots were, T Junior," I point to an intersection, then to an apartment over a book store. "And there's the deck where Mommy and Daddy watched it for a while." Me and Mr. T laugh a little as we play that night over in our heads.
We also show T Junior where to be cautious of cracks in the sidewalk. Cracks and curb-erosion caused by tree roots, college kids and no budget, I guess. It's all the same, after all these years.
On campus, I can't believe our luck. The drum line is practicing, which is extra-special for our little boy who loves to march around singing, "Marching band! Marching band!" while pretending to play an instrument.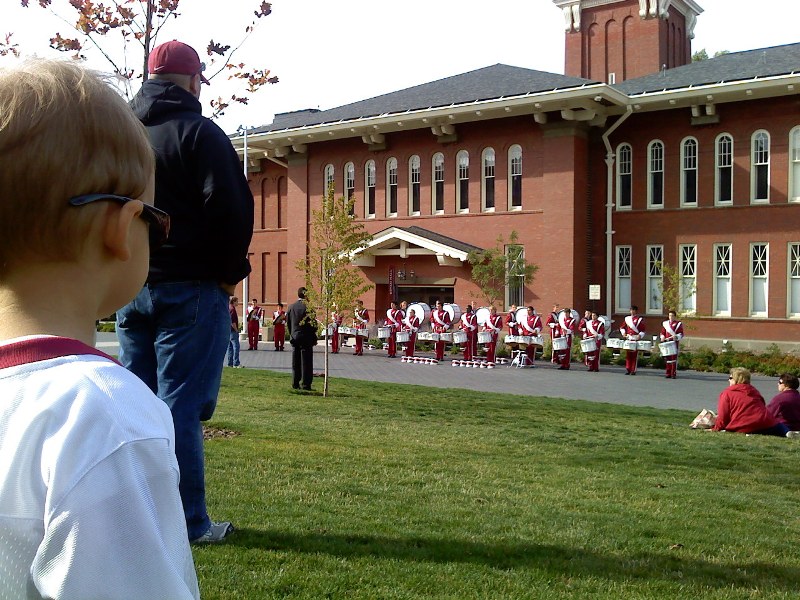 Afterward, we shop at the Bookie (now a Barnes and Noble and a hundred times larger) with about a million other people before walking out to an observation area that soars above Martin Stadium.
From four or five stories up, we spot Butch (the school mascot) and we zip down the elevator to catch him.
But when we get down, he's half-way up a set of stairs next to the stadium about three stories high. "I can catch him!" I yell and I run up the stairs, two at a time. "Butch! Butch!" But he (or she, I suppose) doesn't, or can't, hear me. I don't give up, I just kept going and I close in on him. "Butch!" At the top, Butch turns around and I huff, "Can we get a picture?"
Our next stop is the Fieldhouse for lunch and, now, a well-deserved beer (well, more deserved than before anyway). The Fieldhouse, just off the track, is where all the old people, er, alumni go to pre-funk for the game. We find a spot at a table and I accidentally spill water (at least it wasn't beer) all over T Junior and his pants have to be removed. They are soaked and I am mad at myself for not being more careful. After we finish eating, we head outside to the track. People stop and laugh as T Junior walks by with bare knees in his Cougar football jersey, folded white socks and Nikes.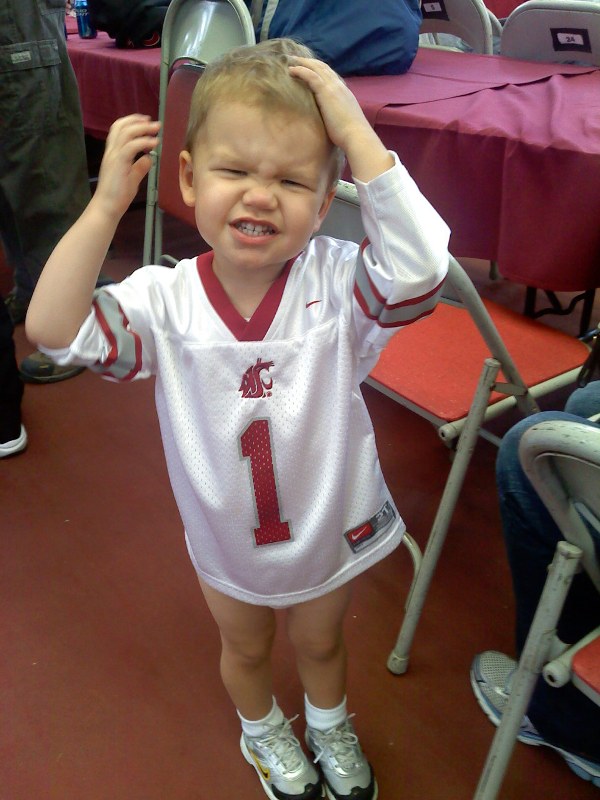 This is what T Junior does when you say, "Smile!"
Luckily it was warm enough Saturday that letting your kid run around sans pants was not going to be considered child abuse. "Besides," I tell Mr. T, "I'm sure he's not the first to be Pantsless in Pullman." (In fact, I know he's not, but that's a story for a different day.)
Finally, we are in Martin Stadium to watch our poor Cougs get beat by the Oregon Ducks (who are No. 3 in the nation). The weather is so nice. The sun is shining and we can't believe our luck. No rain!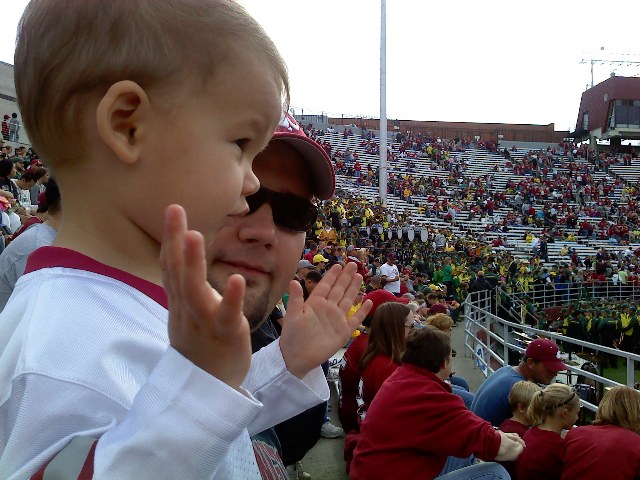 But some clouds roll in during the middle of the second quarter, right around the time T Junior falls asleep in my lap. By half time, it is raining in earnest and T Junior's head is getting wet from big, fat drops. At least his pants were finally dry.
"Do you want me to go get the raincoats?" I ask Mr. T. He shrugs as much as a man can with a passed-out kid on his shoulder. But I've already made up my mind. "I'm going to go get them," I say as I stand up. "I'll just run." I have my running shoes on. So what if I a
m also in jeans and a sweatshirt.
"Run like the wind!" Mr. T hollers after me as I sprint up the stadium stairs clutching the plastic bag of goodies we bought from the Bookie.
I dash out of the entrance, down the hill and across the infield of the track, where T Junior played pantsless not that long ago and where I had tried for five miles to run the homesick out of my head one cold night in October 15 years ago.
On Saturday, my hair's not tied up, I don't have on a sports bra and I'm overheating in my hoodie. I feel great. As I'm running, I think about Jeff Galloway's tips: shuffle, small steps, back straight.
I jog up the hill, then cross the street as I get close to Greek Row. I'm kick myself, though. I should've waited to cross the street until the next intersection because bar patrons have spilled out of The Coug like one big party foul. I have to slow in order to weave in and out of Swisher-Sweet-smoking and suds-swilling (probably) 21-year-olds.
But then I am running again, leaves crunching under my Sauconys. Up the hill, past sororities and fraternities until I get to the one where we parked. I throw the bag of stuff into the trunk, peel off my sweatshirt, and put my light blue rain-running jacket over my tank top.
This is when I realize it's not raining anymore. But I did not run for 10 minutes in jeans for nothing. I grab T Junior's fireman rain coat and Mr. T's blue one, lock the car and run back to Martin Stadium, remembering to cross before The Coug this time.
**
So I got in a little run this weekend. Round-trip was 20 minutes, including the exchange at the car, checking in and out of the stadium and my little bob-and-weave action by the bar. Sunday night, I looked it up: 1.5 miles.
Not bad. Not bad at all considering I didn't think I'd be running while we were in eastern Washington. It made me feel a little less guilty about my bad food choices over the weekend. Just a little, though. I would practically have had to run a marathon to erase all of the guilt. But that ain't happening till June.
For now, 1.5 miles down memory lane will do.