I need to feel like a bad-ass when I run.
Like I could just walk into a room and be the coolest thing there with a pair-a stunna shades and lips shinier than the chrome on P. Diddy's rims. That's pretty much the opposite of what I really am with my fleece zip-up hoodie and my Carmex. The nerdiest thing there, maybe. Coolest thing, not so much.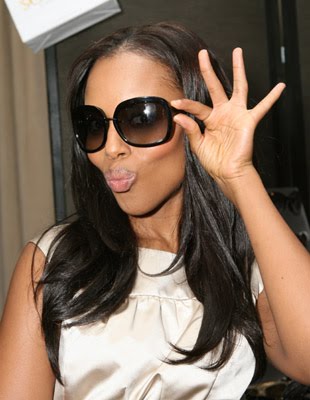 A different Kerry in some sweet Gucci stunnas.
Anyway, I was worried about
LB
's rock-music playlist and it's ability to bring out my bad-assiness.
I chose Tuesday night's 7-miler to listen to LB's list since 3 miles wasn't long enough for the hour-long set and the 15 miles I'm running on Saturday will be with
Jill
(yay!).
Surprisingly, the music didn't start off too bad. I never got into a rhythm with the beats, though, and the end was pretty much a disaster. But I made it!
Winner's Blues – Sonic Youth
Slower than my typical running music, but I was okay with that as I ran in and out of cul-de-sacs in what little light was left in the day. This might be a good song for stretching post-run.
For Reasons Uknown – The Killers
Okay, this one picked up the pace a little and it wasn't too bad. It didn't pump me up like Ke$ha's Tik Tok does, but the beat was fast enough to run to.
Rebels Of The Sacred Heart – Flogging Molly
This song made me smile with lyrics like "three sheets to the wind." And the tune has a Scottish/Irish drinking song beat that then picks up and gets going really fast. It made me think of Mr. T and that he would probably like this song. This one's not going on my running playlist, but I'm going to buy it and have it for just whenever. (After a quick online search, I found out they are from L.A.! What?! Wish I hadn't looked that up.)
I Would Die 4 U – Prince
Ugh. I was not excited about this one and it definitely lived down to my expectations. I've never been a fan of Prince, although I respect him as a musician. I'm just not into his brand of music. I could not wait for this song to end. It was all I could do not to skip forward.
Dreaming – Orchestral Manoeuvres in the Dark
I'd never heard of this band before, so I had no expectations. It sounded a little like something from the mid- to late-'80s to me, like a song from the John Hughes film 16 Candles. Not a running song, but not bad. (After a quick Web search, I now see that the band was, in fact, popular in the '80s! And, guess what? They wrote the song If You Leave for Pretty in Pink, a John Hughes movie. I knew they sounded familiar! I'm so smart sometimes.)
Shadowplay – The Killers
This song sort of creeped me out. Is it about death? I'm not sure.
Swagger – Flogging Molly
Another celtic/rock music beat. I love these. Not for running, but just in general. I might have to buy the entire Drunken Lullabies album.
Self-Obsessed and Sexxee – Sonic Youth
Not a fan. The music in this song creeped me out. But I wish I would've read what LB does when this song comes on
before
my 7-miler because if I'd have known, I would've been laughing so hard. Read
here
.
All These Things That I've Done – The Killers
This song was pretty good. Again, not a running song for me.
Highwayman – Johnny Cash, Willie Nelson, Kris Kristofferson, Waylon Jennings
This is one of my all-time favorite songs. I already had it on my Zune. It's just a good song with an interesting story…or stories. But, it is about death and reincarnation. Not the best topic while I'm trying not to die on a nighttime 7-miler, pepper spray strapped to my palm. You know? But it's a beautiful song, although it's too slow for running in my opinion. I was excited when it came on because I could sing along.
For Whom the Bell Tolls – Metallica
I liked the beginning of the song with its clock tower ringing in the background of some hard rock guitar and drum beats. It was kind of good. I sort of felt bad-assy listening to it, but not like bling bad-ass, more like biker bad-ass. And then this happened: "Take a look at the sky before you die/It's the last time you will." Not my favorite thing to hear while running. When's this one gonna be over?
Orion – Metallica
This heavy metal instrumental song was okay at first, but it's almost 8-1/2 minutes long. I started to tense up after a couple minutes. I was tired anyway and this made it worse. But I made a mistake. LB meant for White Zombie to be right here and I messed up when I downloaded the songs to my Zune. Really, though. I don't think it would of made much of a difference.
Damage, Inc. – Metallica
Super fast heavy metal and what I would call screaming. It made me even more tense. I kept thinking about my soundtrack and… When can I listen to my music? What number is this? How much longer?
Muzzle – The Smashing Pumpkins
This song was calmer and I can see how this was supposed to be the last song on the playlist (except I screwed up and made White Zombie last). I have to be in the mood for Smashing Pumpkins, but I may consider buying this one just to listen to when I feel like it.
Thunder Kiss '65 – White Zombie
Little did LB know that I sort of went through a phase in high school where I listened to this song and More Human than Human. I didn't say it was a good phase. So I knew this song. But I don't like it anymore. It's too heavy for me now and makes me think of an ex-boyfriend, who was sort of a jerk. However, I knew this was the last song on the playlist, so I suffered through it in a joyful sort of way if that's possible.
I was so happy when I could turn on my own playlist again. I immediately switched over to Don't Stop Till You Get Enough by Michael Jackson and then Rooney's Shakin'  came on, and after that, I was pretty much done with my run. At least it ended on a good note.
Really, though, this was a fun thing to do, and I encourage trading playlists sometime…at least once. It's sort of like running in somebody else's shoes.