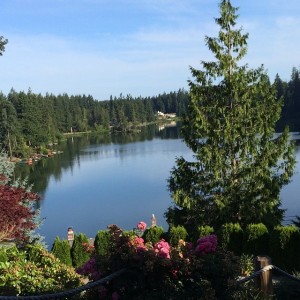 I tend to get ahead of myself when it comes to running. I think I can do more than I actually can.
So I am soooo glad I found Pete Magill's book, "Building Your Running Body." I feel like now I can run smarter, not harder. Oh don't worry, on the "hard" days, I will bring it. But not every run should be "hard."
You know what else is nice? Pete accepted my friend request on FB and I was able to converse with him a little through messaging. Also, he liked my lake picture (above), which is nice.
Friday's Workout
The schedule I'm following from Pete's book called for a rest day or an easy run of 30-40 minutes depending on how I felt. I felt like I wanted to run even though I was tired. I was stiff and slow, but YAY, the goal was to run slow (11-12:50ish pace), so it's all good. I did 2.8 miles in about 31 minutes (10:48 pace). Actually, a little too fast.
Saturday's Workout
Long run day! I was looking forward to it, actually. The goal was to run for 50-60 minutes between about a 9:45-11 pace. I decided to do two loops around Lake Wilderness (above). It is less than a mile from my house on the trail.
I love running around it because it's a little trail, a little grass, a little road and some big hills. There's some single-trail track next to the road even, so I can practice that or decide to keep to the road depending on how I feel. Keeps things interesting. The trip around the lake is about 20 minutes or so. The photo is from the top of the big hill, obvs.
I ran and listened to the Talk Ultra podcast again. It's almost like having someone to chat with.
I ate half a peanut butter Clif Bar before the run, and half (yummy!) during, and carried a water bottle since it was warm. My average pace was about 10:16 for the hour-long run (5.92 miles) and I felt great pretty much the whole time.
The first time I did the ginormous hill, I ran it. The second time, I power hiked. I will take a picture of it next time because it's a beast. My splits were not consistent as you can see: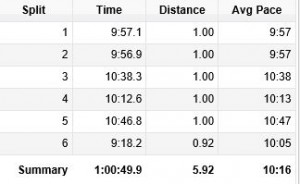 Afterward, I did the Runner 360 workout (HARD) from Pete's book (it was on the schedule) and did some great static stretching (also from the book) and felt awesome afterward. Not sore, not exhausted. Just felt great!
Sunday's Workout
None! Taking an absolute rest day…except we did go to the driving range and my son hit his first bucket of balls with a real golf club. I didn't hit that many, but I should because I'm super rusty.
Looking forward to this week's workouts!
If you haven't noticed, I'm getting the bug to run long again. I'm thinking marathon in 2015, then maybe 50K. Eeee! Writing it makes it real.