Thank you for playing along with this Q&A game! This was a lot of fun. I thought about a lot of things (running and non-running related) that I hadn't thought about in a long time. Consider yourself tagged, and let me know if you are playing so I can come ask you a question!
Holly asked:
If you could run anywhere in the entire world, where would you run? What distance would you do?
If I could run anywhere in the world? I would love to run along the cliffs in Ireland or Scotland. The air would be cool, there would be a breeze and the view would be gorgeous. I would just run until I couldn't run anymore. I once ran along some cliffs on a tiny dirt trail in Mendocino and it was the best run ever.
Cliffs in Scotland.
But if I could RACE anywhere, I'd love to do the Athens Marathon.
Jeff Galloway running the Athens Marathon.
Nan asked:
I think my question for you would be what kind of training plans do you use/ where do you get them from?
I used Hal Higdon's novice half plan for my first and second half. I used Jeff Galloway's marathon plan for my full. My sub-2-half plan is from my friend Mel (Tall Mom on the Run), who recently received her RRCA certificate.
Caroline asked:
You use the walk-run method…do you use it on ALL your runs in training? What ratio and during the walk portion do you walk really fast to keep HR high ?
I used the run-walk-run method for my marathon training because I was very afraid I would re-injure my shin and not be able to run my first full again. I used the run-walk-run during most runs at the beginning of my very long marathon training plan as I was recovering from the shin fracture and building my base. After a few months, I only used the run-walk-run method during my long runs on the weekend. I used the 5:1 ratio (run 5 minutes, walk 1). During the walk, I just walked. I didn't worry about how fast or slow I was walking. I didn't train with a heart-rate in mind, so I was not paying attention to that. I loved this method. I used it during the actual marathon, as well, with Zoë (Run, Zoë, Run) and we finished in 4:42. We started with a 5:30 ratio (run 5 minutes, walk 30 seconds) and ended with a 5:1 ratio (and we also walked through water stops, etc.).
KT80 asked:
How long did it take you to get over 430 followers?
I've been blogging at MvM for two years. Giveaways helped me increase my followers, and then I always hope my new Virtual Running Buddies stay if they find something interesting/useful here.
Carrie asked:
How long did it take when you started running to enjoy it? What was the turning point?
I am lucky. I've always enjoyed running. But, I admit, it was really hard when I started running again after having my son and gaining a lot of weight. I think I was thoroughly hooked after my first race, a 10K, in October 2009.
Janna asked:
How do you stay motivated to keep blogging? Your recaps are very thoughtful and must take a lot of time!
Blogging is what helped me to stay motivated to run when I first started! I love to write, so I don't need a lot of motivation. Sometimes, I admit, I don't feel like blogging. On those days, I will post a photo or a quote, or sometimes I will just start writing about something random and it sparks something that, after a few minutes, ends up turning into a blog post! Most of the time taken on my recaps is spent editing. I write down all the stuff I remember right away, and then go back and add things I forgot, and try to tie the story together. I like memoir-writing and recaps are a lot like that.
Val asked:
What are you most worried about for the HTC relay?
Hands-down, running in the dark. I plan to post about this soon.
ShortSkirts asked:
What's your favorite place to run in Seattle! I love finding new places to run!
So far, my favorite place was up off of I-90 — in the High Point area. It was a trail run I did with my friend Heather. I loved it and I intend on doing some more trail running as soon as I get my sub-2-half done.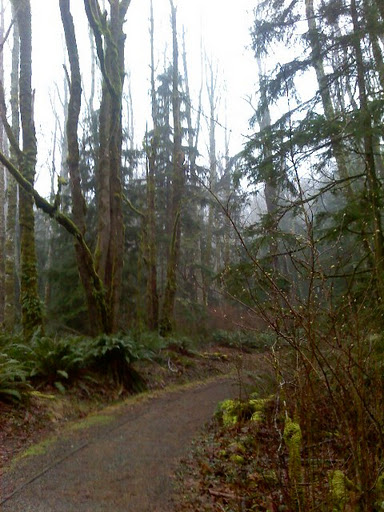 Bev asked:
What is one non-running item/object that you will take along on HTC?
My phone!
Ellen Holley asked:
What keeps you motivated when your mind and body are both telling you not to run?
It depends. Much of the time it's food. I know if I run, I can indulge a little. I like to make Skinny Cow Sundaes.
Or I like to have a glass of red wine…or beer from our kegerator in the garage. Sometimes knowing I have friends meeting me helps me get excited for a long run. And sometimes, if I'm really not feeling it, I will bargain with myself: I'll just run for 15 minutes and if I'm still not feeling good, I'll stop. This is especially helpful if I'm on the treadmill. Except it's usually shorter increments: Okay, I'll stop after 5 minutes…okay, 5 more minutes…I think I can go 5 more minutes. I don't usually stop. The one memorable time I did stop, I ended up having some sort of stomach bug, so it was good I listened to my body (finally) and stopped running.
Marel asked:
How exactly do you work Nuun into your long training runs? Do you base your "Nuun sips/gulps" on miles run or minutes run? What Nuun "sip/run" ratio have you found optimal? 
This is a tough question since everyone is different. But I just bring the same amount of Nuun I would bring if I was bringing water. Does that make sense? On my 20-miler, I think I tried to take a few sips every 30 minutes. I went through four 8-ounce pods — so, essentially, it was 8 ounces over every 5-miler. I just try to make sure I'm taking in my fluids periodically — even if I don't feel thirsty or think I don't need it. Chances are, I do. Nuun helps keep my electrolytes in balance and, I've noticed, I'm not as sore post-run if I drink Nuun during my run.
Jill asked:
What are your methods for dealing when you do stupid/silly mistakes during races? This past weekend I forgot my hat and sunglasses in the car and didn't have time to go back and get them. The entire race i was soo down on myself because i was so uncomfortable without both of them! 3 days later i'm still soo mad at myself for doing such a stupid mistake!!!!! 
Fortunately, this hasn't happened to me. I have, however, been surprised by Aunt Flo in a port-a-potty (Mercer Island Half). Sorry. TMI? That almost threw me. Luckily, I had…supplies…and an awesome running buddy who helped keep me from freaking out. But, my advice would be to try to let it go during the race, which I did. You can't change it, so forget about it. I know, easier said than done, but the men
tal game is all part of running. Also, practice running with and without lots of combinations of accessories so if this happens again, you are prepared.
Marlene asked:
Where do you see yourself 5 years from now, running-wise/family-wise/work-wise (you choose)?
Running: Once T Junior starts school, I plan to train for another full. T Junior is only 3, so that's a couple of years away. (I'll answer the other two in a non-running post later this week.)
runningonwords asked:
What is your favorite race you have ever run and why?
and
Carrie asked:
What has been your favorite race to date?
Easy. My full marathon this year. It was awesome to fulfill a goal I'd had for so long. Plus, I ran with my friend, Zoë (it was her first full, too), and we just had so much fun.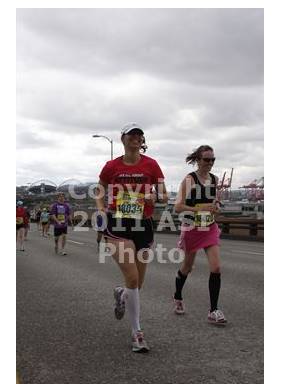 Drew asked:
What's the number one piece of advice you have for someone who has just started running seriously after years of on and off?
I recommend finding a running group. Having a group of runner friends is extremely motivating (it holds you accountable on days you feel like skipping a run), and running with friends makes it even more fun.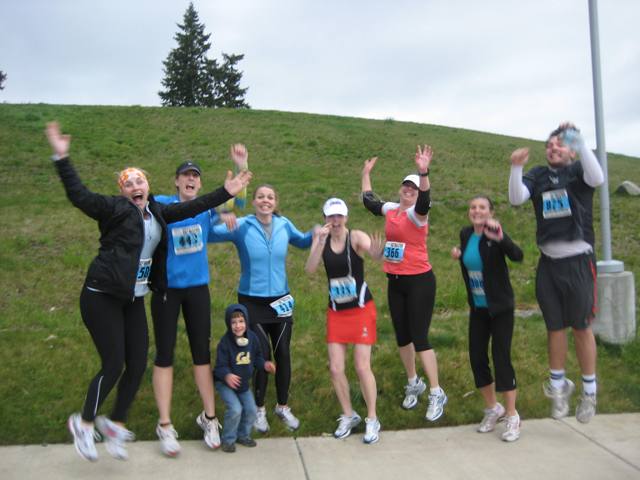 Mercer Island Half 2010.
Meeting Alma at the North Olympic Discovery Half 2010.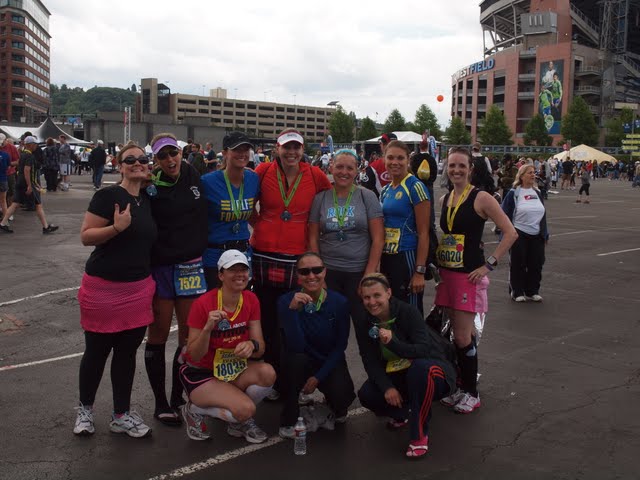 Seattle Rock N Roll 2011
Reuniting with an old friend and co-worker for a run!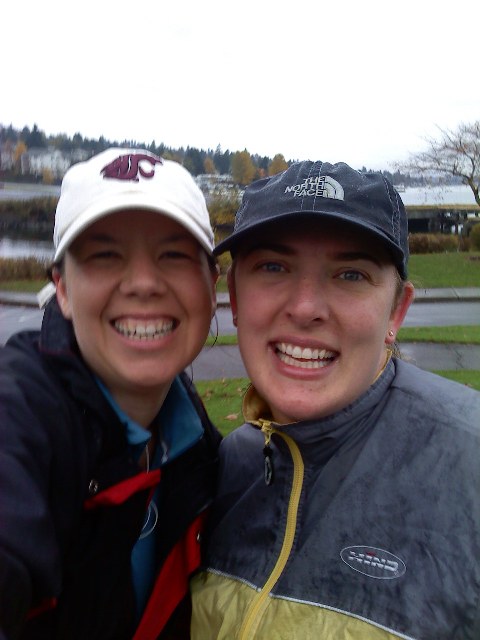 Me and the person who inspired me to run, Heather.
Me and high school friend Jamie after 18.
Me and Jill after 15 miles.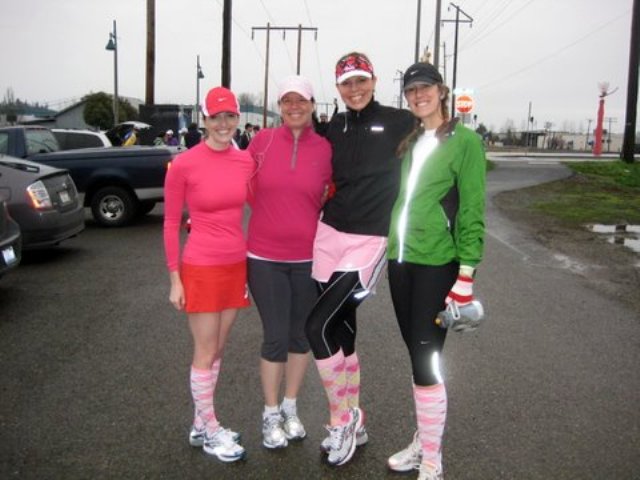 Million Inch Run 2010
Santa Runs 5K 2010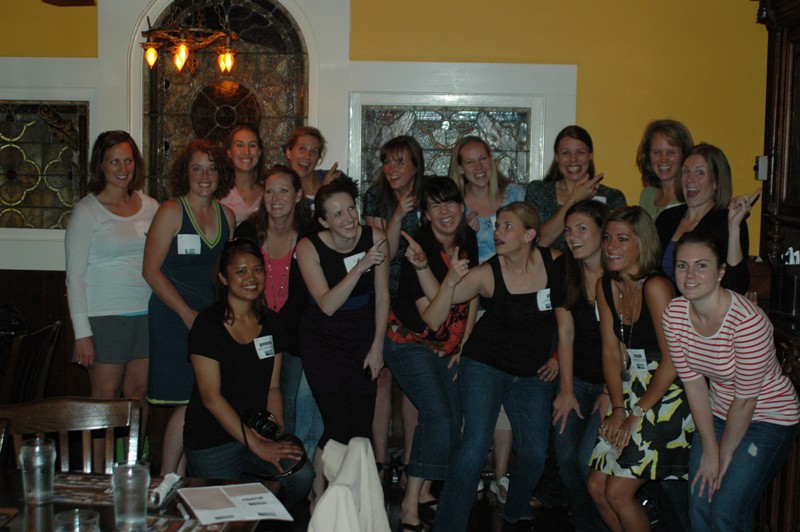 Seattle Rock N Roll Half and Full cabo-load dinner 2010.
See Jane Run Half 2011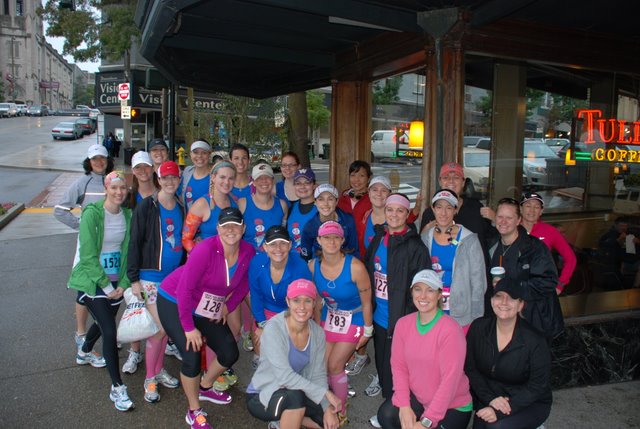 You Go Girl Half and 10K 2010
And, now, for the winners!
The two winners were chosen by Random.org and are…
and
Congrats ladies! Please email me your shipping addresses to kerrie (at) sanitydepartment (dot) com so I can send you your prizes!
Thanks again for playing, everyone, and check back for more answers in a couple of days! Have a great week!