What does that mean?
To me, it means: Have a plan. And stick to it.
Wednesday, I had a tough, tough tempo run on my plan: 5 miles (2 easy and 3 1-mile repeats at an 8:00-8:15 pace). I got up early to do it…before work. But not early enough. I didn't start until 5:15. I need to be at work at 7, and it's about a 30-minute drive. But, it was either drive to work and run (and be stinky) or run near home, shower fast, then drive to work. I opted to run near home. I was nervous about this run since the pace was so fast for me. But I killed it.
5 miles – 44:16
Average pace: 8:49
1: 9:55
2: 8:12
3: 8:12
4: 8:09
5: 9:37
Thursday, I had a 4-miler on the plan with 2 miles at race pace. I had a great run with Mel (Tall Mom on the Run) on our lunch hour. Sometimes people ask me how we run at lunch. It's all about the baby wipes and the coconut lotion!
4.14 miles – 36:56
Average pace: 8:54
1: 9:28
2: 8:41
3: 8:33
4: 8:56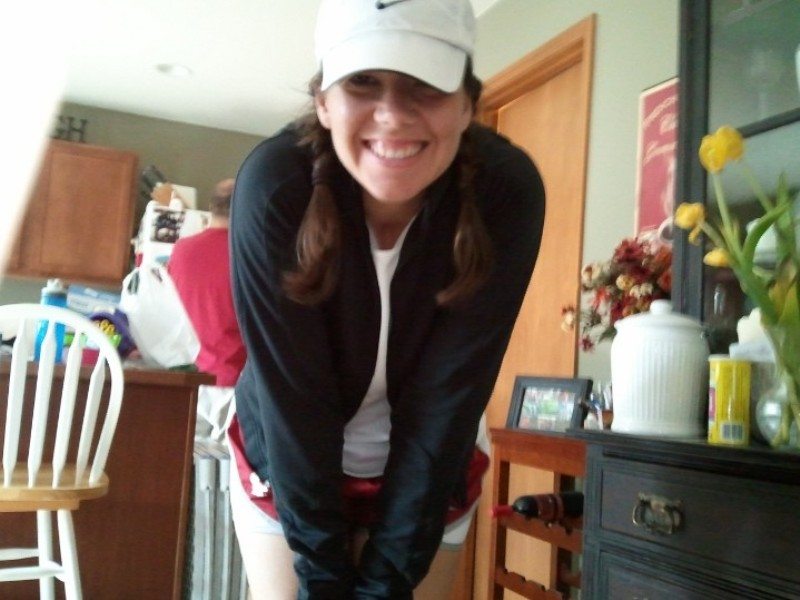 T Junior's picture of me after I got home from my 13-miler on Saturday.
But Saturday. Saturday would be the day I really needed to run smart. On the plan: 13 miles with the last 3 at an 8:40 pace. I knew I wouldn't be able to run early in the morning as usual since we would be at a dog show pretty early. We also would be at a dog show on Sunday. So, I just got it in my head that I would probably be running alone on the Cedar River Trail in the middle of the day.
It's been a while since I ran alone, but I wasn't nervous about it. Heck, I ran 20 alone. I can run 13 solo!
I got to the trail around 12:45. I couldn't decide if I should use the restroom. I'd just gone. Why would I need to go again?
Like I've been doing, I had a PB&J before my run and I wore my pigtail braids (inspired by my Hood to Coast Nuun Platuun teammate Jess from Blonde Ponytail).
My plan for this long run was to run the first half at a comfy, easy pace. The first half would be slightly uphill. Then, I would allow myself to run a little faster after the turn-around since it would be slightly downhill until Mile 10 when I would have to turn things up to an 8:40 pace.
I got going at about 12:50 after some walking and stretching. I felt like I might have to pee, but I often feel like that before a long run or race and it usually goes away. I knew I would have two more opportuntities, with the last one being at about Mile 3, to go so I didn't worry about it. Instead, I settled in and zoned out a little to my music. I also smiled at a little boy learning to ride his bike without training wheels and random other people. There were a lot of cyclists out on Saturday.
It was overcast, muggy and about 67 degrees. Pretty nice running weather, especially for the middle of the day. At Mile 3, I couldn't decide if I should visit the Honey Bucket or not. So I didn't. I just kept running.
I am hyper-aware of my left lower leg. Every pang or zing or sore feeling makes me panic. I just need to remember that I will have some muscle soreness in places, especially places that have issues. One of the things I was working on at PT was making sure I don't point my left toes outward when I land. It's sort of tricky. It really wants to turn out. Plus, when I make it go straight, my left knee wants to point inward. I have to work to use my hamstrings and glutes to push my leg forward straight. When I get tired, it all falls apart…or when I'm not paying attention (probably good to run alone sometimes to work on this form stuff).
Mile 1: 9:52
Mile 2: 9:47
Mile 3: 9:45
Mile 4: 9:42
Mile 5: 9:39
Mile 6: 9:38
Anyway, what does one think about while running for a couple hours by herself? Good question? I can't remember. Ha! Mostly, I people-watched. But I also thought about my upcoming PR race a lot. Could I run this easy and still PR? (This was pre-8:40 pace.) And I thought about my new shoes since I think that's why I'm getting random leg pangs. I thought about the blister that was hurting. I thought about what sort of design I want to get for my tattoo.
Yeah, I've been thinking about getting one since the marathon. But I don't want it to just be a marathon tattoo, so I'm trying to think of a way to incorporate other things into it. I actually came up with something I like during this run! We shall see. Still not 100 percent sure I'm getting one. Mr. T has a few and he cannot wait to watch me get one. Whatevs, dude. I gave birth. (Sure, I had drugs, but all the time before I got the drugs hurt…)
Mile 7: 9:45
Mile 8: 9:12
Mile 9: 9:09
Mile 10: 9:14
I sped up a little before Mile 10 to try to ease myself into the faster paces. Those last three miles were tough. One minute, I'd feel awesome; the next minute, I wanted to stop. My blister hurt. My shoes were too tight. And I had to pee! Bad. In fact, at one point I had to slow down because (sorry, TMI), I started…um…losing it. I think it was when I was running sub-8's.
So, on this one portion of the trail, the big, tall trees are full and leafy and the clouds were dense and my Garmin was all confused. So I didn't know how fast I was going. I ran faster just in case. Then my Garmin would catch up and I would see 7:45 on my watch. This was around Mile 12, I think. A cyclist, who I'd seen earlier on the trail and was pedaling hard, passed me on the left and said, "Woo!" I'm not sure he was talking to me. Or maybe he smelled me. But I liked the little cheer, whether it was intended for me or not.
Finally, the end was in sight! My stomach was starting to turn so I was glad when my watch beeped 13. I stopped and…WHOOSH…the scenery kept moving. Whoa! Breathe. I was too dizzy to stop. Had to keep walking. I gulped the rest of my Nuun, which helped and breathed slowly, and the dizzy went away. Phew! Then I stretched for a minute before walking back over to the parking lot.
Mile 11: 8:40
Mile 12: 8:36
Mile 13: 8:38
So, I was on the sidewalk, walking along a little wobbly because I just ran 13 miles in TWO HOURS, ONE MINUTE AND FORTY-SIX SECONDS when, all of a sudden, I hear something and look over my shoulder. Yikes! I have to hop off the sidewalk and out of the way onto the grass because about 10 cyclists who are coming up fast and not even steering around me. Not getting off the sidewalk or anything! Dude! I was nearly hit. They weren't going fast, but they just wouldn't move. Then I had to stand there while they all rode by. It was very rude. I probably would've made a bigger deal if I wasn't half-dead.
Also, I was pretty stoked with my time. I mean, I just need to run that first half a little faster (as in, not slower long run pace) and I'll have my PR! My average pace was a 9:22 and I know I can bring that down…thanks to the plan I've been sticking to.
Next, I high-tailed it for the bathroom, stretched and then headed home, stopping for a chocolate-dipped vanilla cone on the way — my new post-run fave. In the car, I could really smell myself and I was ripe!
But we needed milk and bread, so I stopped at Safeway. Oh boy! I was pretty worried people would smell me and think I was super gross. And I was walking funny because my blister had time to grow during the drive there. During the trip, I also decided we needed wine and my Jess-inspired braids got me carded at the check out. I never get carded there!
A hairstyle that makes me look too young to buy booze? Now that's smart!