Last week feels like a dream. I had so much going on between work and home and pre-marathon arrangements and activities, I really do not know how I made it through. But, somehow, I did.
THE EXPO
I wasn't sure if I was going to take T Junior to the expo or not, but at the last minute, I decided to. Oh, what a mistake! He was a nightmare.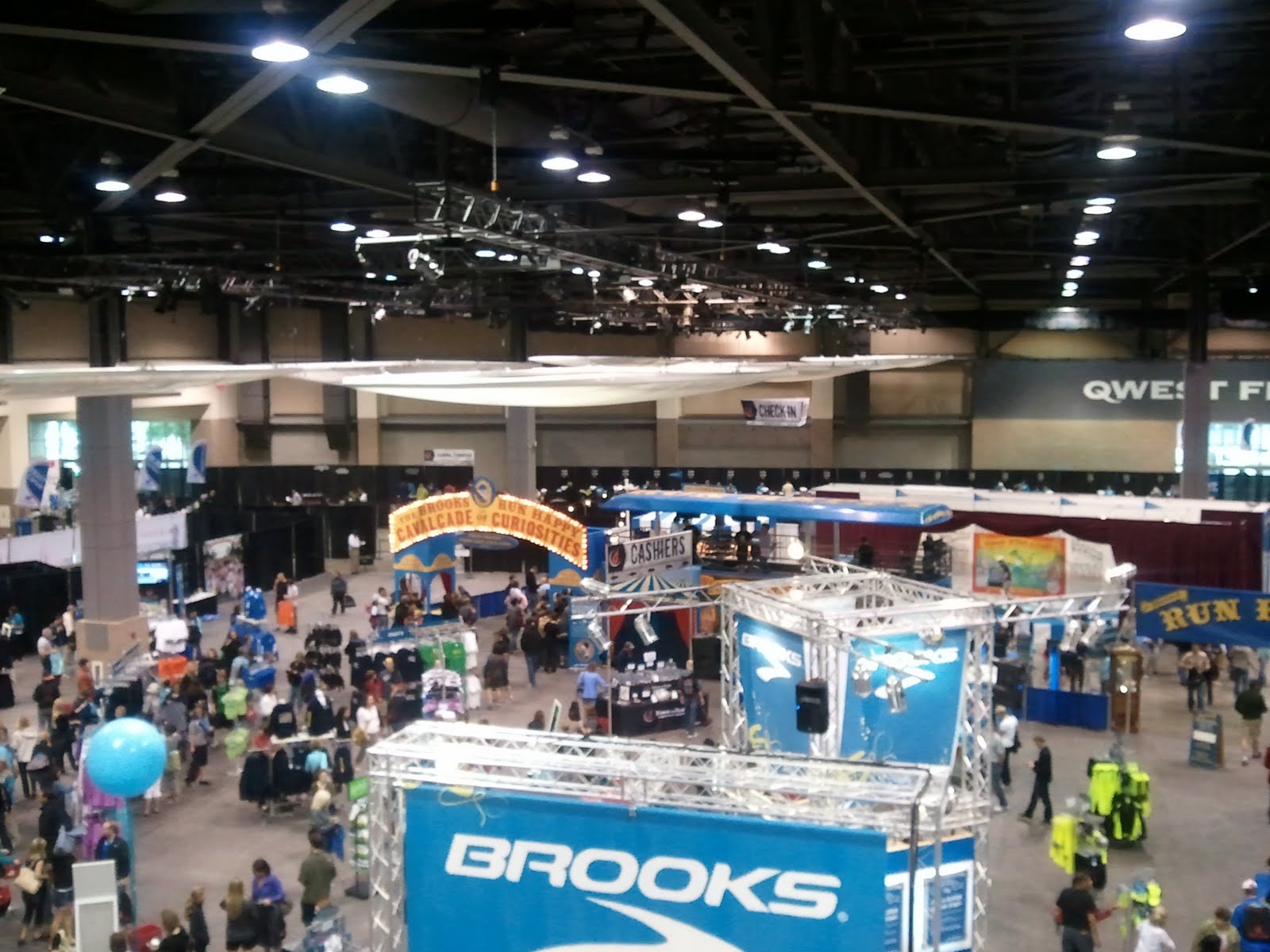 Tip: Go to the expo early in the morning and it's easier to see stuff.
Also, leave kids at home.
T Junior's bad attitude started as soon as we got there. We walked in the door and went straight to the restroom because I needed to un-hydrate myself a little. I was drying my hands when I looked up and saw a RUN EMZ shirt. Stacie? Stacie!
Pretty Stacie and her trusty camera. She and her husband took many
of the weekend's awesome photos!
Stacie (Impossible is Nothing) and I wandered out and met up with her very nice hubby. T Junior wouldn't talk and just frowned and turned away. Lovely.
We figured out where the rest of the group was and met up with them: Jill (Running to Sanity), Chelsea (Will Run for Food), Mel (Tall Mom on the Run), Jess (Blonde Ponytail), TriGirl (Tri-ing to Be Athletic) and Diana. Yippee!
Diana, Jess, Mel, Chelsea and Jill.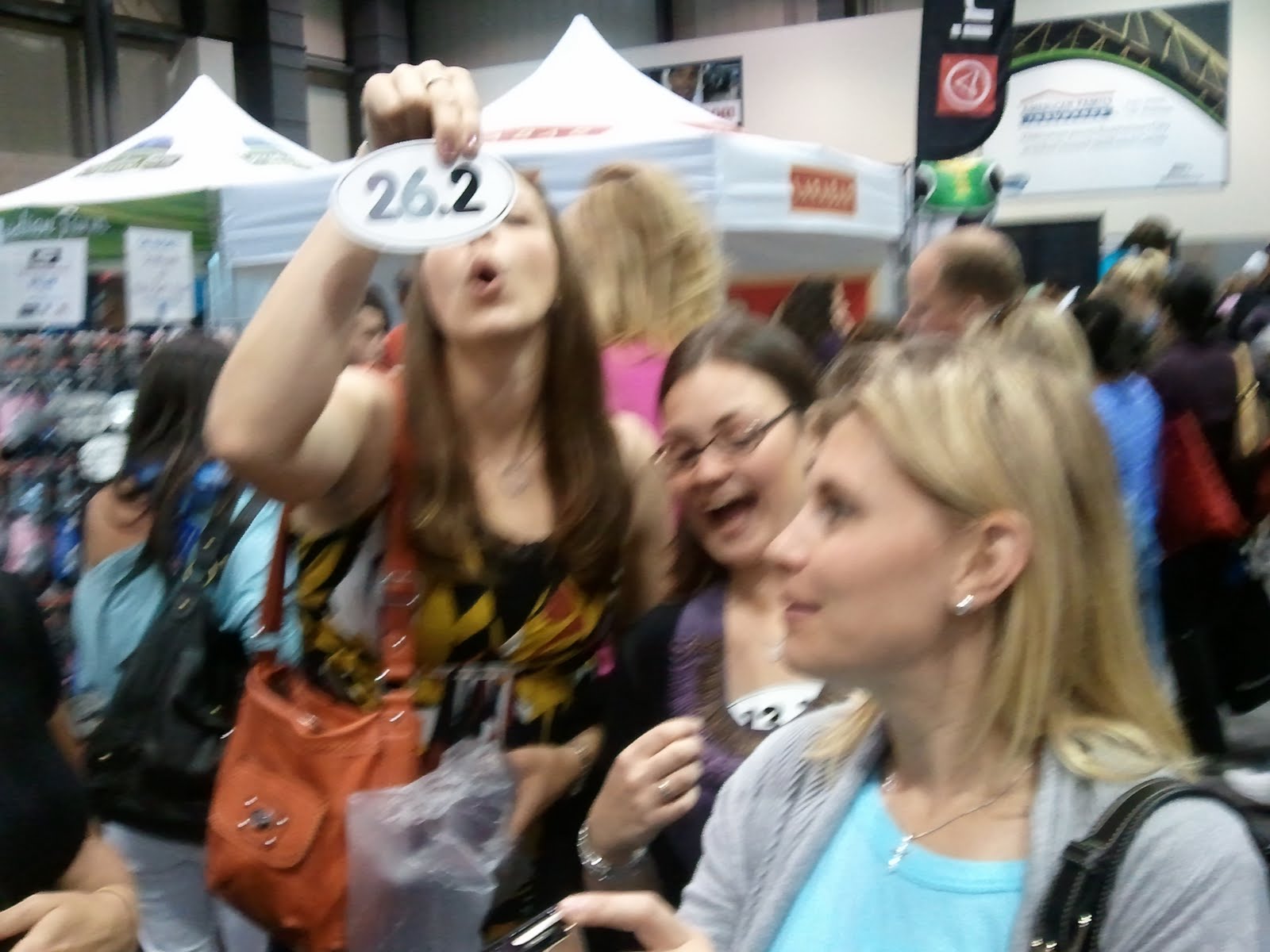 Mel, teasing me with a 26.2 magnet. No fair!
Well, I tried to enjoy it, but T Junior was being a big party-pooper. Falling down on the ground and refusing to walk. I was a big noob and didn't bring his stroller to the expo, so I ended up carrying around my 30-pound 3-year-old for a couple of hours. Smart, I know. Also, the nerves were making it hard to focus.
Picking up my bib…I thought.
I picked up my bib and arranged to start in Corral 16 (instead of 18), so I could run with my buddy Zoe (Run, Zoe, Run). Mel and Stacie took pictures of me (I was much too overwhelmed to take pics), and I was about to pick up my shirt and bag when I realized my name was not Andres and I was not number 18036. I was 18035! Also, I'm female.
Yeah, that's NOT my bib.
NOT my bib.
I went back over and exchanged poor Andres bib for mine. OMG. Can you imagine if I hadn't noticed that?! I guess that's why they put a big sign by bib-pickup to "make sure the correct name is on your bib."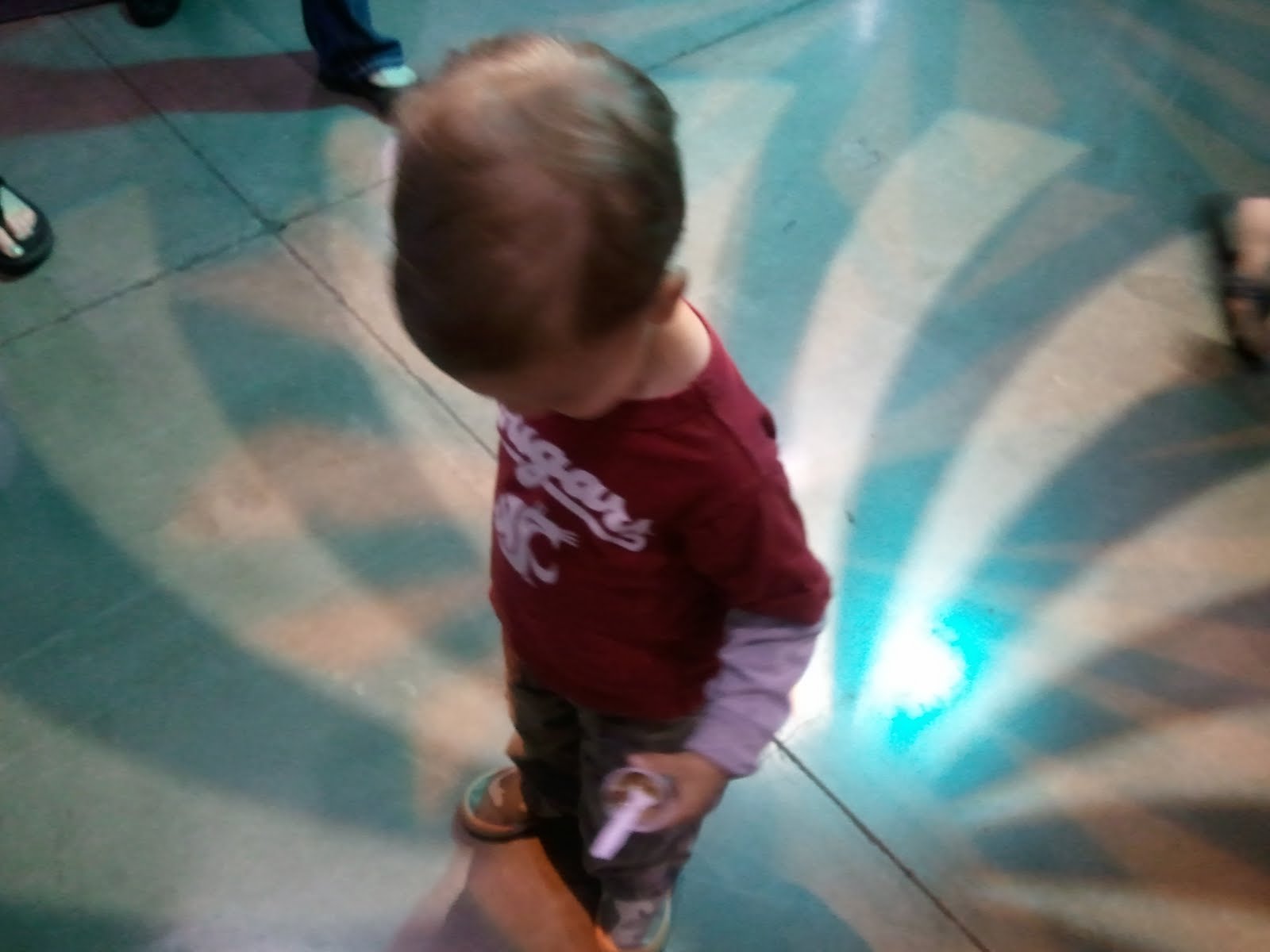 A rare non-whining/crying/throwing a tantrum moment at the expo.
These two lovely ladies, Stacie (left) and Mel, helped keep me calmer, and only
laughed at me a little when I realized I was not Andres.
THAT is my bib.
 
Then me, Mel, Stacie, Chelsea and Jill posed for the Brooks Gurus Facebook photo contest. T Junior wouldn't. He was too busy pouting about something, I'm sure.
Photo 1:
Stacie, Mel, Running Fortune-Teller-Lady, me (funny, my face looked a lot
like that for nearly 5 hours on Saturday…), Chelsea and TriGirl!
Photo 2: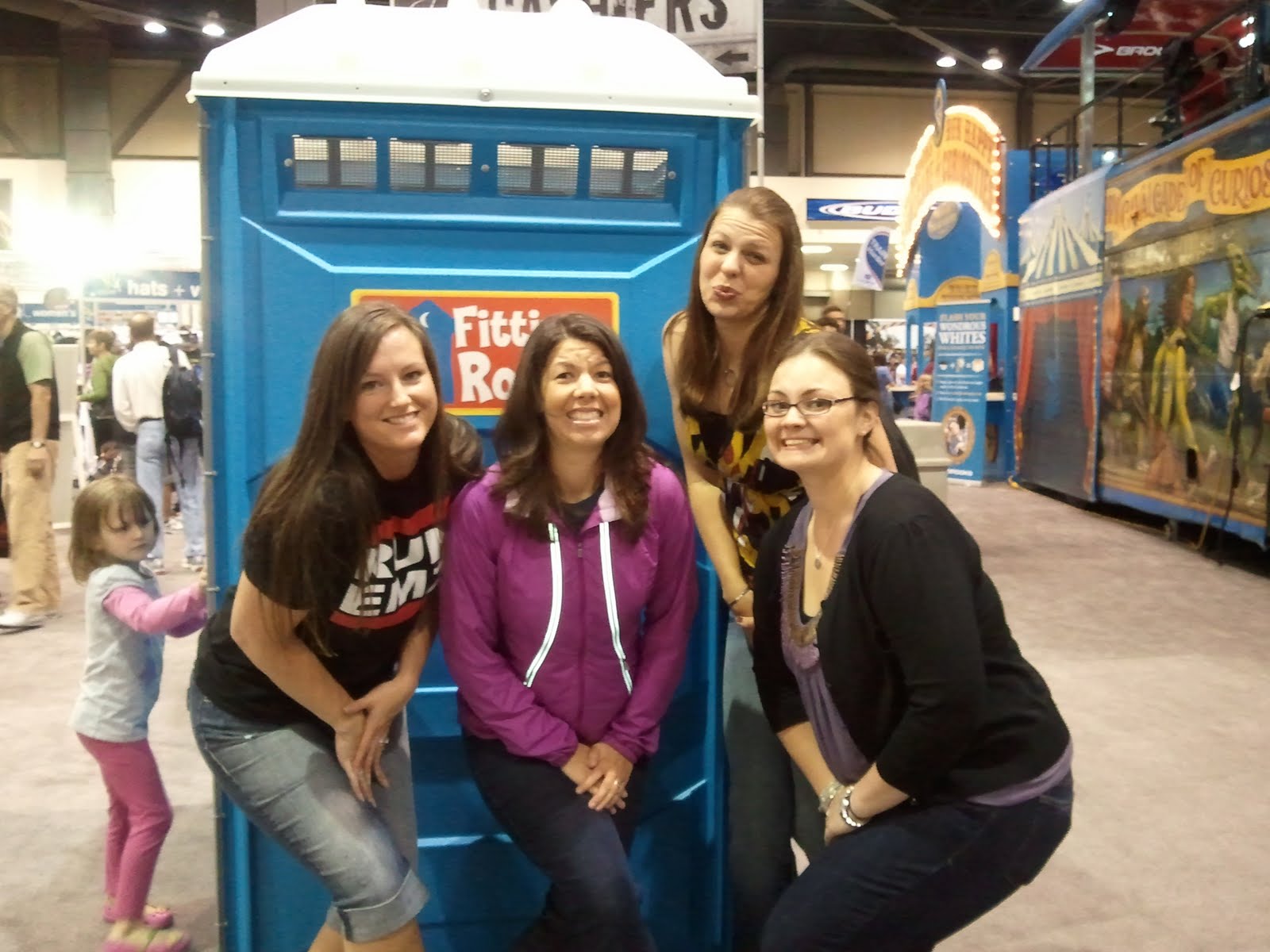 Our "gotta go" faces: Stacie, me, Mel and Chelsea.
I browsed a lot and shopped a little. I finally decided on a Brooks Seattle Rock 'N' Roll hoodie sweatshirt. I think I once heard Stacey London say something to the effect that a hoodie sweatshirt was the equivalent of "giving up." But what if it says Rock 'N' Roll Marathon on it? I think that 26.2 miles cancels out the "giving up" part, don't you?
At the Nuun booth, I got to meet one of the employees who will be either racing with or helping with the Hood to Coast Relay. That was cool! So was the Strawberry Lemonade Nuun. OMG. Delish. Had to get some (huge RNR discount — more than half off!), and I got a new Nuun bottle, which is good because my old one is pretty worn. Although, I think that just makes it looked loved.
I was exhausted after a couple hours at the expo and it was starting to get crowded. I was still carrying T Junior. On the way out, I saw Scott Jurek was speaking in about 5 minutes, but I was so tired that 5 minutes seemed like it might take forever. Sad, but I knew I needed to rest up. The other girls went to lunch, I headed for home.
Of course, I was sitting at a stoplight waiting to get on the freeway when I saw that our Brooks Facebook photo, the one in front of the faux potties, won! I texted Chels and she went back after lunch to pick up our prizes: shot glasses. Random, but cool since they say Rock 'N' Roll Seattle on them.
Then, one of my physical therapists (yeah, I have two — I'm that awesome…or messed up…you decide), called to wish me good luck in the race. That got me pumped. I was going to run a marathon! And some people get how cool that is.
Listen, not everyone thinks it's pretty great to run a marathon. Some people, I'm sure, think it's pretty dumb. And even I think it's dumb sometimes. But it's also pretty cool. It takes dedication and drive and work. And for what?
Well, I'll tell you what in my race recap later.
CARBO LOADING FUN
By Friday night, I was ready for the fun to begin! Only problem was that I was so nervous, I couldn't enjoy it to its fullest.
Friday night was the second annual pre-Seattle Rock 'N' Roll Bloggy Carbo Load dinner at the Spaghetti Factory. Mel is an amazing organizer and reserved a room for the nearly 30 people who would be dining. She also arranged with some awesome companies to have swag bags for us all. Amazing!
OnlineShoes.com donated the bags with travel mugs, water bottles and discount coupons!
Nuun supplied us with plenty of samples, ensuring our complete hydration for the next day's race!
And GU made sure we'd have plenty of energy to run fast and strong!
Running buddy Amy also supplied some awesome Avon samples to make sure we didn't get too stinky, Zoe made these fantastic trading cards to encourage us all to mingle and Alma (The Average Woman's Running Blog) dropped in some yummy chocolates!
I sat near my running buddy Zoe, Alma, Jill (Run with Jill) and (another!) Stacie (Skipping in Seattle). I loved chatting with these ladies, but thinking back, I wish I would've gotten around and talked to more people. I just couldn't, though! I was so nervous, I was glued to my seat.
I don't know if I've ever been that nervous for something before. I was jittery nervous. Teeth-chattering nervous. Just shaking. Still managed to eat a plate of noodles and marinara and a 1/4 of a loaf of French bread. Huh.
Anyway, I did get to mingle with a few people, but I apologize because I'm not sure I remember any of the conversations. And, sadly, I did not remember Chelsea giving me a heads-up that there would be a personalized sign for me and Zoe hanging up along the route…and to look for it.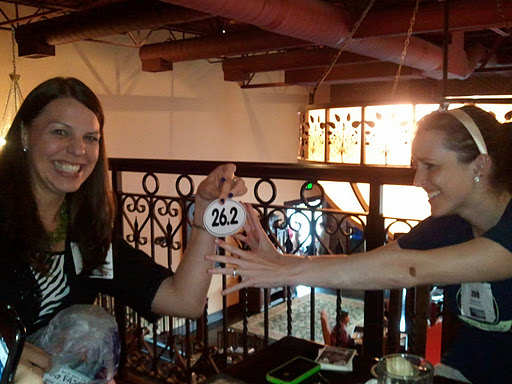 Now, Mel's teasing Zoe with a magnet! Meanie!
Before leaving the dinner, me, Zoe, Mel and Amy went over the plans for drop-off the next morning. Amy, who was supposed to run, but is suffering a horrible ba
ck injury, volunteered to drop us off. I really hope she realizes how important that was for us. It took a huge weight off my shoulders, and I'm sure Zoe's, too.
The plan: I pick up Zoe and Blonde Mom (who is staying with a friend near where Zoe lives) and meet Amy, who will have Mel, C (running with Amy's bib) and Jess with her at a Starbuck's a few miles from the race drop-off (and sort of near where both Mel and I work). Everyone loads into my minivan and we drive to the drop-off. Then Amy takes my Odyssey back to the Starbuck's and picks up her truck to head to Seattle to spectate. When Mel finishes, Amy gives my keys to Mel. Got it?
After the dinner, for some random goofy reason, Chelsea, Jill, Zoe and I decided to take the elevator down (1 floor) so we wouldn't get injured on the stairs the night before the race. My friends were so busy "stretching," nobody remembered to push the down button and it took us longer to get down than the people who took the stairs.
Goofballs.
Love these girls.