I think the best way to describe what I am right now is…confused.
Do you ever feel like things happen to you for a reason? You know it's happening for a reason. You don't know what that reason is, however, you know you may learn what that reason is eventually, but you really wish you knew right then because it could save you a lot of hassle.
I knew T Junior getting that fever happened for more than simply because he caught a yucky bug somewhere. I knew it before I said, last weekend, to Mr. T, "Maybe I should not do the 20 tomorrow." I knew it in my gut. It was sitting there waiting for me to open my mouth and let it out. But I also knew once I said it, then my gut would be right. It would make it true.
Yesterday, I went for about a 30-minute run with Mel. She is leaving on a fantastic European trip for her career and so I wanted to get in a run with her before she left. We had fun being silly. It was sunny, but cool. I ran through an air pocket of nasty gnats and had to wipe them out of my eyes, nose and lip gloss. That part was yucky, I guess, and so was the roadkill bunny. (Also, the Canadian geese had their babies. While the goslings are cute and fluffy and adorable now, I know they'll be scaring the shit out of me later.)
Even though I had fun with my buddy, I wish I could take back this run. It was a mistake. I should not have run. Nor should I have done 30-Day Shred and a 2-mile walk on the treadmill on Wednesday. Nor should I have run 3 miles on Tuesday. And I should not have done 30-Day Shred on Monday either. The 7-miler on Sunday? Yeah, I'd take that one back, too.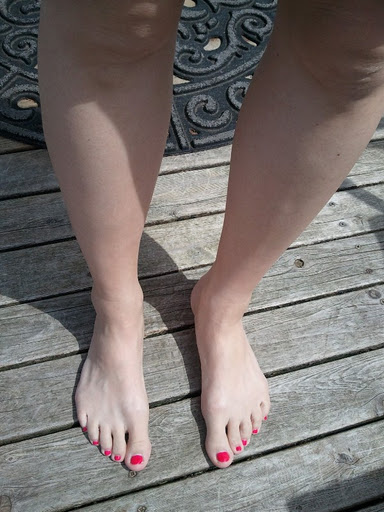 Why?
My left leg is all kinds of effed up.
I wish I could remember when my arch started hurting. Was it the week after the 18-miler or the 16? Because that would've been my first clue. Now, the inside and back of my lower leg is sore. And the ski-boot feeling is starting on that side, too.
It's sore when I'm sitting and when I'm laying down.
I was doing some reading about shin splints last night. They tend to happen more to people with flat feet. I have one flat foot: my left one. My right foot has a nice, pretty arch. I remember that the first podiatrist I ever saw (for a neuroma) said that I have what are called "wind-swept" feet. Awesome.
While reading, I also came across an article that said shin splints are like a warning. Your body is saying, "Stop!" So I'm listening. I'm stopping. I was sort of bummed out last night when I made this decision, but this morning, maybe because the sun's out, I'm feeling cautiously optimistic. Confused about what's going on in my leg, but optimistic. And even though I don't really know what to do…I have a plan.
I'm taking 2-3 weeks of running. (Probably 3, but I'll reevaluate after 2. I may start walking after 2 weeks.)
For the next 3 days, I will be icing my lower left leg every 3-4 hours. (Tomorrow, I will be walking around a bit at a giant neighborhood garage sale, but I'll be nerdy and bring my ActiveWrap and sit in the car for 20 minutes. I don't care.)
I will take Ibuprofin for the next three days to help reduce any swelling. (I'm not sure how much to take. I will probably take 800 mg a day. Thoughts?)
I will work on abs and arms. I want to work on leg strength, too, but I'm not sure what exercises I can do. Ideas?
I will be watching my calorie intake like a hawk. I weighed myself this morning and I stayed the same, which is a start, but I feel like I should've lost weight. So. Every piece of food or drink that goes into my mouth will be accounted for. The last thing I need is to gain weight. That will not help me.
I will make an appointment with a physical therapist.
I will try not to moan and whine (like I did last time).
I will heal and I will be running the full marathon at the end of June. That's why I'm taking care of this now. What's worse is that my running buddy, Zoe is injured, too.
I know I can run the full. There's no question in my mind. But I can't run it if I am injured. So this is what I have to do.
When I feel I'm feeling down, I'll just watch this to make me feel better and think, "Happy Feet" (and legs)…
http://www.dailymotion.com/swf/video/x7e8di
Kermit : Happy Feet by kermit67000
***
MvM BUSINESS:
Good luck! So many amazing races this weekend. Former Pacific Northwesterner, Amanda, is going to rock 70.3 tomorrow in her first half ironman. So head over to her blog and wish her luck. Then stop by Harmony's blog and Jess's (aka Blonde Ponytail's) blog to wish them luck in PR-attempts at the Windermere Marathon in Spokane happening tomorrow, too! Finally, hop over to Marlene's to send her speedy wishes for a FAST BQ-attempt at the Mississauga Marathon. I'm sure I'm missing so many people. Good luck to all of you!!! 
Bloggy Meet-Up! Are you going to be at Seattle Rock 'N' Roll? We are organizing a carbo-load dinner at the Tukwila (different location than last year — this is closer to the starting line – MAP) Spaghetti Factory around 5 p.m. on Friday, June 24th. Please contact Mel ASAP at tallmomontherun (at) gmail (dot) com so she can take a head-count and reserve seating. It'd be great to meet in person! The day of the race is always so crazy. More information in her post HERE.
Reminder: Due to Blogger's maintenance issues over the past 48 hours (or so) some of your entries into the minimalist shoes giveaway on my blog appear to have…um…disappeared. PLEASE check to make sure your entries are there. If not, I'm sorry, but you'll have to enter again. Such a pain, but it's worth it if you win!