It's like a game of Christmas tag! And I'm it.
Thanks to both Kim at (Just) Trying is for Little Girls and Chelsea at Will Run for Food for tagging me!
1. What is your favorite time of day to run?
I like to run in the morning for a few reasons:
A. It gets the run out of the way. My days are usually pretty full, so if I don't go running before the day begins, it can be difficult to squeeze it in.
B. It reduces the mom-run-guilt factor. I don't like putting my son in the gym day care regularly or taking away from time I could be spending with the hubs. When this does happen, I feel guilty about it. I don't want to feel guilty about running. I know it's good for my physical (and mental) wellbeing.
C. The positive attitude and alert mental state I get from running stays with me throughout the day. I also do a better job of making healthy food decisions when I exercise first thing in the morning.
2. If you could have any job in the world, what would it be?
If I could get paid to write this blog, I'd say that would be a pretty sweet gig. I mean, I am a writer in my real-life job and stuff.
3. Do you have a guilty food pleasure? (ie What's your favorite empty-calorie food?)
I have many. But the one that causes the most problems is ice cream.
When I was pregnant, I didn't keep track of my weight closely. But I felt I was doing a good job of eating healthy. I'd lost about 40 pounds or so before I got pregnant, so I was okay with gaining some weight – you know the 25 or 30 you're supposed to gain. I knew I'd just take it off after I gave birth. No prob.
My doctor was a fit, stylish woman in her late 30s or early 40s who wore leopard print heels to the office and went on bicycle treks in South America. At my six-month check up she came into the little room, sat on her swivel stool, opened up my file and said, "So, why do you think you gained 12 pounds this month?"
It took me by complete surprise. TWELVE?! A month is only about 30 days, right? But I'd been eating healthy! I told her this.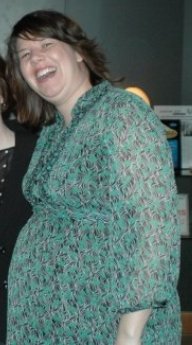 She looked at me suspiciously, as if to say, "Whaddya think I was born yesterday?" What she really said was, "Can you think of anything in particular that you've been eating a lot of?"
And like one of those Rorschach tests, the first thing that popped into my mind was the nightly scoop of ice cream. The nightly scoop of ice cream that had become the nightly two scoops of ice cream, which then became the nightly two scoops of ice cream with a banana that became the nightly two scoops of ice cream with a banana and sprinkles, which then became the nightly two scoops of ice cream with a banana and sprinkles and a drizzle of Hershey's syrup, which became the nightly two scoops of ice cream with a banana, some sprinkles, a drizzle of Hershey's syrup and whipped cream topping.
I got a prescription. And it was not for more cowbell. But it was for fat-free fudge bars.
Lame.
4. How and/or why did you start running?
Did you read question three at all?
That was part of it – to lose weight after having my son. But I also had a painful herniated disc in my lower back that was due, in part, from inactivity. You can read about my back HERE.
I chose running because I ran track and cross country in high school. After high school, I ran off and on, but never trained for anything. It was more about getting in shape, and I would just run as much or as little as I wanted to with my Discman. Yes. I said Discman.
5. Do you have any special Christmastime traditions?
Oh, yes. On Christmas morning, we have Christmas Breakfast Strata, a casserole made of bread, eggs, milk, cheese and…wait for it…bacon. I think the fact that we only eat it once per year makes it even yummier. This is a tradition we've carried over from my family. I don't think Mr. T minds. It's really easy to make. We put it together on Christmas Eve then refrigerate it over night. (Email me if you want the recipe.)
6. What race/event are you most looking forward to in 2011?
Last June, I cried a little as I rang my cowbell for the runners at the Seattle Rock 'N' Roll Marathon. I was supposed to be done with my 26.2 by then. I was supposed to be a marathoner. But it wasn't meant to be.
This June (barring injury), I will be running the Seattle Rock 'N' Roll Marathon!
Let's Get to Know More About:
Zoë at Run, Zoë, Run
LB at Muddy Runner
Wifey at Run, Wifey, Run