Holy cannoli! Thank you all so much for your awesome advice, suggestions and comments on yesterday's post!
If you didn't read the comments, go back and do so because there are some great tips, especially if you are interested in trying the Jeff Galloway run-walk method. I need to go through it all again and do some more bullets!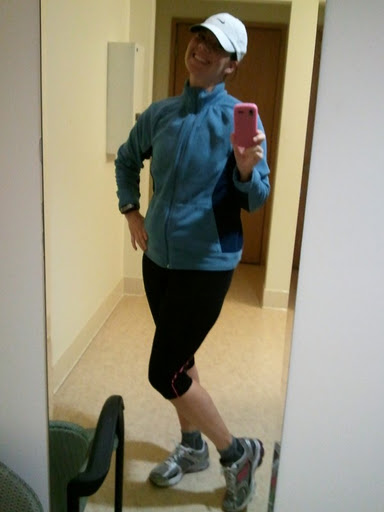 So…today, I got a late start on my lunch run. I had grand plans for doing one of those cool "pictures of my run" posts, but once I got outside, I knew that wasn't going to work.
It was pouring. I didn't want to soak my phone. Ugh. And I had on fleece. Yuck. Wet-dog-style. Anyway, I was feeling totally sluggish pre-run. I've been getting less than 7 hours of sleep. I just felt bleh.
But once I got outside in my running clothes. Bam! Energy. Three+++ sub-9 miles that didn't feel hard at all (8:37 pace!). Man, I love running. The past two days, I did no running at all and I was tres miserable. I feel so much better. Thank goodness for whoever invented running.
(The only sucky thing was the dead mommy duck on the side of the trail. So sad. I couldn't look at her, which is hard to do when you are running.)
Sorry for the short post, but it's already late and, really, I just wanted to thank you all for your comments on yesterday's bullets. Have a great Thursday!