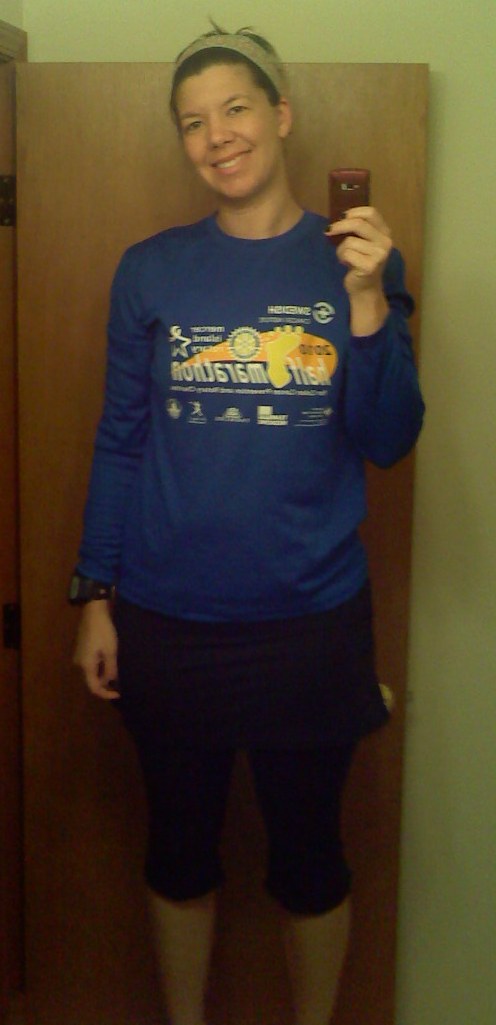 First post-injury run: Done
Second post-injury run: Done
Third post-injury run: Done
Pain? None
Friday was my first post-injury run. I got up at 6:30 a.m. with a pounding headache that would not go away. I wore the same outfit I sported on my last real run before I cut back and eventually stopped running: a 14-miler with Jill. I thought it would be appropriate. Although, I'm not quite back to running like I was a few months ago.
I'm following the Couch to 5K plan because it's slow and eases you into running, which is what I've been told to do. So far, no pain. A little soreness, yes, but it went away, which is what it's supposed to do.
I definitely don't feel ready for the You Go Girl 10K that's a week and a half away, but I'm just planning on taking it easy. The past few months have taught me a valuable lesson about slowing down.
Friday's run/walk was good, I guess, besides my head throbbing with each step. For that reason, I did not take music with me. But the time alone, outside felt too short, as did Sunday's run/walk, which at least managed to lift my severe grumpy mood. Tuesday's was on the treadmill at 4:30 a.m. before work, so it was actually the perfect length. I had a great time listening to my music and staring at Sports Center while other early-morning gym-goers did their own routines around me. I wondered if anybody (because it's typically the same people at that time in the morning) noticed I wasn't on the elliptical or bike. Yay!
SUMMER OF WEIGHT LOSS
I'm still chipping away at my weight. On Friday, I was down to 160.6. I'm almost to the 150 range! Only a week to go in the SOWL, people! Well, not really because I'm just going to keep losing till I get to my goal – I'm hoping around Christmas, which will be tricky.
That leads me to this week's challenge (I will have one more for you next week). What will you do to either continue losing or maintain your weight through the holidays? Think about it ahead of time so you can stay focused.
For me, it'll be all about the marathon. I need to lose the weight while building a running base so that when I start marathon training in the spring I will be lean and well-conditioned. I will be lighter on my feet and I will be better prepared to start adding mileage, unlike last spring when I started adding mileage to a near-non-existent base, which resulted in the aforementioned injury – aka stress fracture in my left shin. Oops. Don't want to do that again.
PS: Thank you all for your continued support through comments and DailyMile and the other random places we connect. I've settled into once-a-week blogging and am liking it. I'm trying to get around to your blogs more, although I'm sorry I can't comment as much as I used to. And don't be surprised if a Sunday post shows up every now and then…been thinking about adding just one extra day.