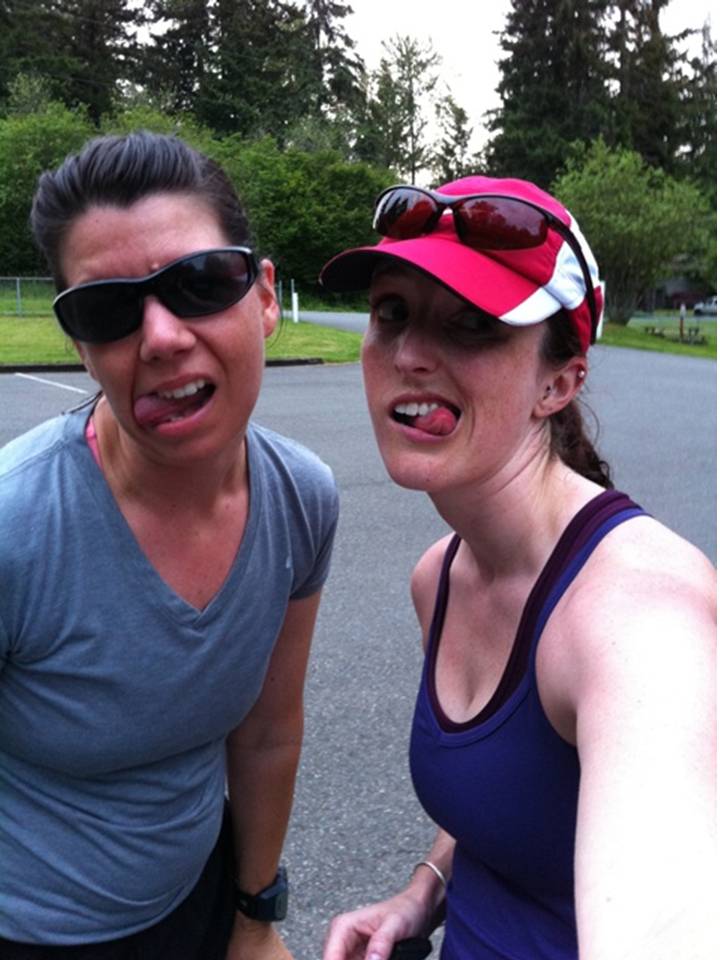 Attempting Amanda's pooped-out pose.
Ever forgotten to turn on the bathroom fan during your shower? You get out and wham! hot air in your face. You can't cool off. It's hard to breathe.
That's what last night's 7-mile run with Zoë was like. So humid and warm. We met up at the hilly Soos Creek Trail and we were sweating buckets before we even got running. Plus, we're not used to running in the evening. You know, after dinner. Ugh.
The run was rough. There were little bugs everywhere and they kept flying into our mouths. Zoë could spit 'em out, but they would just go straight down my throat.
Zoë was having a tougher time than I was. Her body was just not cooperating. We walked a little, ran a little, and I talked a lot! I was trying to take my buddy's mind off of her body. Not sure it worked; hopefully I didn't give her a headache, too.
But it was GREAT to run with Zoë after several weeks of not being able to get together. We shared the good, bad and yucky from our 20-milers and got caught up on life.
After the run and back at home, I was about to hop into the shower when I saw a black spot on my forehead. It was a dead gnat! And upon further inspection, there were hundreds of little gnats stuck in my hairline. Sick! In the shower, I lathered my hair longer than usual. So gross. Then before bed, I got running capris and a shirt out for my first walk with Bennie in the morning. I set the alarm for 6:45.
I got up just before 7 and let Bennie out. He went potty while I got dressed. As soon as I got the leash, he went nuts — spinning and jumping. Shhh! Shhh! 
I grabbed a poop-bag just in case and we left. We started with a five-minute walk. Then we switched to running for three minutes. It was a little rough at first. Bennie was hopping and jumping and whipping his head in all directions every time he heard a strange noise. Sheesh. You think this dog has never been outside. I checked my watch and it had only been 1 and a half minutes. Ugh.
We made it to three and then we walked a minute. We were headed on my loop that goes out toward the highway, which has big sidewalks that run along it through town. He needs noise and distractions. He needs to get used to them.
We went along with our 3:1 ratio. We were doing good, but then Ack! I almost tripped because Bennie got excited and did spun in a circle in front of me. Whew! That was close. That happened one more time, but by the end, we were getting into a rhythm.
We finished with 1.24 miles in just under 19 minutes. Nice and slow. Except Bennie seemed more revved up after our walk!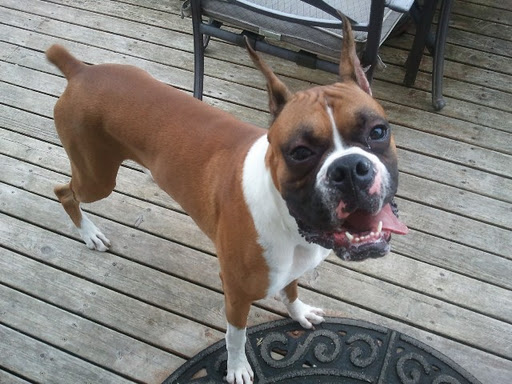 Immediately following the "run." Obviously, we will need to
increase Bennie's food. He's lookin' a little skinny here.
But I'm happy to report that didn't last, and right now all his feet are twitching as he sleep-runs during a nap with his "sisters."
A few hours later: Can't. Keep. Eyes. Open.