It was sunny this afternoon, but cold. Deceiving. I stepped out my front door for four miles and breathed in winter: evergreen trees and woodsmoke.
I had grand plans of waking early and getting my quick run out of the way, but a peek out of the window at 6:30 a.m. revealed glittering grass. Too cold.
I admit that owning a treadmill has turned me into somewhat of a weather wimp. Plus, one of my miles was to be a speed test, so I didn't want to worry about slipping.
I am following Jeff Galloway's marathon training plan and every few weeks within the schedule, you run a one-mile speed test. Your results are used in a mathematical equation to help determine what pace you are capable of for 26.2 miles.
I was nervous about this today. Last time I ran it, I was thrilled with an 8:09 pace. But that was about a week before Christmas. In my head, I knew I had to beat it.
Run time finally came around 1:30. I wore my new pink jacket and my black running skirt — my thighs safely slathered in SportShield (have you entered my giveaway?).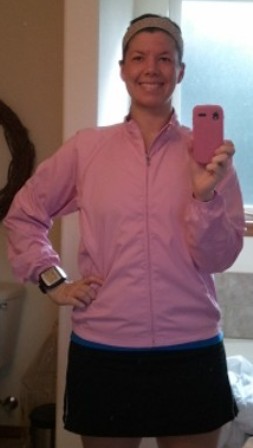 Adidas ClimaProof Wind jacket in pink:
$8 like new at the Goodwill. I love it.
And, yes, I have a pink cover for my phone. Duh.
Here's the breakdown: 


Mile 1 (easy pace) – I had to pee. Even though I went like a bazillion times before I left the house. I was annoyed. My music player was bugging me and my phone in my pocket was bouncing around. I ran the one-mile route I would run for Mile 2's speed test. I noticed I would be running into the wind on the second-half of the route. Annoyed again. I considered running by the house for a pit stop and to drop off my extra stuff (which I didn't really need for such a short run, but just felt like having).
A few minutes into the mile, I got comfortable and ended up with what felt easy: 10:25 pace.
Mile 2 (as fast as you can without puking) – I concentrated on my form, using the JG shuffle-step. This forces you to use your stomach and thigh muscles for most of your power and not your lower legs. It also feels easier because (I think) it is easier since you are not expending as much energy.
At .33 of that mile, I was feeling pretty good and kept glancing at AJ II (my Garmin) and seeing times like 7:53, 7:56, 7:48! At a half-mile, though, I thought I might die. But I sucked it up and kept trucking along. Every time I corrected my form, it got easier. Mile 2 speed test: 8 flat.
Mile 3 – I was recovering a bit. I knew my face was red and I felt a tad lightheaded for the first few minutes. Mile 3 recovery: 10:35 pace
Mile 4 – Got my strength back and was ready to pick up the pace a little. 10:03 pace
The last .25 – "Just get me home, I'm almost done and I really want to know what the time was for Mile 2." 10:10 pace
A new neighborhood is being…er…installed next to our neighborhood. The street's been there for a while, but a chain-link fence kept me out. It's a hill opposite the big hill in my neighborhood. Now, it looks like a big U — or a giant skateboard ramp. Hill repeats anyone?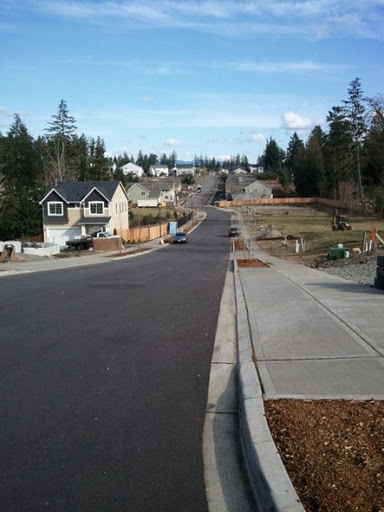 The other nice thing about the chain-link coming down is that the fence at the top that goes into another neighborhood, also came down. Now, there's a loop. It's only a quarter-mile, though. Not really a great loop. But a loop nonetheless. With street lamps.
I was making these observations when I remembered I have a treadmill. But sometimes it's nice to run outside. Like when it's sunny, but cool, and there's no rain or snow or wind and you have music and there aren't any cars to watch out for. And you don't have to pee.
One more thing: Sometimes my bloggy (and real) friend Mell – Tall Mom lists unusual things she sees during her runs. What I saw on my way home reminded me of this and I made a mental note to put it in this post. (Now wishing I took a picture. I mean, I had my phone banging me in the side the entire way, didn't I?) Anyway, it was a toilet in someone's front yard. Unfortunately, the feeling of having to pee had already passed.
This was not a trashy yard with junky cars and garbage. A nice, manicured front lawn…with a toilet in the middle of it. Also, not just any toilet. It was painted bright orange and on the back of the tank (because that's what was facing the road) was a yellow heart with the words "Love Hungry." I don't get it.