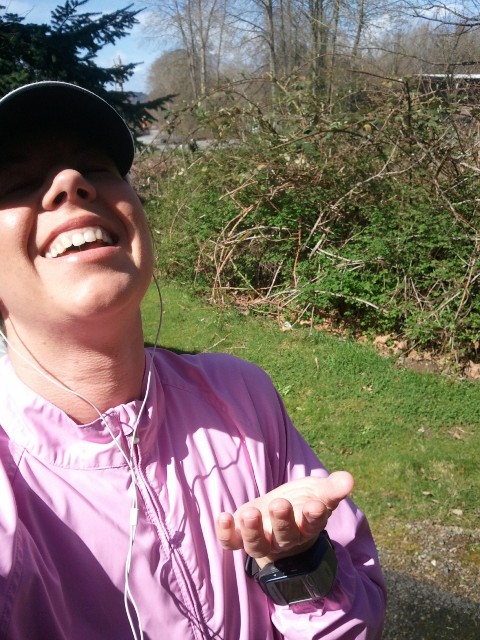 Oh wow, it felt so good to get some sunshine today! The weather has been volatile. Like it changes every five minutes. So I felt extremely lucky that when lunch time rolled around, the sun was out.
Unfortunately, my Tall Friend couldn't meet me today, but at least I had the sun. I turned my music up loud and ran straight out of the front door of my office. I felt great and, despite telling myself I would have a nice leisurely run, I went fast.
My legs just wanted to go. I'm having a difficult time slowing myself down when I feel good like I did today. I knew I needed to slow down, and I kept thinking I did, but then I'd look at my watch and it would say: 9:14 or 8:46 or even 7:51! My pace was all over the place. Not good. I need to figure out what my comfy pace is. I feel like it keeps changing.
Overall, it was a glorious run and I kept wishing Mel was there because I saw some great things today. During Mile 2, I followed a speedy ladybug and, later, hurdled some spilled French fries on the sidewalk. Around the beginning of Mile 3, I saw a woman speed-walking while reading a hard-cover book in one hand and eating a sandwich in the other. Now that takes talent! Not much later I passed an older male runner who had the most interesting stride. His knees came up so high in front of him that I thought he might hit himself in his chin! Big, huge stride. It was pretty amazing, actually.
Once I returned to my desk and logged my time in DailyMile, I was super surprised to see this: 8:36 pace for four miles. I think I know where this speed is coming from, but that's another post.
How was your run today? Did you see anything interesting?