Remember last year when I fractured my left shin, but I didn't know I fractured it, but I downgraded my first full to a half marathon walk anyway because Coach Tony told me to and I was in pain and stuff?
And remember how a few weeks after the half I went to the sports podiatrist and he told me I fractured it and wouldn't be able to run for lots of weeks?
Remember how he said my shin problem is probably actually caused by my hips and that I have this genetic thing called acetabular anteversion, which means my hips point inward? Remember? He hoped the orthotics would help correct that a bit?
I was looking at one of my photos in which I have no shoes on and I could really see what he was talking about. It's so totally obvious.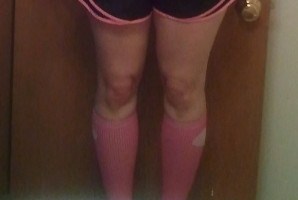 I'm not pigeon-toed, I have acetabular anteversion.
You can't see my feet, but they are straight forward. Look at my left knee! It's completely facing inward. My right one looks a little better. But, geez! No wonder I have soreness on the inside of my left leg — that's where all the impact is going.
This morning I, as Jillian says, "phoned it in" during Level 2 of 30-Day Shred. It was 5 a.m. I was sleepy. Feeling kind of down today, but I haven't taken my Vitamin D yet, so maybe that's it.
Looking forward to a run tomorrow!