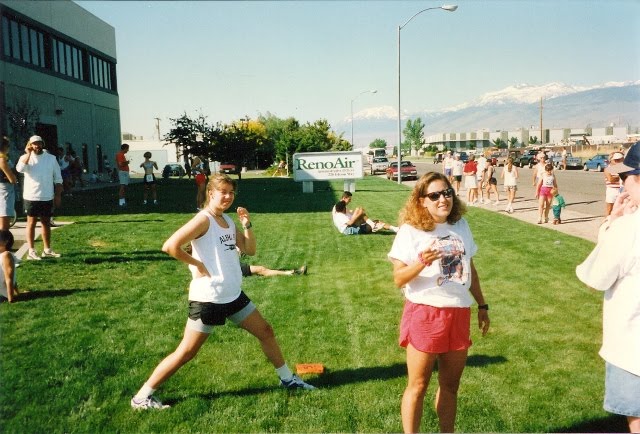 Look at me stretching! Hey, my legs look pretty good. I should be able to run three miles. No problem! Sure, I'll do a relay. Sign me up!
That picture was taken in the summer of 1996, just after my first year at Washington State University ended. My good friend's sister and her husband were going to run a relay (I can't remember the total distance, though) and they asked if I'd like to run it, too. After all, I'd been on the cross country team.
Never mind that I'd been in college eating pizza dorm food for a year and NOT running. But I'd been playing intramural soccer all year and going to aerobics, so I should be good, right?
What's that you say?
Oh, yes, you noticed it was in Reno.
4,505 FEET ABOVE SEA LEVEL. Altitude? What altitude?
And, I mentioned I hadn't been running, right?
That was the longest three miles of my life! I might've had to walk. I can't remember. Honestly, I think I tried to block it out. But my friend's sister (pictured in the foreground) reminded me of the race when she posted the photo as part of Way Back Week on Facebook.
Good times.
Ever been unprepared for a race?