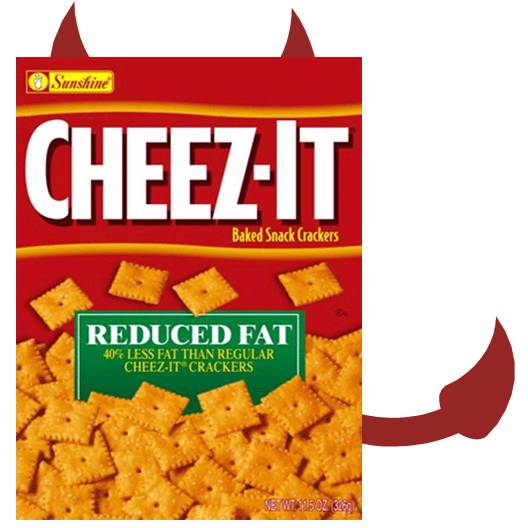 I didn't eat any cupcakes this week. I went to the gym. I picked up an extra day of running. Yes, I did alright with my eating and exercise this week. The only thing that stood in my way is the Evil Cheez-It.
Someone left a box of them, albeit the reduced fat kind, in my minivan. Over the past week, I've eaten…oooohhhh…half of the box.
Oh, Cheez-Its, why do you have to be so good, but so, so bad?
So that's probably one of the main reasons why I weighed in at 162 this morning. I want to blame it all on the Evil Cheez-It, but I can't. I'm going in the wrong direction! That's a gain of about half a pound, and after gaining 2 and a half pounds last week! I'm so disappointed in myself.
And…AND…I think I have a cold. I feel like crap this morning and we sort of have a big weekend ahead. I felt so bad when I got up, I skipped my run. I've run sick before, but whatever this is that I have is making me nauseous, and I can't deal with that. I probably won't be able to run till Monday either.
But I did run three days this week: Sunday, Monday and Wednesday. On Sunday, as I ran in one cul-de-sac an entire town had been created with sidewalk chalk. I sort of wanted to run on their squiggly roads, that led to big houses, a school with a large American flag, and Bettie's Food Court, where I really wanted to stop for a bite to eat. Maybe that was a sign.
I need to get back on the weight-loss track. Holidays of Weight Loss will start next week. Be afraid, fat on my tummy, be very afraid.