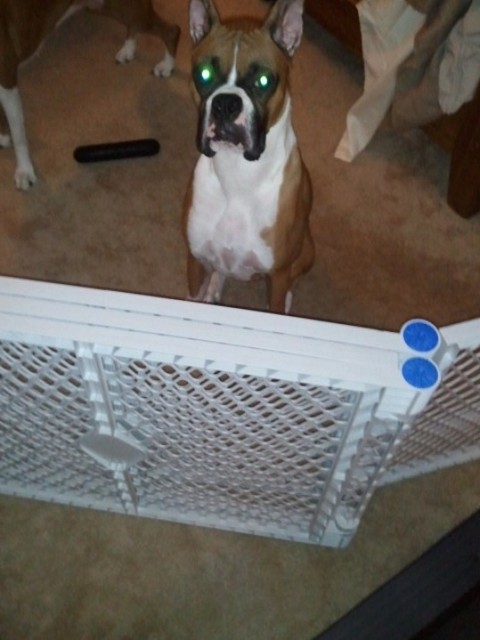 This is Bennie. Bennie is behind a plastic fence. I am on the other side. On the treadmill.
"Why?" you ask. "Why does Bennie have to stay behind the plastic fence?"
I'll tell you why: Because Bennie can't keep his tongue off of the treadmill belt.
**
Today's run was supposed to be yesterday, but yesterday was the bloggy meet-up dinner with Chelsea, Jill, Mel and Zoë. I had so much fun (recap coming later). 


My Jeff Galloway plan simply calls for two 30-minute runs during the week. Usually, I do some sort of intervals or something. But today, it was all I could do to BREATHE.


One of the dogs (not sure which one, but I have an idea) kept…um…breaking wind. It was disgusting. We were all locked in the room together while T Junior napped. I couldn't even open the window because my neighbor's chimney smoke was blowing in. I had the fan on me, but it was aimed toward my legs.


Ugh. I was practically gagging. I even ran with my hand over my nose for nearly a quarter-mile. 


Tomorrow, Mr. T and I will rearrange the bedroom so the 'mill will be right next to the big windows. I think that will make things much cooler as I was dripping with sweat when I finished running today, even though I was only in capris and a sports bra. Recently, I've tried my running skirt and a sports bra and I'm not sure if I just didn't put enough BodyGlide on or what, but I chafed pretty bad. I just get so darn sweaty!


I'll also be pointed toward the TV after tomorrow, which will be awesome. Although, not sure what to watch. Suggestions?