Well, we did it. We bought a bus. The thing is huge: 34-feet, 3 slide-outs. I cannot wait to go somewhere in it after we pick it up. Meantime, I have to clean out our trailer that's been sitting in storage for 3 years.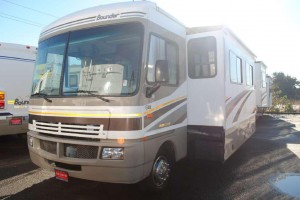 We didn't just decide to buy this thing on a whim. We've been looking on-and-off for years; and we've been saving and paying other things off so we could buy something like this and afford it. (That being said, it is a 2004 and it did not cost nearly as much as you might think.) We had a plan.
I enjoy having a plan, which is why I love training. I basically know what I'm going to do, exercise-wise, for the week. Here's my plan for the week:
MONDAY
10-20 minute warm up
1600 meters at a 7:40 pace
400 meters rest
1200 meters at a 7:32 pace
400 meters rest
800 meters at a 7:24 pace
400 meters rest
400 meters at a 7:16 pace
10 minute cooldown
TUESDAY
Swimming or Jillian ab workout
WEDNESDAY
(Not sure I will be able to do a mile rest in between — I only have an hour, so I may switch it to .5 mile easy.)
1 mile warm up
1 mile at 8:13 pace
1 mile easy
1 mile at 8:13 pace
1 mile easy
1 mile at 8:13 pace
1 mile cool down
THURSDAY
30-40 minutes on my bike at lunch
FRIDAY
6 miles at a 8:43 pace
SATURDAY
Slow walk or Jillian workout
SUNDAY
Swim, bike or Jillian workout
Do you enjoy having a plan? Have you ever had a motorhome?