Don't get me wrong. I've lost some weight since I started running in July 2009 – about 12 pounds. But it's almost been a year. And I've been more active this year than I've been since, at least, college. Maybe high school.
And, yeah, yeah, yeah, part of it is that I gained muscle and lost inches. Whatever. No, I actually wish I would've taken my measurements when I started running. Since I still have 29 pounds to go, I am going to take them right now. Sit tight…
Okay, I'm back. Let it be known, they are:
Bust: None of your business. 
Chest: 33-1/2″
Waist: 33-1/4″
Hips: 43-1/2″
Midway: 38-3/4″ (largest area between your hips and waist — for me this was the leftover baby tummy…don't worry, you'll SEE it below)
Thighs: 42-1/4″
Knees: 28-1/4″
Left calf: 14-3/4″
Right calf: 14-3/4″
Right upper arm: 12″
Left upper arm: 12″
Have you taken your measurements before? In case you don't know how (like me), here's the link I used. And guess what else is going up on this post? A BEFORE picture. *gasp* Oh yeah. I'm doing it. If you would kindly wait for me again…I'll be right back…
Hi. Still there? So, OMG, this is embarrassing, but here I am: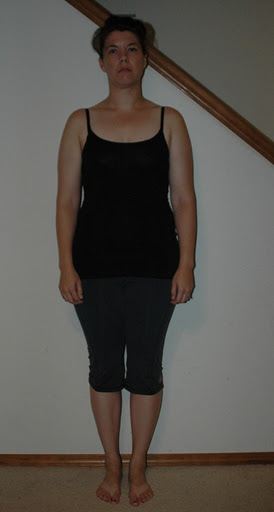 Front: Before
(Don't mind my sweet flip-flops tan and
the funky hair shadow behind my head,
or the fact that I look like I'm being
booked in the county jail.)
Side: Before
(OMG, am I going to look like I'm pregnant forever?!)
Guess what?! The Summer of Weight Loss has officially begun! Are you in? If you are and haven't told me already, please send me an e-mail (see address at the end).
I'm going to be challenging us each week (with your help; send me ideas for challenges)! This week: post your measurements and before picture like I did above, and your starting and goal weight if you like. Mine is 169 with a goal of 140.
Usually, I'll post a challenge on Wednesday. Also, you need to pick a weigh-in day. Only weigh yourself once a week, and try to do it at the same time of day. I'll be asking you all to e-mail me the results of your weekly weigh-in by 9 a.m. PST every Wednesday. I will list them in the Wednesday post along with a link to your blog.
This journey will end with summer on Wednesday, Sept. 22. It'll be fun to see how we do! Also, use whatever safe method of weight loss you want for this (I'm using Weight Watchers because I've had success with it before, but that doesn't mean you have to), and dudes are absolutely welcome to play along. Oh, and you do NOT have to have a blog to participate either, just e-mail me your name, etc.!
Remember to be careful if you are training for a race. You need to fuel your body correctly.
Okay, let's review your assignment:
1. Pick a weigh-in day
2. E-mail me at kerrie (at) sanitydepartment (dot) com with your name, your goal weight and your starting weight (if you don't want your starting weight published, just don't send it to me, but send me your name/blog so I know who's "officially" participating).
3. Post your starting weight (if you want) and your goal weight, measurements and your before picture on your own blog (I'm working on an official SOWL button…probably by next week or sooner, actually, because this is me we're talking about and I will obsess about it till it's done).
***
SOWL PARTICIPANTS
Don't forget to visit each other's blogs and share tips, etc.!
Jill at Run with Jill
Kadie at There She Runs
Talitha at Me & The Bug
LB at Muddy Runner
Shannon at It's Trickey
Kelly at In a Field of Daffodils
TMB at Racing with Babes
Lorian at Running Guarantees Sanity
Kasey at Blonde Mom Runs
Kelly at 2010-Revived Runner
Tim at 26.2 Quest
Robyn at Ramblings of a Wannabe Writer and Runner
Jill E. at Running to Sanity
Lisa (aka Running Kiwi) at From Fat to Marathoner
Mel at 2nd Chances
Stephanie at Girls Just Wanna Go Run
Alma at The Average Woman's Running Blog
Genesis at Eat Always, Sleep Seldomly, Run Whenevers
Steph at Steph's 50 Marathon Challenge
Stacie at Impossible is Nothing
Kadie D.
Who else?…….