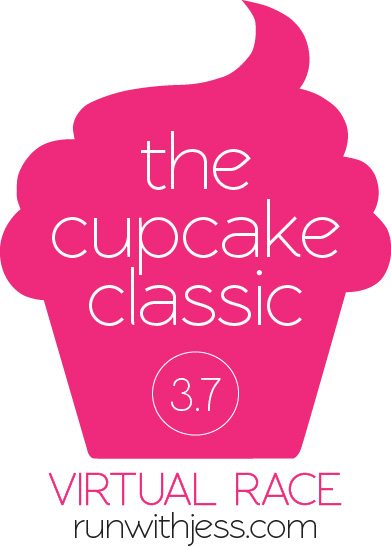 What: Jess (Run with Jess) hosted the 3.7 Cupcake Classic virtual race for her birthday and to raise money for the American Cancer Society.
When:
Alma (
The Average Woman's Running Blog
) suggested on our local running group's page* that we all meet up and do the race together on Saturday morning at 7 a.m.
Who:
Alma, me, Carla (
Foil-Wrapped Runner
), Karla (
Running on Eagles Wings
) and Zoë (
Run, Zoë, Run
), who is just one week back from a month-long stay in China.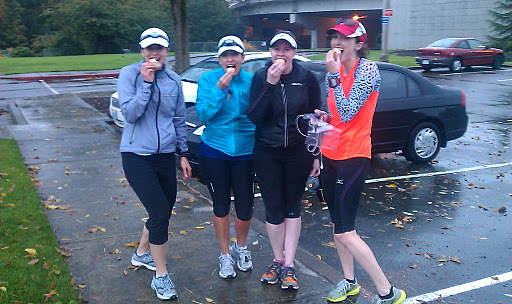 Alma, Carla, Karla and Zoe
Carla, Karla, Alma and me (aka drowned rat)
Where: The Cedar River Trail (CRT) 
The Weather:
-Downpour in the dark.
-I didn't know it was raining until I was out on my front porch. I was already 5 minutes late and had no time to change. Plus, my capris were in the dirty laundry. 
-I had my windshield wipers on full power on the drive (about 25 minutes) to our meeting place on the CRT.
The Run:
-I was last to arrive, and the four others were standing out in the rain waiting for me. I felt bad.
-I got out and put on my headlamp. Still pouring. Drenched immediately.
-We walked across the bridge over the river to the trail and got started running.
-It was dark, but we had headlamps.
-It was LOUD with the rain pelting the leaves on the cottonwood trees.
-I stepped in a puddle. Sonuva! (Not that it really mattered. Feet were already wet. But now they were squishy.)
-We saw about 4 other groups of crazies runners on the trail.
-Cars driving by the trail are louder when the road is wet.
-The rain softened in the daylight.
-We turned just before Mile 2 to head back. Alma is recovering from an injury and Zoe was not able to run for a month+ in China, so we needed to end at the car. 
-I brought mini cupcakes, Alma made spice muffins for us (I saved mine for the drive home) and we took pictures, then said our goodbyes. 
-I peeled off my soaked Lulu jacket and put on a dry Brooks jacket.
-Carla and I headed back out to the trail for another four miles in the light(er) rain. (I really enjoyed getting to know her more. Thanks, Carla!)
The Result:
None of us ran for time. We just had fun running and chatting! Thanks for holding the race, Jess! And happy birthday!
Post Race:
I stopped at a local coffee stand and ordered a small eggnog latte. It went perfect with the muffin Alma made! The coffee stand owner took one look at me (soaked) and asked me what I'd been doing. I told him I went for a run. "You are dedicated," he said, but I confessed that I didn't know it was raining till I was getting in my car. Too late to turn back then! I was committed. Or…maybe I/we should be committed.
*We have a very relaxed group called the Women Runners of King County (WeROKC). If you live in the Seattle (King, Pierce or Snohomish counties included) area and want to be added to the group, or would like more information, e-mail me at kerrie (at) sanitydepartment (dot) com. We organize group runs through a locked Facebook group page. We also communicate about upcoming races, etc., on the page.