The Boston Marathon tragedy…there's nothing left to say, is there?
Last night, I tossed and turned for hours. And I wasn't even there. In Boston. I didn't experience it like they did…
I'm trying to think positive. Trying not to dwell on the sadness.  Trying to remember all the good in the world. Trying to be thankful it wasn't worse than it was. Trying to be glass is half full about it, which of course isn't easy. And so, I don't know what to write really. But when I feel overwhelmed, lists help:
Things that made me smile today:
My husband suggesting a weekend trip to see the tulips.
Other runners waving to me on my run.
Seeing e-mails from my friends pop up in my Inbox.
My son helping me make dinner.
My son getting the mail out of the mailbox and saying, "I've never reached into the mailbox before!" (Clearly an exciting moment.)
Things that made sense to me today: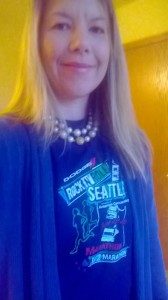 I refuse to list the things that don't make sense. Besides, I am pretty sure all of our lists would be the same.