1. I woke up Saturday morning a little late (7:30ish), let the dogs out, tidied up the kitchen and got T Junior some breakfast. Normal morning. Later, while getting ready for the Jelly Bean Virtual 5K, I was surprised that I didn't have welts all over my legs. And then I was like, Oh yeah, that was a dream.
The dream: I was running the Mercer Island Half (which I did run last year), and I was in some random community center locker room freaking out about the welts all over my legs. My mom was there, I think. She was telling me that whatever it was, I got it from Bennie (my dog that I own now, who does not have welts). I was wearing a running skirt and you could see bumps all over my legs. I missed the start of the race and had to run down countless flights of stairs outside to get to it. Then I woke up.
Anyway, you had to be there.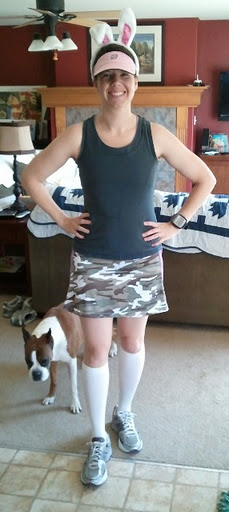 2. After the heat and stupidity of the Jelly Bean Virtual 5K was all over on Saturday, I realized that I actually did pretty good. I mean, I felt awful and still managed a 9:27 pace for 5 miles. Just to clarify: I wasn't unhappy about my time or pace, just about how dumb I was on things I know (like bringing water, running in the morning, etc.).
3. I like me some compression socks! I was hot, though, which makes me a little nervous for June 25, but hopefully I'll be used to the warmer weather by then.
Speaking of…did you enter my giveaway HERE to win some RunLove Compression Socks from RunningSkirts?