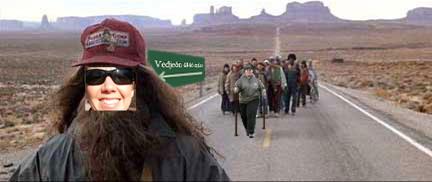 1. A couple of news items first:
The Boston Marathon released new qualifying requirements yesterday. I'm sure you've already read the details. It's a good thing I'm not interested in running it because…wow. Honestly, though, Boston is just not my thing.
In fact, when I was doing speed intervals last night on the treadmill, I was thinking about how much I don't really enjoy speed intervals (especially during the speed parts). And then on the slow parts, I was thinking how much I loved going slow and how I could probably just run at a slow pace forever…like Forrest Gump.
And, today, the more I think about running, the more I'm convinced that I should really enjoy running and embrace the slowness. And then, the more I think about it all, the more I think it's better for me with the stupid shins, especially since, last night after I was done with my run, my left shin was very sore. Like I barely touched it and then said, "Ouch! What was that?" That might've scared me straight off the speed interval bus. Might just be slow running for me from here on out. Because if I get injured before my second attempt at a first marathon, someone's gonna pay. (Actually, I guess that would be me. But. Whatever.)
What about you? Are you Boston or bust?
Second, Run Like a Mother will have a sequel! I'm pretty excited about it. I loved Sarah and Dimity's book – funny, informative, realistic. Great! In the next book, as was announced on their Facebook page yesterday, they will touch on training, strengthening your body and injury prevention. Looking forward to it! Did you read RLAM? If you didn't and you have a Kindle, I think I can loan it to you for 14 days or something like that. E-mail me if you want to "borrow" it. Fourteen days is plenty. It's a fast and fun read!
2. Welcome new Virtual Running Buddies! Hope you find something useful here. Please leave a comment if I haven't visited you yet, I try to visit several blogs a day, but sometimes life gets in the way. I know. Lame.
If you'd like to keep in touch in "real time," please like MvM on Facebook HERE. I update that page regularly with cool giveaways I see, links to great stories, new MvM blog posts, race info, inspirational quotes and motivational…er…outbursts.
Also, don't forget to enter my "Your Thighs Will Thank You" giveaway for a 2Toms prize pack HERE.
3. So many people run for a cause. I want to be one of those people, but I'm not sure what cause to join. I can think of a bunch, but then I get overwhelmed and decide to choose later. Then, I forget.
Do you run for a cause? How did you choose your cause?
Speaking of…want to run the NYC Half on March 20th? Check out The Fresh Air Fund-Racers HERE and join them to help raise money for The Fresh Air Fund, a non-profit organization that gives city children the opportunity to experience smaller towns and wide open spaces.
PS: Do you like how I turned three things into seven?