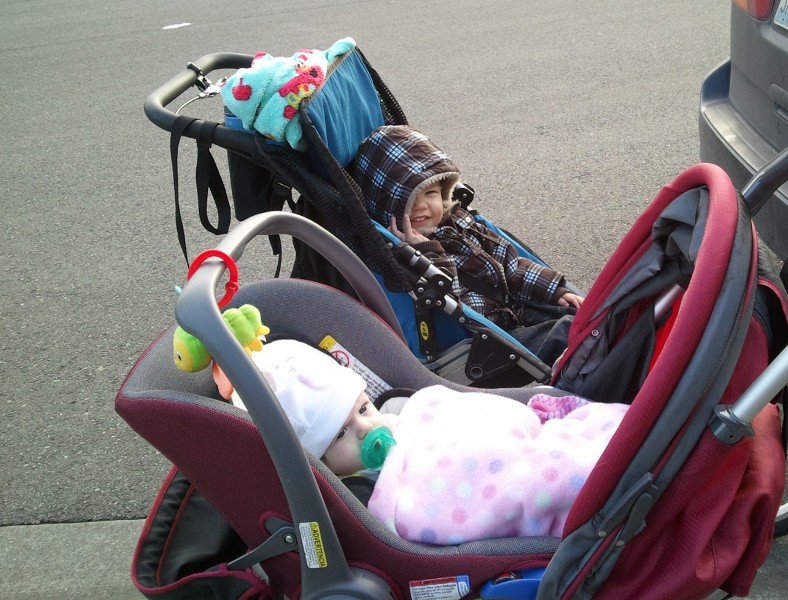 T Junior with new buddy Goober.
 1. I was totally lazy on Monday – I spent the time I should've been working out making cookies and this dancing video of T Junior, HERE. I did go for a short walk with Zoë and her little Goob, who was so adorable sucking on a pacifier the whole time. T Junior never liked pacifiers, so I was amazed that Goober kept hers in. So cute!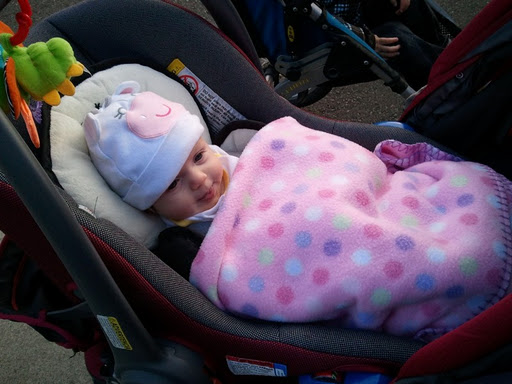 Zoë's precious Goober — without the pacifier, but WITH a little smile.
I made T Junior a peanut butter and jelly roll-up (in a flour tortilla) to eat for lunch during the walk and he got it all over his face, hands and jacket. He ate half of it, then demanded Pirate's Booty instead.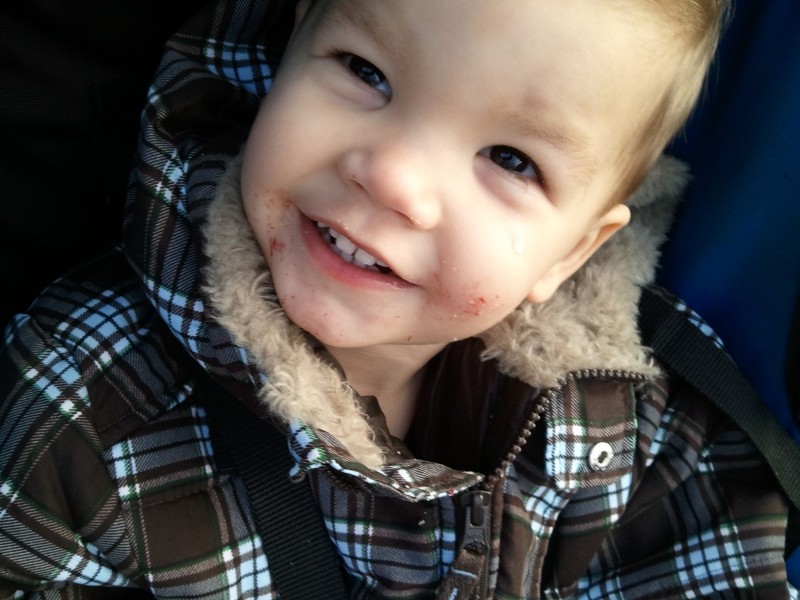 He might've gotten more jelly on his face than in his stomach.
 What toddler would rather have Pirate's Booty than PBandJ on a flour tortilla that's rolled up all cool-like and wrapped with tinfoil burrito-style? You know what, he also loves salad. He'll eat salad over anything else on his plate. Weirdo.
2. Last night, I had a date with American Idol and my treadmill for a typical 30-minute run (it's what Jeff Galloway's plan calls for). Buuuuuuut, I hadn't run since my long run on Sunday and I just felt like running longer than 30 minutes. Also, it takes me about 30 minutes to really get going. I was feeling awesome just when I should've ended my run. I felt so awesome that I put the 'mill at a 9:13 pace for a quarter-mile interval and forgot to put it back to my super-comfy 10:00 pace. I just felt fine at 9:13, I guess. I also threw in a couple quarter-mile hill intervals at 2% and 3%. Around mile 4.5, though, I did start to get tired. It was also nearing 9 p.m. and I'd been up since 5.
American Idol is the perfect show to watch on the treadmill. I don't have to follow a story line. I can just zone in and out when I want to. My favorite singers last night were the couple at the end. Love them! Hopefully, they won't get annoying later. Who do you like?
And I am a fan of the new judges and the overall vibe of the show this season. Is it just me or are they focusing more on the talented people and not spending so much time on the crazies? That's what I used to not like about past seasons: too much air time for nutty folks. Now, it seems more about celebrating talented singers. What show do you like to watch on the treadmill? (Of course, we all know TMB loves her some NCIS.)
I am waiting for ANTM (America's Next Top Model) to come back to Wednesday nights (Feb. 23). I'm going to have a problem deciding between AI and ANTM. Luckily, I have TiVo. Do you watch TV or movies on the 'mill?
3. I weighed in this morning. Down almost two more pounds! Well, 1.8, which puts me at 155.6. I'm pretty excited. I love the Bodybugg now that I understand how to use it (I promise that the review is coming soon!).
Oh no! I have one more thing to say. Okay, well, I'm just going to cheat here…just a little:
WELCOME NEW VIRTUAL RUNNING BUDDIES!