1. So I was having a mini-freak out on Tuesday night. Just a little one. (Thank you all for the advice!) But Wednesday, there was no achiness in my shin. This is a good sign. Last summer, my podiatrist said that a little aching is okay as long as it goes away after 2-3 days. I am listening to my shin (that sounds weird) and I think it was saying it was pissed that I made it do treadmill hills. I haven't trained on a lot of hills because of the shin thing. I know there are going to be hills during Seattle Rock 'N' Roll. Mel warned me. But I will just have to deal with them when I get there. Because I want to get there first.
2. The cold is gone. It seemed to come and go exceptionally fast. Not sure what that was all about.
3. Giveaways! I won an awesome one last week from Giraffy over at 365 Days of Awesome. I think it was meant to be. I opened the box yesterday and look: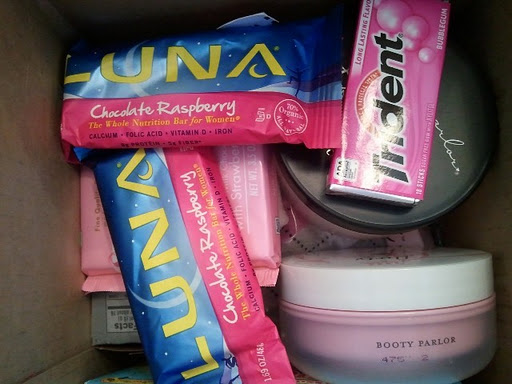 Pink! Everything is pink! So pretty. Thank you, Giraffy! If you've never been to her blog, she's a true inspiration and you're missing out, so get over there!
And: Only a couple more days to enter my RunLove Compression Socks from RunningSkirts giveaway!
And: Super excited about another big giveaway coming next week sponsored by OnlineShoes.com. It's like Giveaway Season around here!
PS: Happy Cinco de Mayo!!!