1. We got the treadmill almost one week ago. It's been great. The only thing is…we haven't had an opportunity to rearrange our bedroom so that the treadmill faces the television. Right now, it's directly in front of a wall. I was joking around yesterday with a co-worker saying I needed a rearview mirror on my 'mill.
Last night, as I was about to get on the treadmill (not because I had a scheduled run, but because I wanted to eat pizza for dinner) for a nice 30-40-minute run, I decided to make use of the extra mirror we have yet to hang up in our house.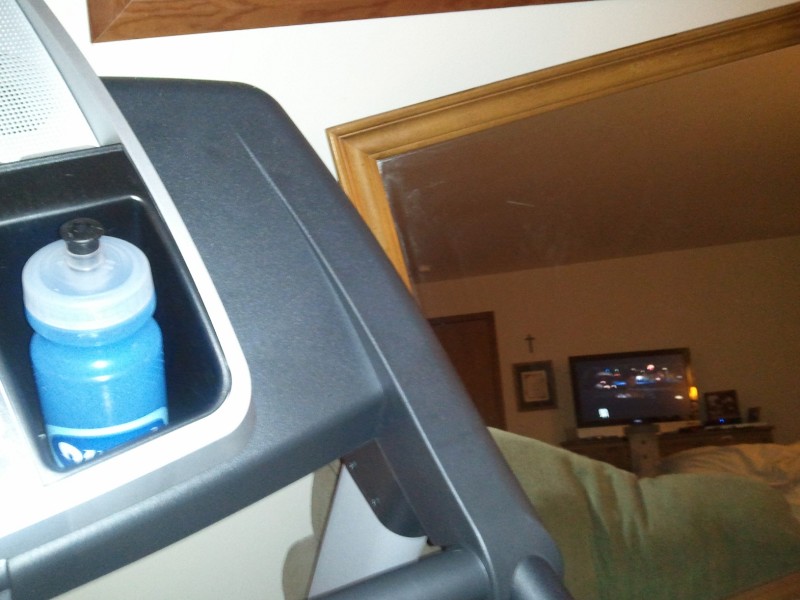 Hello, flat screen.
I watched American Idol (I like the new judges, but was it just me being creeped out by Steven Tyler flirting with young girls?) and did an easy 40 minutes alternating jogging and walking. All so I could have two pieces of pizza. And then…I only ate one (because I wanted a Skinny Cow).
Have you ever had to "get creative" with your exercise set-up?
2. Tonight, I am super excited to be having dinner with Chelsea, Jill, Mel and Zoe. I'm sure we'll all have bloggy-dinner recaps tomorrow. 🙂
3. Mom vs. Marathon has 190 followers! Thank you so much! I love having this community to share my successes and failures. It's been so great!