My sister received a tough update from the doctor on her preemie's health yesterday.
Most people who have had a baby that early (Faith was born at 23 weeks and 2 days) describe the experience like riding a roller coaster. We're in a down right now. I just hope there's an up around the curve.
I learned about the tough day right before bedtime and much later I was still awake when I should've been asleep, thinking about it and praying. I like to think positive. Focus on the good. The hope.
Dear Lord, please help little Faith. Please help my sister stay strong and remember she has two little boys that need her. Please help Daniel. And please watch over Faith's doctors and nurses. Thank these amazing people. How do they do this day in and day out?
Suddenly the sensation of being swept into a warm hug came over me. It felt just like the best ones my husband gives me. I snuggle into his chest and feel safe enough to let go a little. I imagined God was saying, "It's okay. I've got this."
Hot tears came, and I cried quietly for a few minutes. It took me a while afterward to settle down and, I finally fell asleep around 11:45.
Needless to say, I didn't get enough rest to get up early and run 5 miles before work like my plan called for.
I did, however, manage to run a 5K at lunch with my co-workers. It wasn't even too hot. I felt pretty good, except the spot under my left toe was a little sore. It went away after I warmed up a bit. The only negative to running during my lunch hour is that I don't get a chance to warm up or cool down.
I did my run strength routine after dinner and before a small glass of red wine. 😉
Oh, by the way…
I weighed myself this morning.
I'm about 7.5 pounds heavier than what I should be at. Twelve if we're talking "racing weight." No more Cheeto binges. No more carb fests.
Carbs are good (oh, so good!), yes, but when my diet is mostly carbs, I see it in the mirror and on the scale. Also my pants don't fit very well. And I'd rather buy new running clothes than new pants.
I need to eat carbs responsibly. That means something different for everyone, of course, but for me it means 5-10 bites of carbs per meal. I take my workout into account, too. Obviously, I might need some more if I do a two-hour trail run or something.
The difference between me on a low-carb, high veggie, high protein diet vs. me on a high-carb, high veggie, high protein diet is pretty significant…about a month ago I was in the low 150's and now I am in the high 150's. No biggie. I know what I need to do.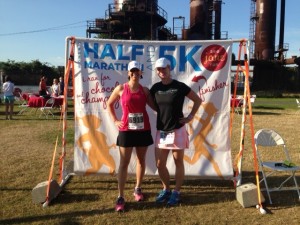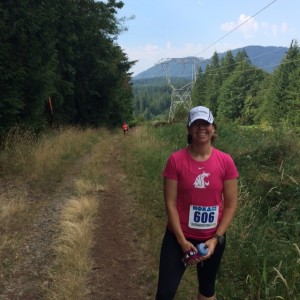 I want to feel my best for Point Defiance (and any other race before then). Speaking of Point Defiance, on the training plan for tomorrow: 6 mile easy run. Better get to bed early…and take some melatonin.