I'm originally from California and have lived in the Seattle area for 12 years. But I feel like a tourist in the city because I don't go there very often. That's definitely what I was when I traveled to Chelsea's (Will Run for Food) neighborhood to run with her on Saturday morning.
Yes, I live in the Seattle area, but my house is out in the sticks — about 30-40 minutes southeast of the city. Chelsea lives in Seattle — not downtown Seattle, but very close — in an adorable neighborhood where you can walk to everything. Chelsea took me on a running tour. It was raining — a heavy, soaking mist — Saturday morning, so I got the true experience.
We ran past cozy bars and quaint bakeries (where I neglected to take pictures but I found a good one online below), and across the locks and through some beautiful gardens and past some pretty houses and by some amazing views…
After running through her town, we went to the locks. In case you are not familiar with what locks are, go HERE for an explanation. But, first, a photo op!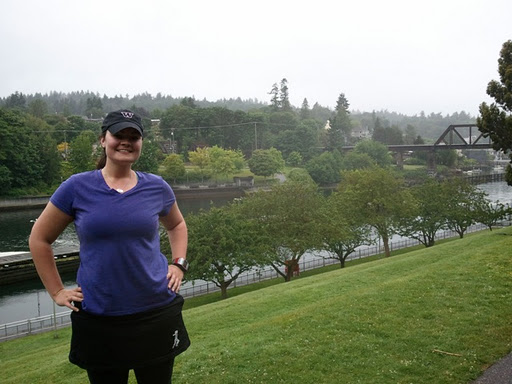 My running buddy, Chelsea, in her UW colors. Boo Huskies!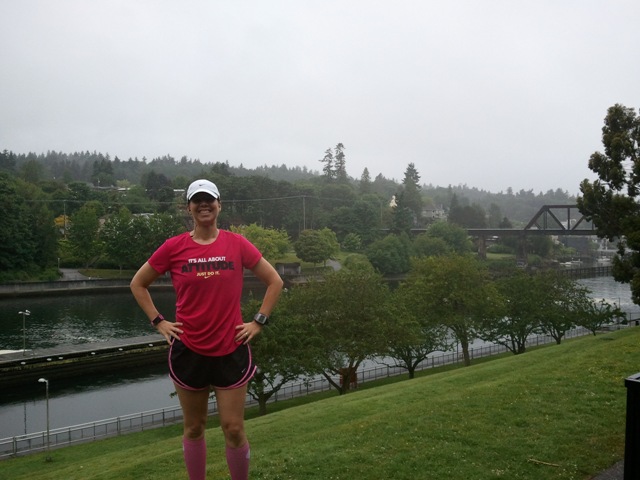 Ta-da! Marathon outfit. Testing it out in the rain…
A view of the foot bridge where we ran across the locks.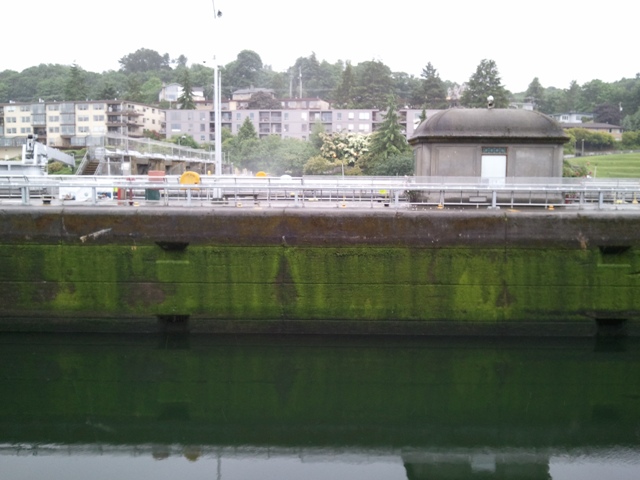 Pretty green algae.
After we crossed over the foot bridge we ran in some beautiful neighborhoods that have views of Puget Sound like the one below.
Chelsea and me. If it wasn't dreary, you could see the Olympic mountain
range behind us. 
Back over the foot bridge. I made Chelsea stop so I could take another picture.
This boat is waiting for the water levels to adjust so it can go from the lake
into the ocean. Or vice versa. Not sure which way is which.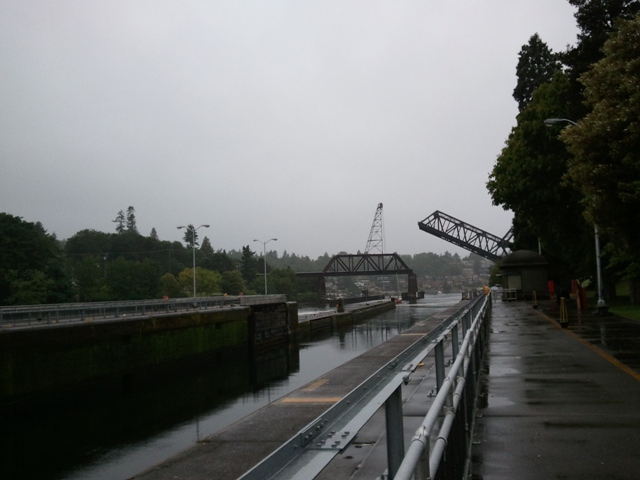 How the trains get across…
It was an amazing route and running it was a great way to take a tour. Afterward, Chelsea drove the Seattle Rock N Roll course for me, but I'll share more about that tomorrow.
Saturday's tour was a little short of what I needed for mileage, plus we took it nice and easy since Chelsea is recovering from a hip injury. So I felt okay about getting up Sunday for a 6-miler. I just needed some redemption after all the crazy last week. Sunday's run felt good (although not nearly as fun as Saturdays) and I felt like my old running self. And I also felt better about eating the Father's Day coffee cake me and T Junior made for Mr. T.
Have you ever taken a running tour of a new place? If not, you should. And take your camera.