Last week, I was talking to my co-worker about his chickens. Like a lot of people these days, he and his wife got a few chickens, built a coop and are looking forward to a slew of fresh eggs in a few months. (I'm not sure if you refer to eggs as a slew. Is it a klatch? Is it a roost? Oh, forget it, I'll just say, "a bunch of.")
Anyway, I'm not entirely sure anymore how the conversation progressed, but I ended up asking how these chickens would have this "bunch of" eggs. Do they just start laying them? Or do you, like, need to get a rooster?
What?!
Oh, you have thought about the sex life of a chicken?
You're sick. I don't think I want to know you.
Well, chicken sex has not crossed my mind over the last 36 years, okay. And I thought, maybe, chickens might be asexual. You know, like frogs.
What is this? This…this is the result of 3,012 written words and hours and hours of introspection. Yep, chicken reproduction habits. Deep, deep stuff, friends.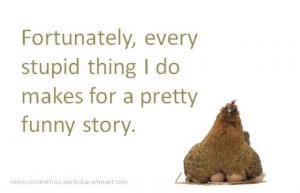 This week, the chickens came up in conversation again, and everyone had another good laugh…at my expense. (Here's a take-away for you: Quoting something Jessica Simpson said years ago to try justify yourself doesn't work. It just adds fuel to the fire.)
I've had some really stupid moments in my life. Fortunately, every stupid thing I do makes for a pretty funny story.
And I say dumb stuff a lot. All.The.Time. I say totally random off-the-wall stuff. I go on long tangents. I write overly detailed (boring) blog posts. Did you know I am a member of Oversharers Anonymous? (Everyone knows each other's full names, birth dates and social security numbers now, though. We really should change the name of the group.)
My mouth moves faster than my brain a lot most of the time. But I absolutely love telling stories about stupid stuff I've done or said. Or going on silly rants about totally insignificant things.
My co-workers, all dudes, can always expect a good complaint story from me in the morning. I know they don't read this blog (like a lot of people), but YOU GUYS ARE FREAKING WELCOME! How boring would your coffee be without me raging about random back ups that cause me to be 5–okay TEN!–minutes late?
I live for getting all worked up in the retelling of something that happened to me because people laugh. And laughter is the most beautiful sound.
And nearly 8 hours of thinking and writing helped me figure something out today: I am pretty awesome at making people laugh. Sure, some of my stories don't get the response I envisioned in my head. But…I don't care.
I love it.
I love making people laugh. Even if it's at my expense. I really, really love it. And I want to do it all the time.
PS: Those 3,012 words of introspection were so boring they would instantly put a toddler to sleep. A toddler who just ate your coffee grounds. And a then sucked down a red Slurpee. These 531 words are much better. Maybe not better than asexual chickens, but still pretty good.