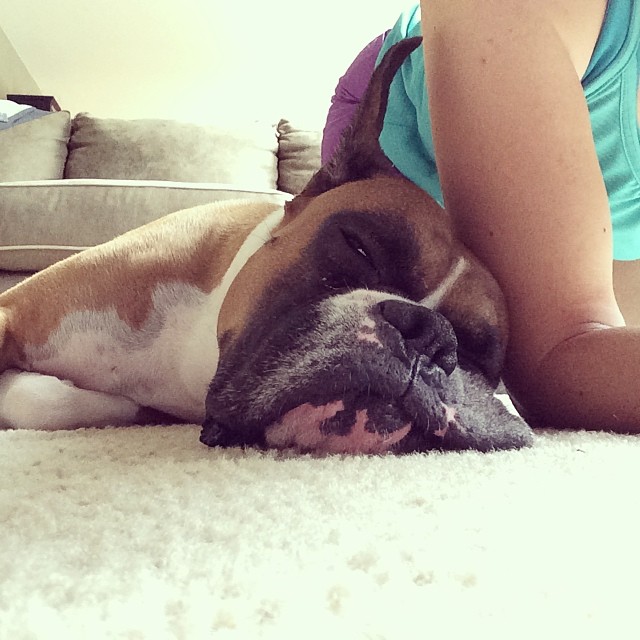 Do you ever have those runs that just never feel right?
That's how my long run was yesterday. My legs were like two railroad ties and my stomach sounded like a water cooler, the kind that makes the big bubble when you fill up your little paper cup. I could literally hear it all six miles. Oh, I didn't bring music. That helped.
Not.
I left without doing my jumping jacks/crunches/pushups routine thinking I would warm up with a slow first mile…and I never warmed up for the whole six miles.
I just felt so tight. Finally, I stopped around Mile 3 to stretch and that helped some. But man I just sucked. I have some ideas why.
I did weights and running strength routine Friday and didn't stretch. I was very sore Saturday.
Saturday night, I ate a bunch of pizza. It was delish, but it had cured meats on it. So.Much.Salt.
Later Saturday night, at home, me and my husband made popcorn. More salt and carbs.
Also we stayed up till nearly 1 a.m. watching the really crappy Sandra Bullock/Melissa McCarthy movie, The Heat, which had sooooo much potential. I was angry when it was over. It could've been so great. Anyway, I'm usually in bed by 10:30 at the latest.
I drank a lot of water throughout the night.
I'm up a few pounds.
Finally, I wore my Brooks PureFlows.
I really hope it wasn't the PureFlows because I thought they felt pretty good on my feet. And hey, this was surprising, my left arch isn't sore from the long run like it usually is in the Glycerins and even in the Adrenalines (they have custom orthotics in them). Maybe those shoes are too confining.
That could also be because I ran on average a 10:47/mile pace and I normally run closer to a 10 or under on long, slow days. I couldn't have done that if a wild boar was chasing me. Which I don't think we have wild boars here in the Pacific Northwest so that would be verrrrry scary.
I did encounter a sort-of sketchy looking dude on the trail. Not a wild boar, but I noticed I was in the 9's when I passed the guy, so…that was nice.
So, yeah, it was a mental and physical battle. But I'm proud of myself for staying positive 90 percent of the time. The other 10 percent I don't want to talk about. But most of the time, I just remembered to be thankful for being out there. I get to run.
And I'm happy about the Flows. I ordered a pair of Altra Intuitions to try (the older ones because they were on sale on Amazon). They'll be here Wednesday.
Looking forward to letting my toes splay…and some better long runs.