"In my mind, you just commit to something and then get it done, no matter what." -Joe De Sena, Spartan Race found and author (with Jeff O'Connell, editor in chief at Bodybuilding.com) of "Spartan Up!" being released May 13. (Go here to pre-order on Amazon.)
You might have figured out I'm a fitness book junkie by now. So when I got an email asking if I'd like to preview an excerpt of "Spartan Up!" I was on that like…well…like mud on a Spartan Racer.
I, myself, have not "Spartaned up" enough to participate in one of author and race-founder Joe De Sena's events, which involves running through mud pits (dirty), crawling under barbed wire (potentially painful) and jumping over fire (scary). Those sound tough, but really the one obstacle that could keep me from trying a Spartan Race (besides what De Sena would probably tell me is my own mental weakness) is CLIMBING WALLS. Not a climber.
One thing I didn't realize, however, is that participants can get specific workouts from the race to train. Maybe with a little preparation I'd be able to conquer that wall (the mental and physical one) after all.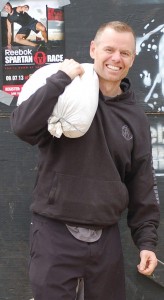 Anyway, back to the book. The author, De Sena, is basically a self-made badass. In one week, he completed the 135-mile Badwater Ultra marathon, the Lake Placid Ironman and a 100-mile train run in Vermont.
He also founded something called the Death Race (do I really need to explain it?), and Olympic and military people often come to him for training.
So you can probably understand that De Sena thinks we've gone a little soft as society. (Okay, "a little" is definitely not what he would say. De Sena doesn't beat around the mud pit.)
He explains in this video here:
De Sena hopes "Spartan Up!" will inspire readers to shake things up. Get people out of their comfort zones. Readers will learn how to incorporate the Spartan way to every aspect of their lives, including food/diet, working out, health, business or work, education, relationships, and parenting.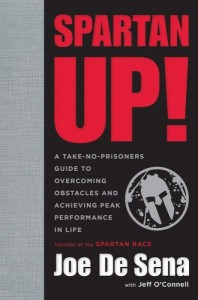 "Although this isn't an exercise book, my hope is that readers will want to put their newfound confidence and capabilities to the ultimate test," writes De Sena. "You won't win every race you enter or crush every obstacle but each experience of success or failure can be a profound learning experience. You become faster, stronger, more resilient." Listen to an excerpt of "Spartan Up!" here (mp3 file) or here (wav file), or visit the book's website here.
My 30s have been all about getting out of my comfort zone: I ran a marathon. I participated in the Hood to Coast Relay. I ran tons of half marathons. I did a triathlon.
Those are great physical accomplishments. But I need to get with the "Spartan" on my writing career. Need to just "commit to it" and "get it done," like De Sena says. Maybe his book will help give me the kick in the pants I need.
Here are the ways I need to "Spartan up":
Get over myself (or fears or whatever the hell it is) and write my damn film/book/whatever-it-is already!
Gorging on snack foods (get control, woman!).
Letting others influence my opinion of myself (yeah, that's just sad).
Do you have some areas in your life that could be "Spartaned"? Share yours below or I will wish 100 burpees on you. I'd do it. Don't test me.