So, I've learned that I can't run and run and run off the fat around my tummy and hips. I've earned that abs are made in the kitchen. I've learned the lifting weights will help tighten and tone my body. And I've learned that interval training–getting your heart rate up to 85-90% of max–for shorter durations can complement the weight training. And I've learned that long runs can stress the body out and make it hold on to fat. (At least, I think these are right. Still learning…)
I remember the spring of 2011. I was training for my first marathon. My training pretty much went like this:
-3 days of running (2 mid-week 30-min run and 1 long run) – Jeff Galloway's training plan
-3 days of Jillian Michaels 30-Day Shred
-Occasional cross training in bike or pool
My body was transforming, though. My belly flattened and my hips and thighs got skinnier. I can see it in pictures from marathon race day. That pink shirt is tight on my belly now.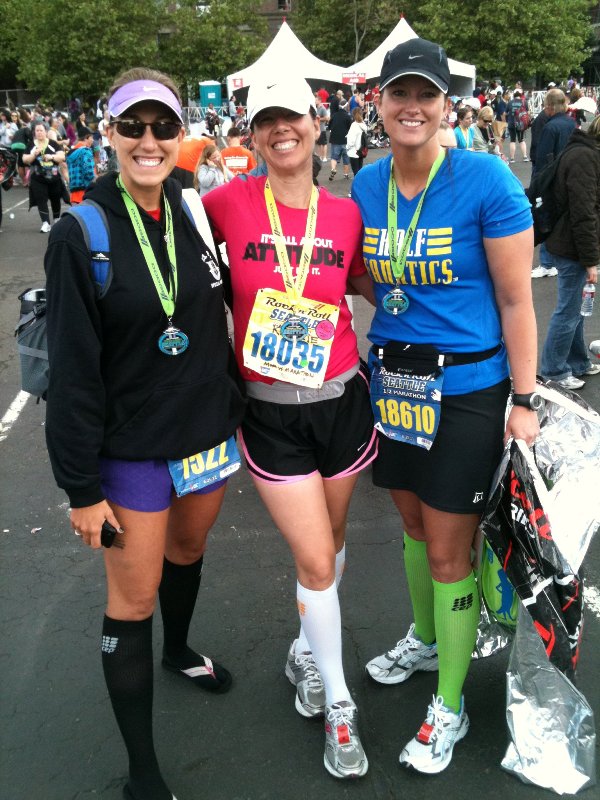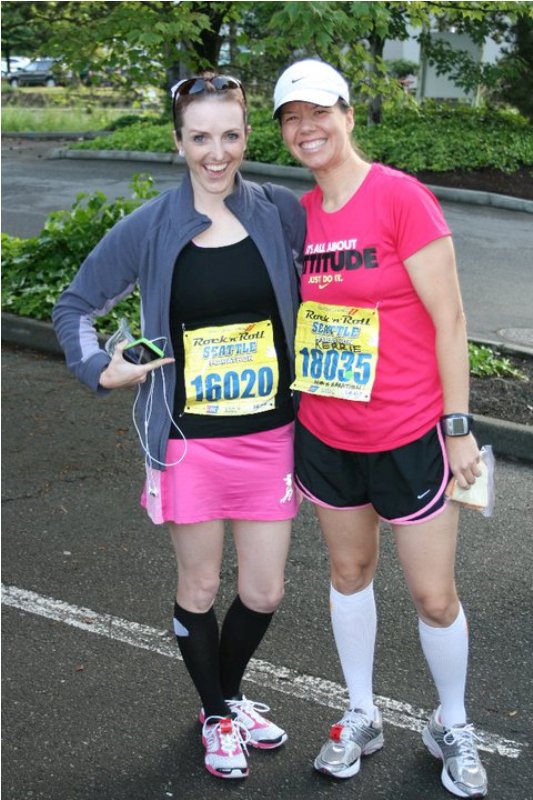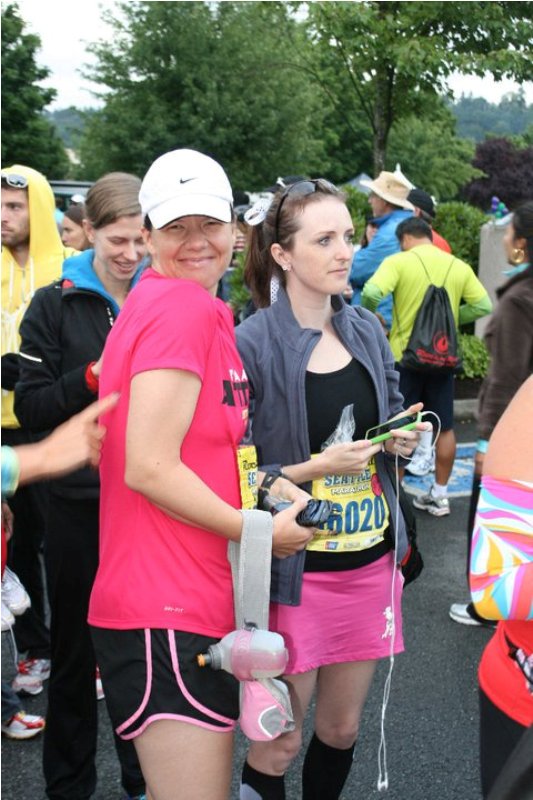 What was I doing then?
First of all, I wasn't running that much. Two 30-minute runs during the week is not much. During long runs, we used Jeff Galloway's run-walk-run method because I was very scared of getting injured (fractured my shin prior to my 2010 marathon and didn't get to run it). So…I was essentially doing a type of interval training on those long runs. Running 5 minutes and walking 1. This probably kept my body from being too stressed. Plus the calorie burn of long runs over 10 miles is curazee.
Then, I was doing my Jillian DVD consistently. It included some weight and interval training. Three times per week. That's all it was.
So, I was doing some things right back then.
My plan for the future. I have three races coming up in June: A 50-mile relay, a sprint tri and a half marathon. I am going to cut my running to 3x/week. I'm going to swim 1x/week and I'm going to bike at least 2x/week. I'm going to weight train at least 5x/week with three of those days being 30 minutes (and the others only 15 minutes) for now. This could change. But this is the goal. I'm going to eat more veggies and protein, and I'm going to keep my grains whole and in moderation. I don't necessarily believe in cutting out foods, but I'm going to continue cut down on my dairy and see if that helps my skin even more. And I'm aiming for 100 ounces of water a day.
I'd been trying to figure out what training plan to use for my marathon in December. I'd been leaning toward Hansons, which is a lot of running. A lot. I do like the idea of that, but I also like to look lean, and I'm not going for any BQ's or Olympic-qualifying times here, so I think I may use Jeff Galloway's run-walk-run method again. It worked for me before, why not use it again? I had a wonderful first marathon experience. I want that again. And I want to look good running it. 😉