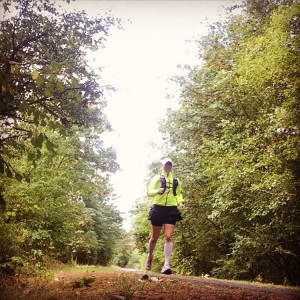 I'm a week away from running my 2nd marathon.
Remember when I was extremely excited to start training for this thing?
Ah. Those were the days.
Remember how my excitement dwindled once the long runs hit the double digits?
Oh, marathon training. You sneaky devil, you.
Remember how I have plantar fasciitis and my shin (the one I fractured in 2010) feels very sore to the point that I'm worried it's fractured again?
No? Oh, probably because I NEVER BLOG.
The one good part of all this marathon training stuff is that I've found some shoes I really like in the Altra Olympus 1.5. They protect my feet from the gravel on my trail and the cushioning helps me recover from my really long runs much faster. I also feel like my PF isn't getting worse because of them. It's in a holding pattern where if I continue to take it easy, and roll my arches and calves with a lacrosse ball, I should be able to keep running.
So, there's that.
And, for the record, my longest run was 18 miles last weekend. The picture is from that run. Full disclosure: that was early on in the run.
Also for the record, I completely skipped out on my 12-miler that I'd already downgraded to 10 miles this weekend. But, honestly, is it really going to help me next weekend?
Yeah, no.
Anyway, below are some realizations I've had while training for my second full marathon. Hopefully, you all will remind me to come back and read this before I decide to commit to another 26.2. (Confession: I already registered for the Seattle Rock N Roll Full Marathon in June 2016 when there was a great deal a couple of weeks ago, but don't worry! I will be downgrading to the half.)
-I still haven't figured out why I wanted to run a 2nd marathon.
-I love the idea of running a 26.2-mile race, but guess what? I don't enjoy spending 2-3 hours running every damn weekend.
-I like the idea of long, slow running, but I also really like pushing myself and running faster (and finishing sooner).
-Ultramarathons don't appeal to me anymore. The word "repulse" comes to mind…
-Cardiovascularly (should be a word), I'm built for long, slow distance—I could go forever. Muscularly and skeletaly (also should be a word), I am not built for extreme distances.
-I think my sweet spot in running is in a shorter distance race: 5K, 10K or half marathon—I want to work on figuring that out.
-One hour to about 90 minutes of running is just about perfect for a long run for me. After that, I get too bored. I mean, one can only look at trees for so long…before thinking there are is a ghost sitting on a branch making it wave at you. (True story.)
-Marathon training makes it difficult for me to control my weight. (I am about 5-6 pounds heavier than when I started, and I had 5 to lose. It doesn't seem like much, but oh, ho, ho, trust me, it makes a difference.)
-Long runs make me grumpy for the rest of the day and put me out of commission. I miss out on a lot of family time because I'm whining about a headache or shuffling around my kitchen hunting for more carbs to eat.
-Marathon training makes me think about running too much. My brain isn't big enough for that. I need room for my son's school events and what's for dinner. Oh, and wherever I left my keys.
-Missing a run stresses me out during marathon training. This doesn't happen when I train for shorter events–probably because I'm not worried I'm injured all the time.
-I spend too much money on running gear when I'm marathon training.
-Hahahaha. Just kidding on that last one. Not possible!