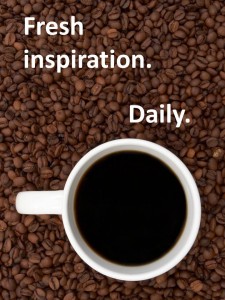 It's 4:50 a.m. and country music cuts through the sound of the air cleaner and the giant fan in the master bedroom. I stumble across the room, slam my hand on the snooze button, and then feel my way back to my bed where, inevitably, I have a conversation with myself that goes a little something like this: I should get up. But I don't want to. I should get up. But I don't want to. Hey, you can watch Dallas Cowboy Cheerleaders while you ride the trainer! Oh yeah! Geez. I want to look like them. Okay, I'm up.
Mornings are just so hard when there's no DCC on the DVR.
Whatever is speaking to you on a certain day, listen to it and be inspired!
What inspires me:
The thought of eating bowls and bowls of popcorn
The desire for a flat, strong stomach (pretend you didn't read that popcorn one)
Thinking about the feeling I get after I exercise
Thinking about typing my workout in Dailymile – hoping it inspires others
Seeing friends' accomplishments on Facebook
Articles in Runner's World, Running Times and Triathlete magazines
E-mails and comments from friends in both the real and virtual worlds
Watching athletes on television, whether it is a crazy-strong dancer or a world-class triathlete
Seeing runners during my commute
What DOES NOT inspire me:
Pinterest: Am I the only one that leaves that site feeling overwhelmed, and bad about my life, my house and my baking skills? Aaaaaaaack!
What inspires YOU?