Hint: It has nothing to do with cucumbers.
But it has everything to do with FUN!
Okay, that was really cheesy. But true. Here's the quick description: Breed tennis with ping pong and you get pickleball!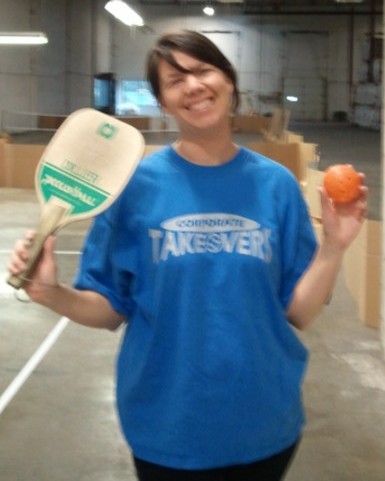 The sport involves smaller versions of a tennis court and net, and larger versions of ping pong's paddle and ball. Pickleball paddles are larger, usually wooden and square with rounded corners. The ball is of the whiffle variety. The game is played a lot like tennis. You can even play doubles. I'm not going into the rules or  how to keep score here (that's what the Internet is for).
The great thing for us Seattleites is that pickleball courts are small enough to be indoors, so it can be played year round. We have a couple make-shift courts at work, so I can get some cross training during lunch or if I need a break.
The really great thing is that it works a lot of the same muscles that tennis does (muscles that you don't use when running). Probably not to the extent tennis does because the smaller court, but I played the past two days and my glutes are hurtin'. It also gets your heart rate up, and works your lower back muscles, shoulders, thighs and (probably) stomach.
For more information about Pickleball, visit the USA Pickleball Association site HERE.