Saturday is the Rock 'N' Roll Seattle half. I haven't been running that much, though, so I'm not really sure what to expect.
My last "long run" was my three legs of the Rainier to Ruston relay, which equaled about 13 miles throughout the day. Before that, it was 9 miles on May 12! Um.
I've been working out a lot, but I've been concentrating more on strength and sprinting, and trying to get my diet under control. Most of my runs have been around 3 miles. But whatever, I guess. We'll see what happens.
My goal is to finish uninjured. Originally, I wanted to get around a 1:50 (or at least be under my 2011 half PR of 1:52), but since I haven't put in the endurance work, those time goals are unrealistic. True, I've been running my shorter runs faster, but how long can I hold the pace? I just don't know.
Mostly, I'm concerned about what I'm going to wear. Should I go with the pink/orange/white argyle RunningSkirt, white compression socks and an orange tank with pink nails? Or that same combo with pink socks? Or, should I go with the argyle skirt, black compression socks and a black tank and black nails?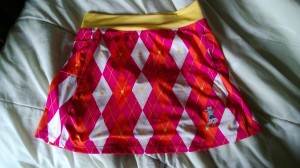 OR…my bluish-purple/white ruffle Lululemon skirt and last year's white (with a blue design) Rock 'N' Roll shirt with purple nails?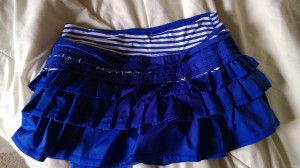 OR, should I wear my gunmetal Team Sparkle skirt? I love me some Team Sparkle, but I feel like changing things up a bit—I've sparkled in my last 4 or 5 races (including the triathlon).
The downside of the argyle skirt AND the Lululemon skirt is that I will have to wear compression shorts under them and both already have built-in shorts (HOT). Well, the argyle skirt has "undies," but it's a little short on this long torso girl, so I need something under it. And the Lululemon skirt has boy shorts that NEVER stay put. It's also a little short.
OR…I could wear my black pleated Lululemon skirt and a black tank. Would also need compression shorts under that one. Ugh! Decisions! I also have grass green socks and deep purple socks…
I'm also thinking about doing something rock 'n' rollish with my hair…maybe getting some of that spray-in color. Maybe I should do a Gwen Stefani looks and have red lips and white hair and wear a black and white outfit. Would anyone get it? What other rockers have specific "looks"?
Yeah, so not really thinking too much about the actual run.
I am thinking about the parking situation, though. It sucks. Last year, a few of us were really lucky because we spent the night at Chelsea's and then like a total rock-star friend she shuttled us to the start, cheered us on, and met us at the finish with treats! This year, she's out of town. Next year, she better be running the thing herself (but if she's not, she's not allowed to go out of town).
Downtown Seattle parking makes me shudder. I wake up in the night with nightmares because of it. Are you going? What are your parking plans?
I don't think anyone's mentioned a place to meet up the morning of the race. Why don't we meet by a corral. I'm not sure how many corrals there are, but I think around 20-something. Why don't we meet by Corral 7 since that's sort of in the middle? Okay? Okay.
If you'd like to meet up before the race and maybe take a big group picture, like we did last year, meet at the front of Corral 7 at 6:40 a.m. That should give us at least 15 minutes to say Hi to everyone and then get back to our corrals before the 7 a.m. start, yes?
See you there!