Look at me taking a break from blogging and not even stressing about it! I'm so proud of myself. But now I'm not sure where I left off. Did everyone have a good Christmas? Can you believe it's almost 2012? Workouts have been tough to squeeze in during the holidays, but I'm hanging in there!
Here's what's happened in the last week:
DEC. 24:
-Ran 6 miles to pre-burn calories in preparation for breakfast casserole. Saw this little gem below during the run. On my second lap, a man pulled up to it. I presume he took it away since it was gone when I drove by later.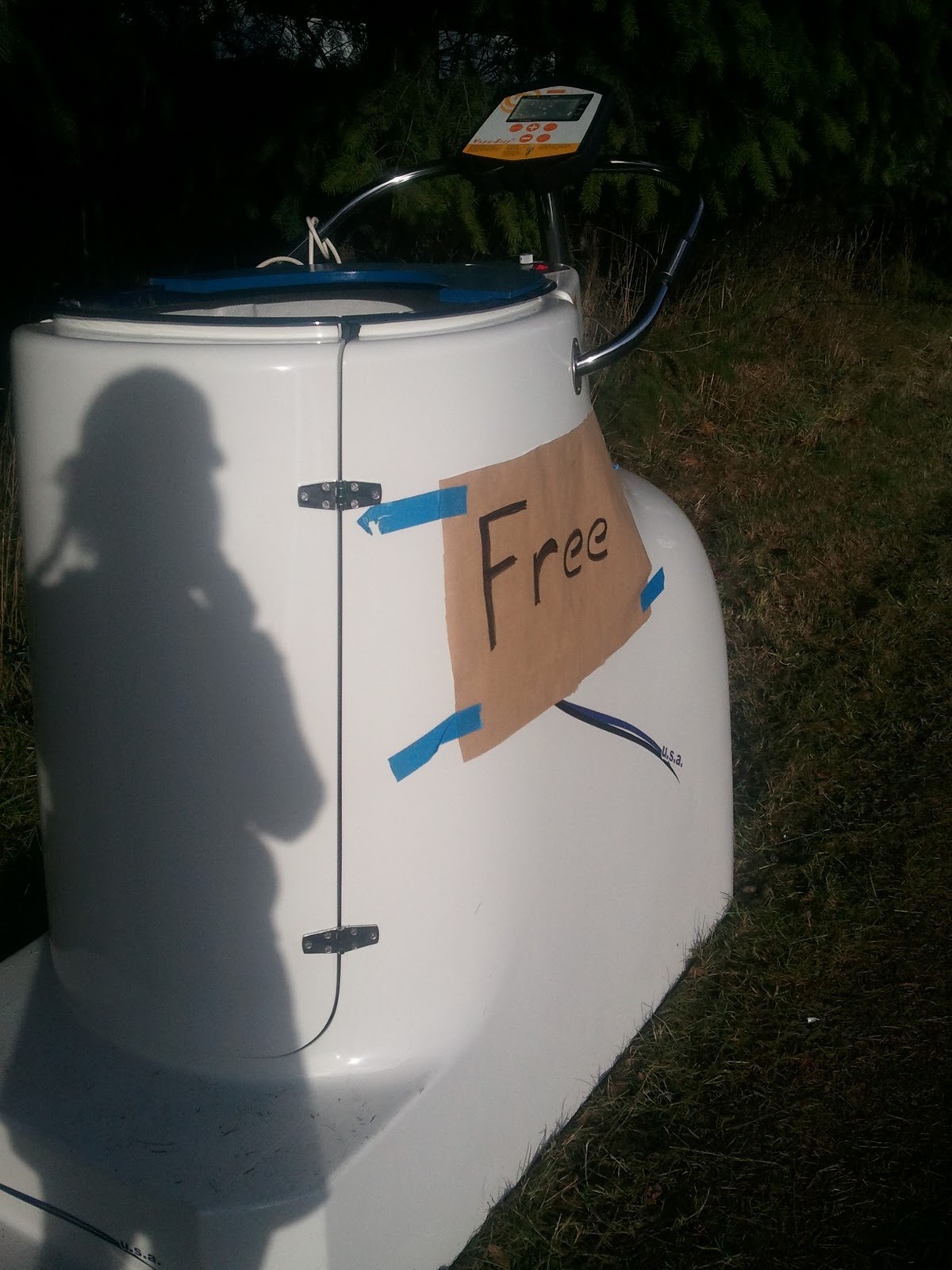 WHAT IS THIS THING?
Anyone want to guess what this is?
-The fifth puppy was picked up, leaving us with just little Ray. His owners will return from Florida and pick him up on Jan. 12. Till then, we are still in puppy-land.
-Every Christmas Eve we drive around and look at lights with cookies and hot cocoa. Best T Junior quote from the night: "Every time I see Christmas lights, I'll drink."
DEC. 25:
-I love stockings and Santa found these awesome stick-on mustaches for T Junior's.
T Junior looks dignified. I look like one of those '60s cartoon
characters that swishes their 'stache all the time.
-RunningSkirt, Lulu gift card, Nathan night vest, glow-in-the-dark leash for Bennie, Jillian Michaels Yoga Meltdown video, a new pair of Saucony Hurricanes. I'm so runner-spoiled!
DEC. 26:
-Took 80-pound ADD boxer Bennie for a 2-mile night run with our new glowing gear. He did great! Only one incident: When we got chased by a miniature Yorkie in a Christmas sweater named Cricket.
DEC. 27:
-Yoga Meltdown! I love it. I was very careful to do all the movements slowly, especially since I have that herniated disc to deal with. It didn't bother me at all.
DEC. 28:
-I noticed my back wasn't aching for the first time in weeks. It's been really bugging me lately. I'm pretty sure Yoga Meltdown helped me stretch it out.
-Told myself, I'd run after work, but was feeling down and tired. Promised myself I'd do more the next day instead.
DEC. 29:
-I realized my pants were getting supertight. Decided to "forget" to weigh myself.
-Wanted to run a little longer, so I took Bennie on a 2-mile "warm-up." Once again, he did really well. We even sprinted on the last little stretch toward home, getting our pace down to a 6-minute mile! Then I went back out for a 5k by myself.
DEC. 30 (today):
-Got up to take the puppy out, then did an hour-long yoga video while said puppy howled and Lucy, one of our boxers, circled me on the floor. T Junior came downstairs during the last 15 minutes. I don't think that's how the video was meant to be done, but I still liked it.
-Later, after a Costco slice of pizza, I felt guilty and did a walk/run on the treadmill while watching Dallas Cowboys Cheerleaders. Walked during the show; ran during the commercials.
Well, I think that's about it. Did you get any new running gear? What are your New Year's plans?